Book Talk Series
The Book Talk Series is based on the concepts of bibliotherapy, an expressive arts modality. Coupled with other mediums of expressive arts, this program uses books to transport participants to another existence to see the world from a different point of view and show that no one is alone. The principles of bibliotherapy states that sharing words and images through books can bring us comfort, insight, and change as it:
Gives us vocabulary needed when most important
Gives us an ally/advocate when most welcomed
Becomes a valuable teaching tool
Brings equity to a situation, showing us that we are not alone
Helps reduce stress and anxiety
Offers a lens through which to see life; brings reality into focus
Provides a means to foster individual and collective change
Although Book Talk is not therapy, it is also not a typical book club. Book Talk utilizes books to engage in dialogue for personal, professional, and developmental growth. Book Talks will couple each session (before, during, and/or after) with other mediums of expressive arts such as drawing, painting, photography, collage, poetry, and others.
Sexual Citizens: Sex, Power, and Assault on Campus
Spring 2023
Don't Miss It! The Learning Institute in partnership with the "One Book, One Campus" program and in collaboration with CHEP and Title IX through the It's On Us grant presents Spring 2023 Book Talk Series featuring Sexual Citizens: Sex, Power, and Assault on Campus by Jennifer S. Hirsch and Shamus Khan. Co-Facilitated by Dr. Nicole Pfannenstiel, Dr. Emily Baldys and Dr. Karen Rice.
February 1, 2023 5-7pm on Zoom
February 15, 2023 5-7pm on Zoom
March 1, 2023 5-7pm on Zoom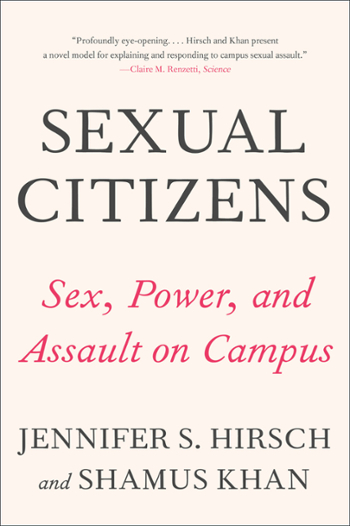 bY: Jennifer S. Hirsch and Shamus Khan
Research has shown that by the time they graduate, as many as one in three women and almost one in six men will have been sexually assaulted. But why is sexual assault such a common feature of college life, and what can be done to prevent it? the authors offer the most comprehensive study to date of sexual assault on a campus and provide a new framework that emphasizes sexual assault's social roots, based on the powerful concepts of "sexual projects," "sexual citizenship," and "sexual geographies."