Event Information
Community Fest 2023 Information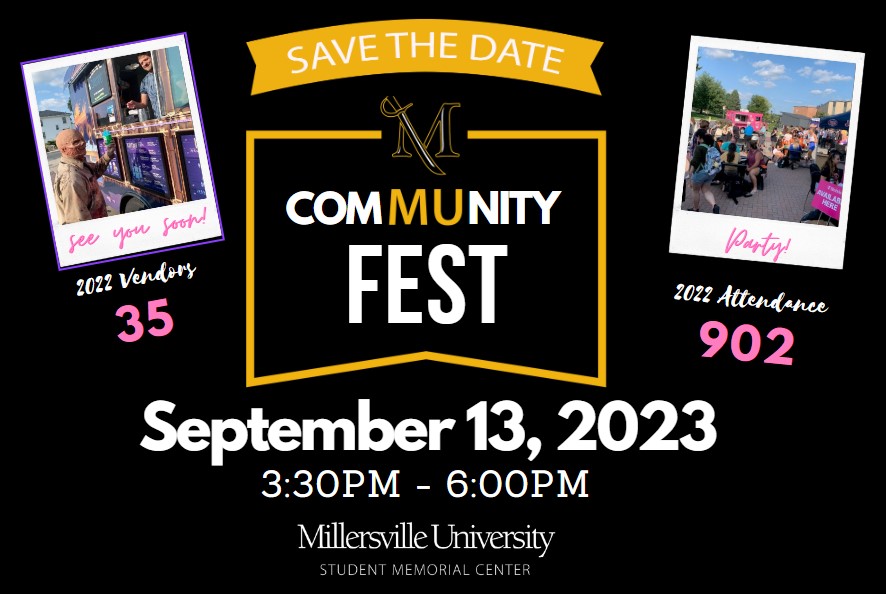 As a valued member of the greater Lancaster community, Millersville University invites you to take part in the 3rd Annual Millersville University ComMUnity Fest hosted by the Student Memorial Center and Department of Campus Recreation. In 2022, ComMUnity Fest welcomed more than 35 vendors and 900 attendees!
Wednesday, September 13th, 2023 from 3:30PM – 6:00PM 
What is ComMUnity Fest?  ComMUnity Fest is an opportunity for local businesses, non-profits, organizations, vendors, etc. to directly engage and interact with our nearly 8,000 Millersville University students, faculty, staff.  ComMUnity Fest is the only opportunity community partners can directly market their products and services to students on MU's campus at an organized event of this capacity. To continue to be mindful of healthy safety practices, this interactive community event will take place outdoors on the Student Memorial Center Promenade, an open-air venue in the heart of campus and will feature live entertainment, food, and fun! Rain location will be inside the Student Memorial Center.   
We encourage vendors who participate in ComMUnity Fest to distribute coupons, free giveaways, product samples, and information about services to distribute to students who visit your table. ComMUnity Fest serves as a great opportunity to directly introduce your products, resources, and services to first-year students who may be new to the Lancaster area, giving them the chance to make a connection-- not just to the University-- but to your business/organization. 
Questions?  Contact the Student Memorial Center at 717-871-7059 or smc@millersville.edu  
VENDOR FEES
 EARLY Registration
(June 13 - August 4)
$55 First-Time Vendors
$45 Returning Vendors
$35 Non-Profits (Returning & Non-Returning)
 Regular Registration (August 5 - September 8)
$75 First-Time Vendors
$65 Returning Vendors
$55 Non-Profits (Returning & Non-Returning)
Returning vendors must have participated in ComMUnity Fest 2022
Non-Profit vendors must present proof of 501C3 status.    
*Late registrants are not guaranteed to have their logo in promo materials
REGISTRATION OPENS JUNE 13, 2023 
Welcome 2023 Vendors! (to-date)
Owl Central Games
Boscovs
Tropical Smoothie (Comet Drive)
Vampire Taco Truck
T-Mobile
Sky Zone
Sheetz
4th Wall Comics
Jersey Mike's Subs
Arooga's 
Field of Screams
Planet Fitness (Millersville)
Tanger
Decade's Bowling
The Hub
Giant Food Stores
Your Image Barber Shop
Boba Thai Cafe
Big Brothers & Big Sisters of the Capital Region 
Homefields
Fulton Bank
Lancaster Barnstormers
Members 1st
Central Market Lancaster
Amber's Balloons
Speed Sketchers
Kona Ice
Occasions DJ
PSECU
and more!
ComMUnity Fest 2019
Photo Gallery
2022 Vendor List

Tropical Smoothie (Comet Drive)
Tanger Outlets
Decade's Bowling & Entertainment
Giant Food Stores
Lancaster Cupcake
Sheetz
Skyzone Lancaster
Hammonds Pretzels
Gamber Physical Therapy & Fitness
4th Wall Comics 
Jersey Mike's Subs
Sports Clips
Arooga's
Penn Medicine
PSECU
The Hub
Girls on the Run
Occassions DJ
Boscov's
Laissez Clay Jewelry 
Owl Central Games
T-Mobile
Lancaster Pride Association
School District of Lancaster
Field of Screams
Corn Cob Acres
Lafeyette Fire Co of Easter Lampeter Twp
Orange Theory Fitness
AND MORE!