Carnegie Community Engagement Classification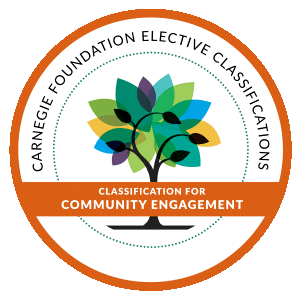 The Carnegie Foundation for the Advancement of Teaching designates Millersville University as one of the 357 U.S. colleges and universities for its Community Engagement Classification. 
Colleges and universities with an institutional focus on community engagement are invited to apply for the classification, first offered in 2006 as part of an extensive restructuring of The Carnegie Classification of Institutions of Higher Education. Unlike the foundation's other classifications that rely on national data, this is an "elective" classification—institutions elect to participate by submitting required documentation describing the nature and extent of their engagement with the community, be it local or beyond.
Millersville earned its initial classification in 2010 and needed to participate in the re-classification process in the 2020 cycle. In order to retain the classification, the application requested that the University provide evidence of how Millersville's community engagement became deeper, more pervasive, better integrated and sustained since the initial classification in 2010. Millersville began working on their application in the fall of 2018. The University's involvement as a community partner in the Southwest (SoWe) Lancaster Neighborhood Revitalization initiative, as well as collaborations with the School District of Lancaster (SDoL) and with the United Way of Lancaster's Volunteer Income Tax Assistance (VITA) Program, demonstrate our engagement. The new classification is valid until 2026. 
"Community engagement, whether it is curricular or co-curricular, engages students in mutually beneficial and respectful collaboration with the community. Working with faculty on community-based research, service-learning and volunteerism deepens students' academic preparation and learning."

- Dr. Daniel Wubah | Millersville University President