Easton Nights
Peter Ydeen
VIEW THE EXHIBITION Ι 9/14 - 10/15.2020
SYKES GALLERY ι BREIDENSTINE HALL (1st Floor)
Reception ι  09/14.2020 from 5:00 - 7:00 pm 

Gallery Hours ι  Standard business hours for Swift Gallery are Monday - Friday from 8:00 am - 4:00 pm. Hours are subject to vary in accordance with University established holidays (below) and the reception, gallery talk/s or awards ceremony.
About the Exhibition ...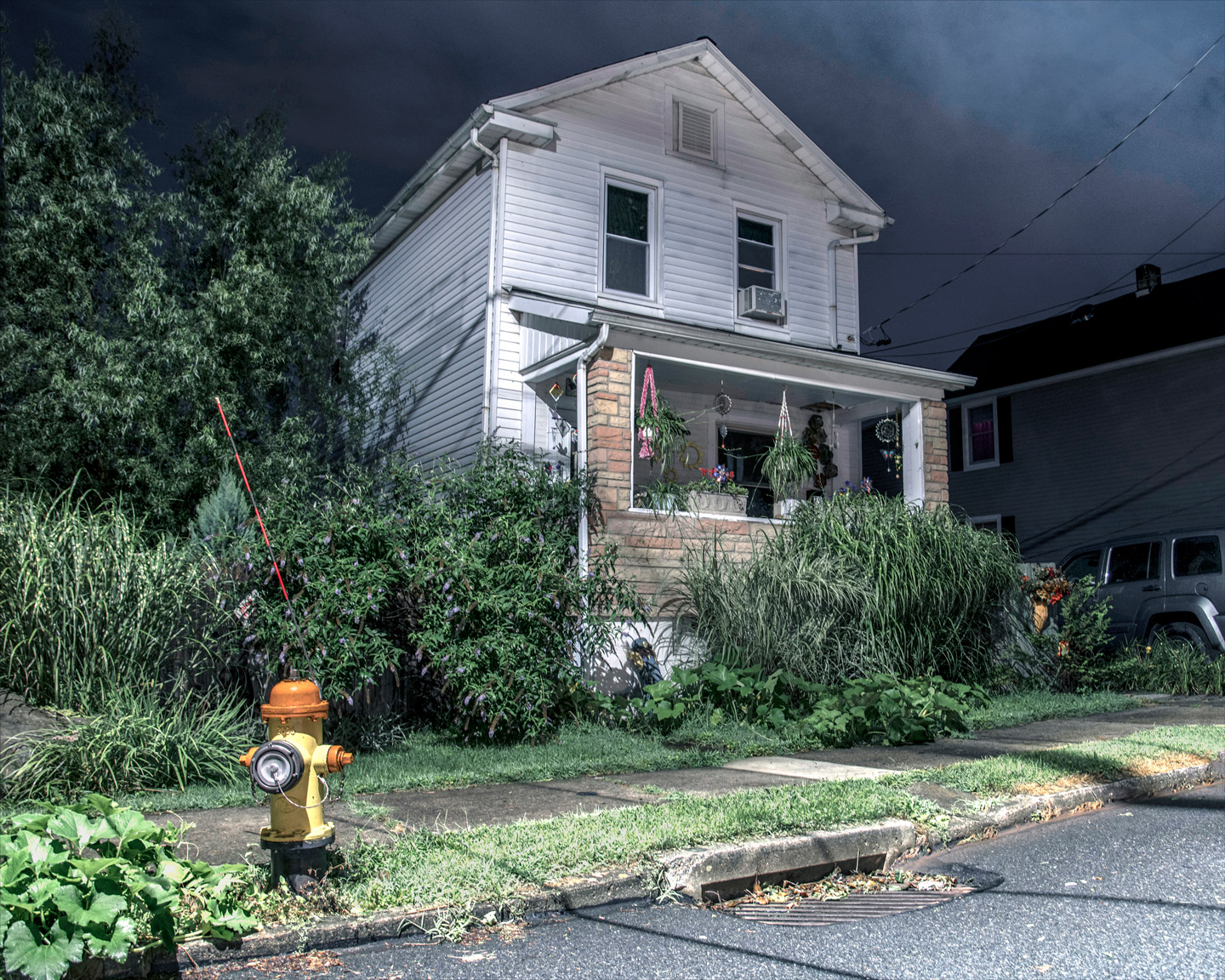 Easton Nights is a story about small town America as told by Peter Ydeen's night time photographs. The Lehigh Valley, where Easton lies, has close to a million people. There is no downtown, but instead a sea of small towns which have grown together. It has its own personality, serving as a living museum of small town Americana. 
About the Artist ...
Peter Ydeen currently lives in Easton, Pennsylvania and works in New York City. He studied painting and sculpture at Virginia Tech, under Ray Kass, (BA), Brooklyn College under Alan D'Arcangelo and Robert Henry and Phillip Pearlstein, (MFA Fellowship) and at Skowhegan School of Painting and Sculpture (Scholarship) with visiting artists, Francesco Clemente, Judy Pfaff, William Wegman, Mark Di Suvero and others.
After his studies were completed, Peter made his way in a variety of jobs, including set construction, lighting, technical illustration, architectural modeling working in architecture, staging, advertising and film. Later, after marrying his wife Mei li, they opened a gallery in New York City selling African, Chinese and Tibetan antique sculpture.
Over the last several years Peter has concentrated on photography where he is able to use the many years spent learning to see. Inspired by the poetic works of George Tice, he wandered into the area of urban landscape, finally landing in the surreal and romantic realm of Easton's Nights. Here he has become obsessed with the stage like places, which are at once animated, silent and cathartic; all acting as reflections of our uncommon world.
University Holidays

Campus Closed

New Year's Day - observed 01/01 (Monday)
Martin Luther King, Jr. Day - 01/15 (Monday)
Memorial Day - 05/28 (Monday)
Independence Day - 07/04 (Wednesday)
Labor Day - 09/03/18 (Monday)
Thanksgiving Day - 11/22 (Thursday)
Day after Thanksgiving Day - 11/23 (Friday)
Christmas Day - 12/25 (Tuesday)
12/26 (Wednesday) - 12/31 (Monday)
New Year's Day (2019) - 01/01/19 (Tuesday)

Directions & Parking

DIRECTIONS - GOOGLE MAPS 


To the MU Police Station for a Parking Permit ... As you drive down N. George Street, on the right, you will see signage on a brick wall welcoming you to Millersville University.  This is the intersection of N. George Street & W. Cottage Avenue. If you make a right, you will find the University Police Station .  Please stop in to request a free daily parking pass from the attendant at the main desk. This parking pass will be valid for white lines spaces only.  

To Swift Gallery ... As you proceed down George Street.  On the left, you will see the Sugar Bowl which will put you on Normal Avenue.  At this turn, you will see a campus street sign for "Breidenstine Hall" (Department of Art & Design).  Stop at the first Stop Sign and proceed straight.  You will pass Biemesderfer Stadium and Chryst Field on your left hand side.  A little further on the right you will see a square brick building with teal and white placards with the words "Art & Design". This is Breidenstine Hall, your destination of 46 E. Frederick Street.  Sykes Gallery will be on the ground level of this building.  Please address the department secretary in room 101 for access to the entrance for handicap accessibility. 

To the Bus Parking Lot ... West Cottage Ave & North George St.

---

PARKING PERMITS

Daily campus parking permits are required before 4:00 pm and available at the campus 

Police Station

 in Lebanon House on 237 N. George St., Millersville, PA 17551. These permits will only be valid for white, not yellow lined spaces.  The station is open from 8:00 am – 4:30 pm. (717) 871-4357.

Contact Us ...

MILLERSVILLE UNIVERSITY
DEPARTMENT OF ART & DESIGN 
Breidenstine Hall
46 East Frederick Street
Millersville, PA 17551

Secretary ι  Ms. Wanda Doyle
Main Office ι Room 101 - Ground Level
Hours ι Monday-Friday (8:00 am - 4:00 pm)
Email ι wanda.doyle@millersville.edu
Phone ι 717.871.7249
Fax ι 717.871.7929