Student Leadership Awards
STUDENT LEADERSHIP AWARDS
The Student Leadership Awards Ceremony was held inperson on Monday, April 25, 2022.


We want to take this time to thank all of you who made the Student Leadership Awards possible. Our presenters, the Selection Committee, all of our nominators, and especially all of our nominees. You are doing remarkable things on campus and in the community, especially after such a challenging year. You bring Millersville University to life and make it an exciting place to be. Thank you for your dedication and passion for student involvement at our University.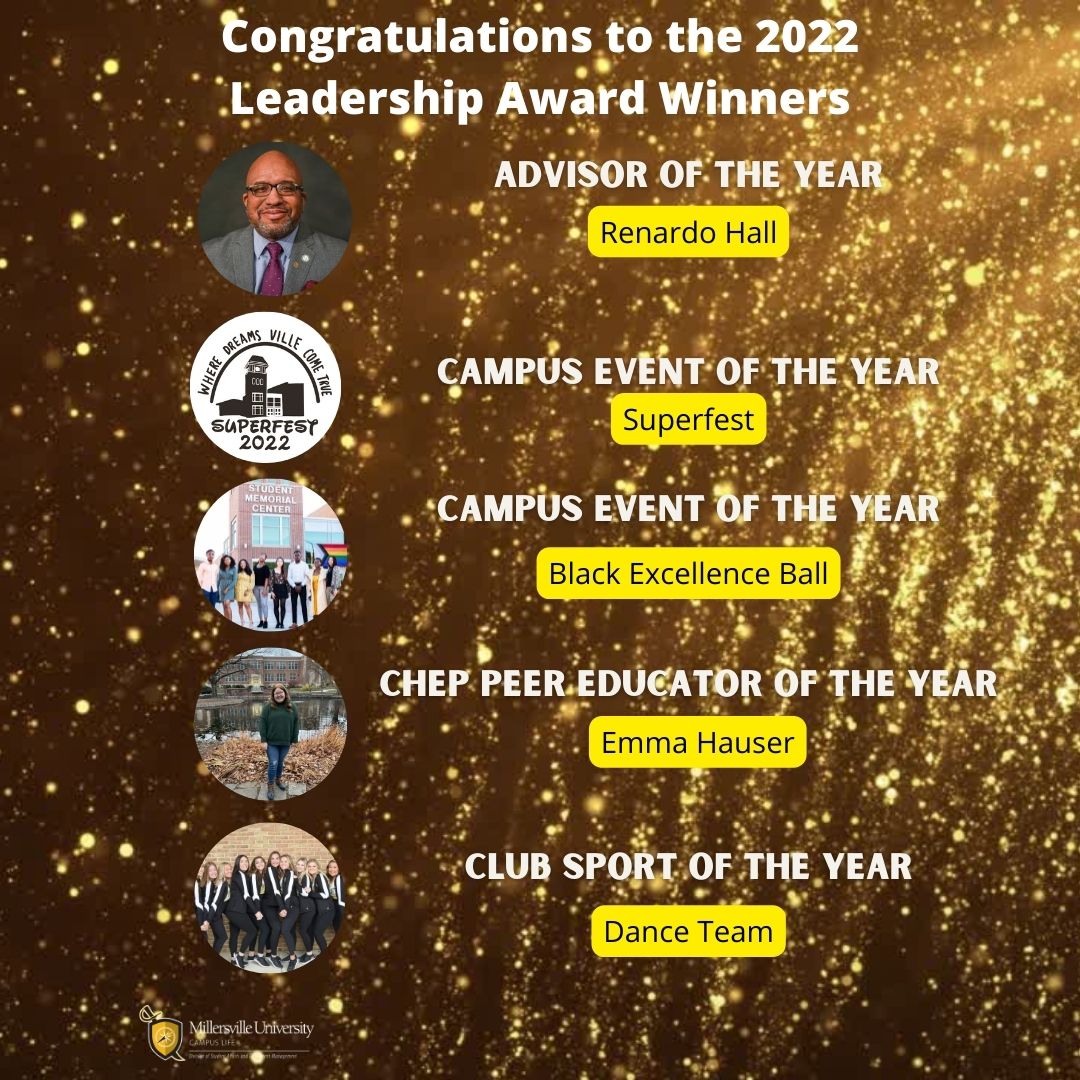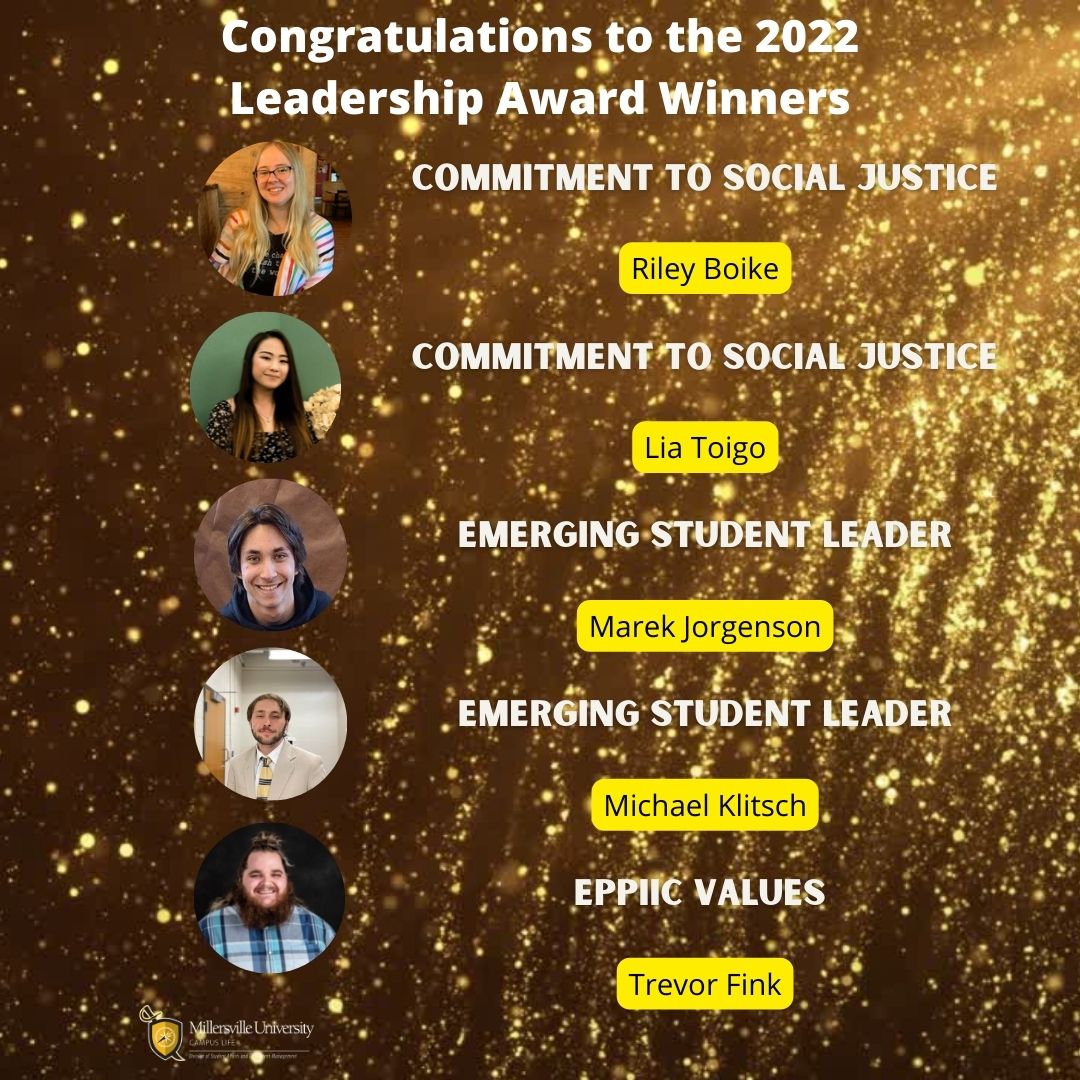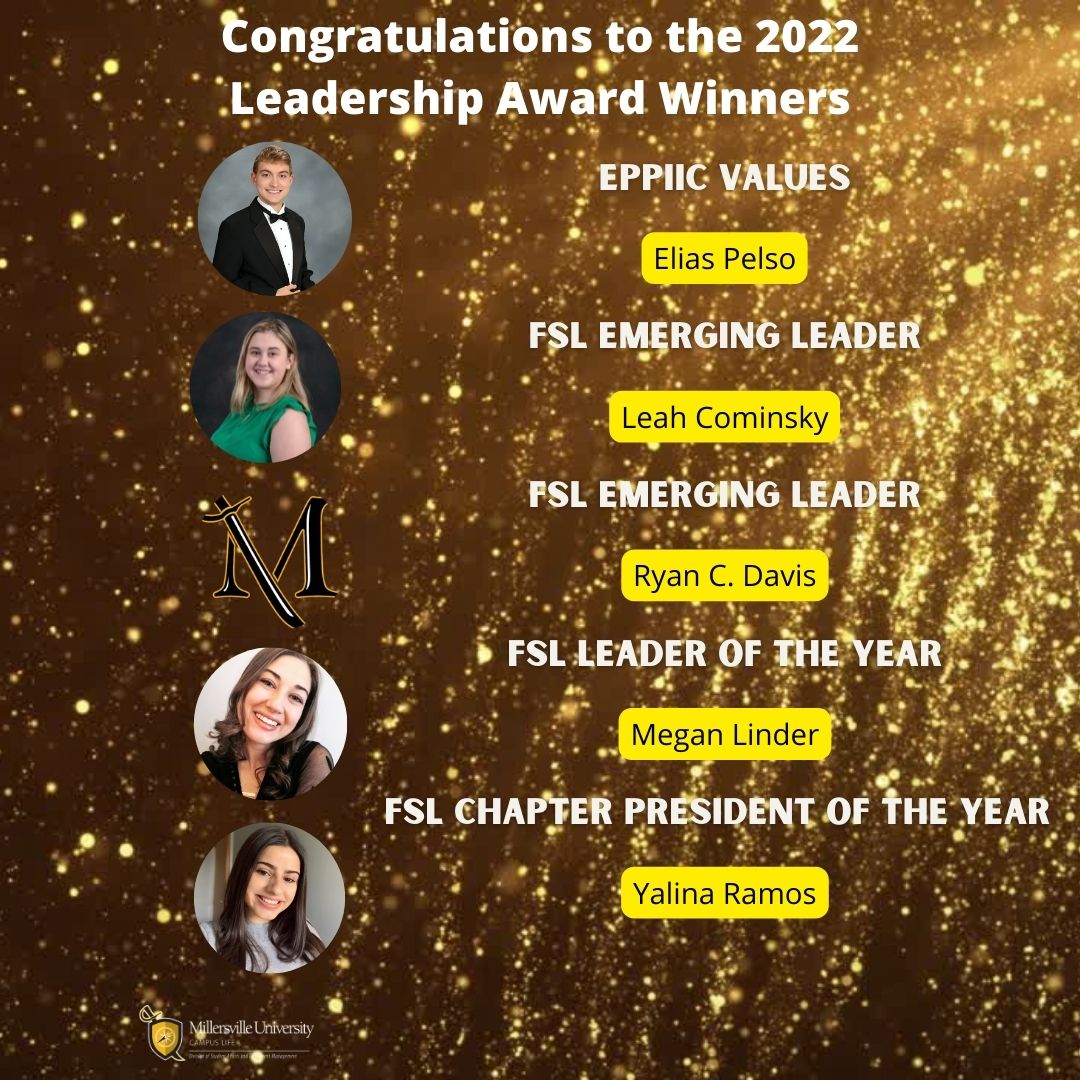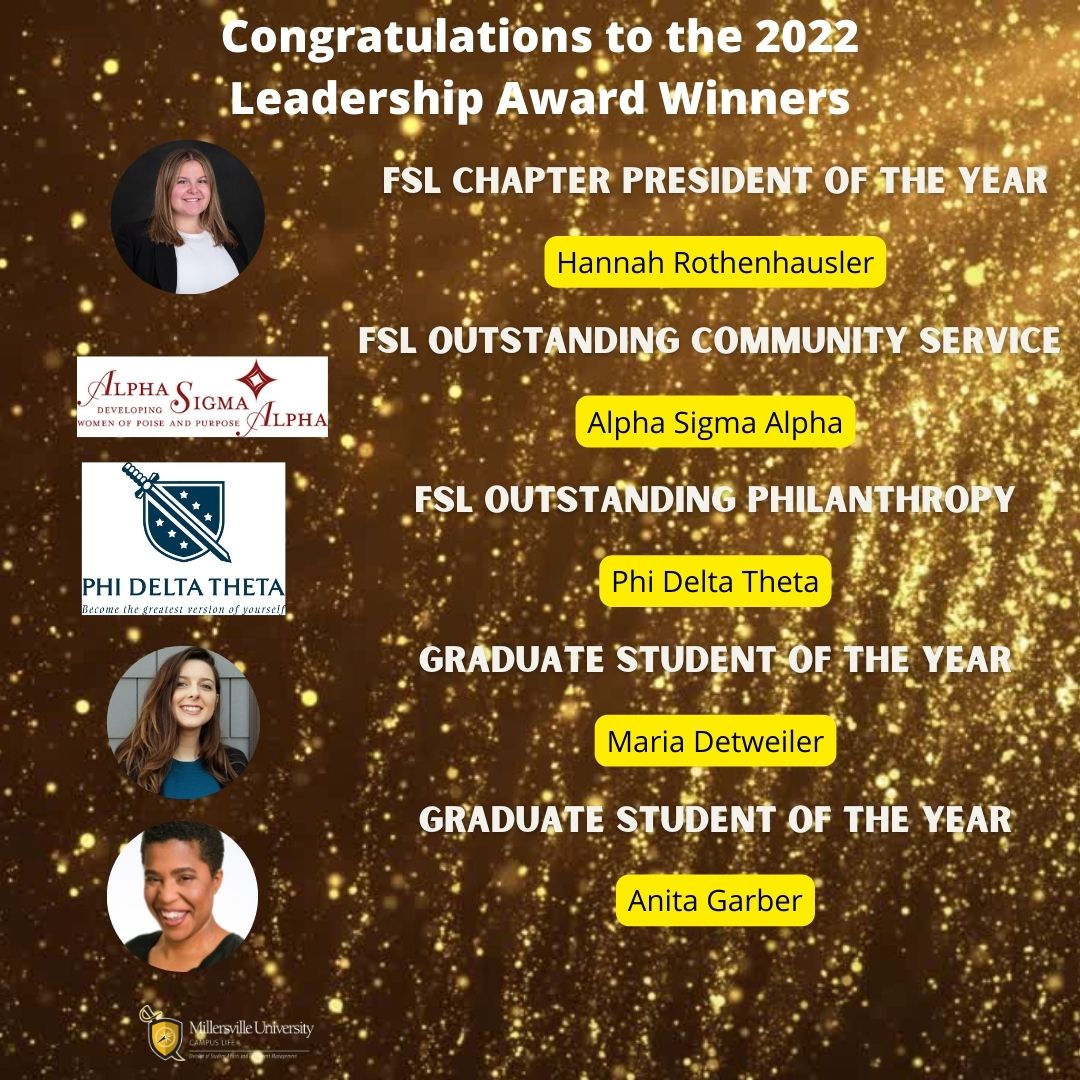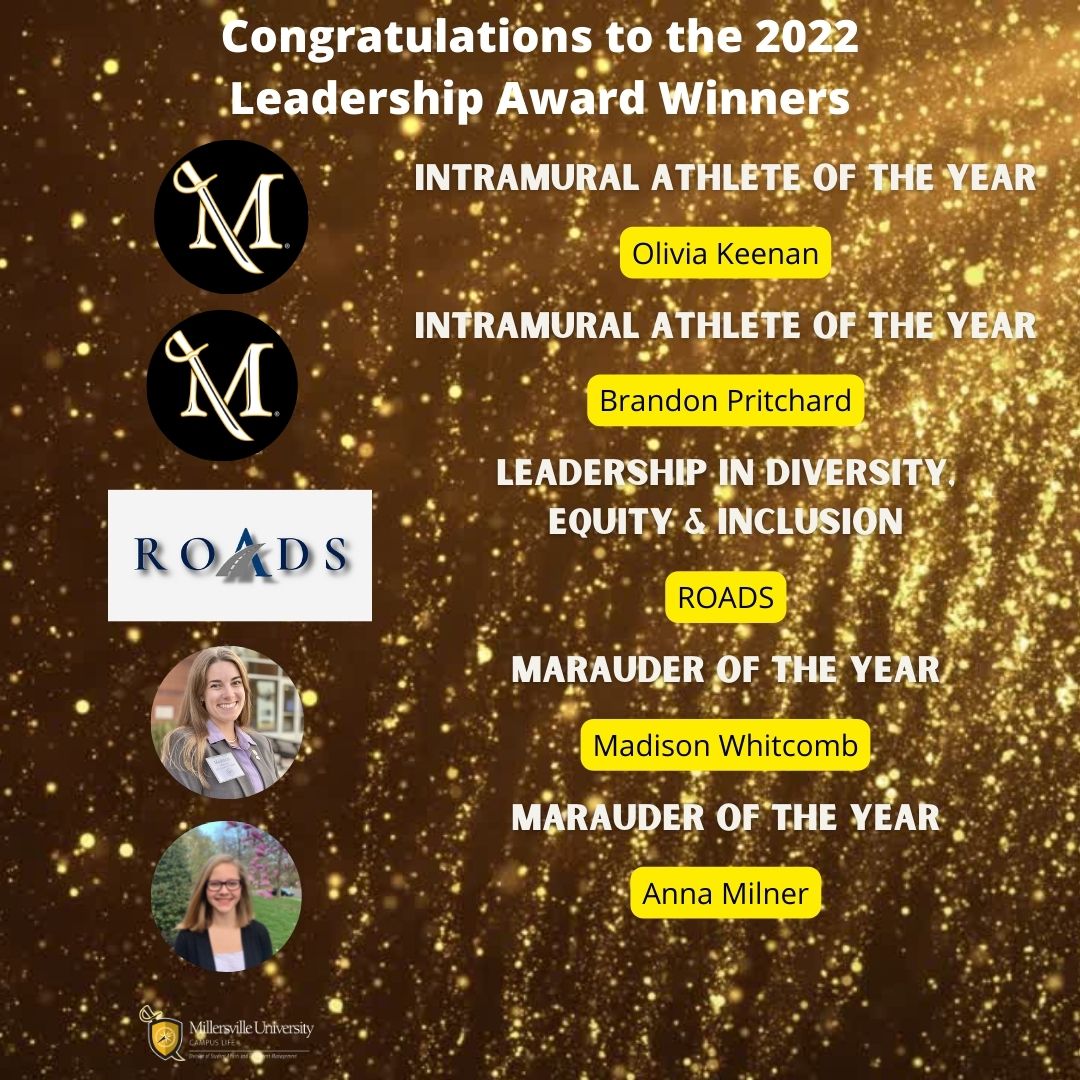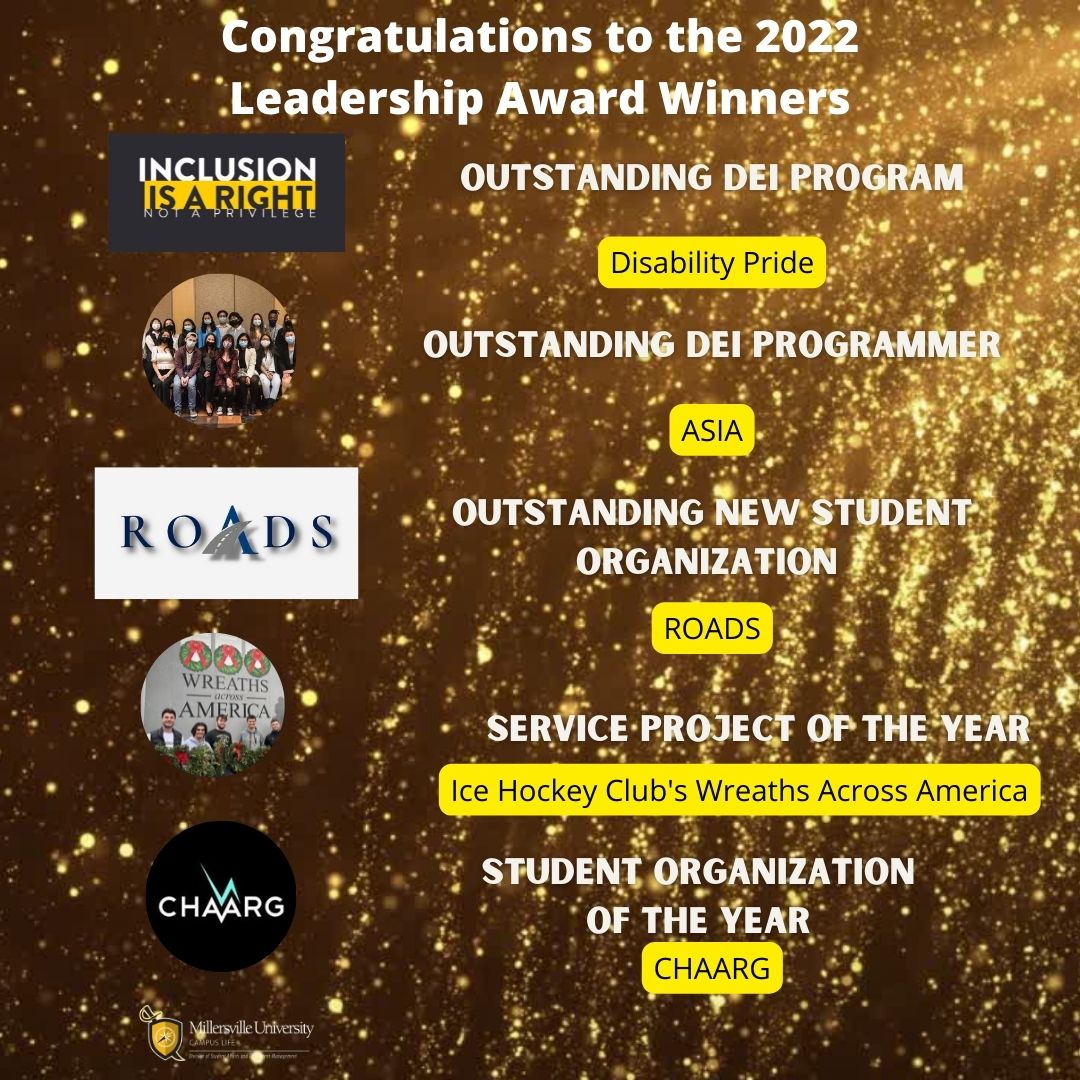 Student Leadership at the Ville
Learn about how student leaders make a difference on Millersville University's campus, and what being a leader...
Watch the video here!
Past Leadership Awards Recipients

The annual Student Leadership Awards were held on April 26, 2021, and recognized both student organizations and individual leaders across campus for their work in building an engaged campus community. Here you will find the list of winners in all categories since 2013. Please join us in congratulating these individuals and organizations on their accomplishments.

STUDENT ORGANIZATION AWARDS

Best Student Program 

2016 - Relay for Life
2014 - The Honors College Student Association for Mini-THON

Campus Event/Program of the Year

2021 - The Walker Center's Election Night Watch Party
2020 - The First Generation Celebration
2019 - Relay for Life
2018 - It's On Us Week
2016 - Relay for Life
2017 - Relay for Life
2015 - Spring Concert
2014 - The Honors College Student Association for Mini-THON
2013 - Healthy Relationships and Sexual Responsibility Week (Peer Educators and Empower Peer Mentors)

Club Sport of the Year 

2021 - Dance Team
2020 - Moose Ultimate
2019 - Equestrian Club
2018 - Dance Team
2017 - Ice Hockey Team 
2016 - Dance Team 
2015 - Ice Hockey Club
2014 - Women's Rugby
2013 - Ice Hockey Team

Commitment to Social Justice

2019 - The Snapper
2018 - Disability Pride Planning Committee

Community Service Project of the Year 

2021 - Early Childhood Organization "Read Across America Day"
2020 - After School Corps
2019 - Alpha Sigma Alpha's "Be The Change"
2018 - Alpha Sigma Alpha's Scrapbooking Fundraiser
2017 - Lambda Chi Alpha "feeding America"
2016 - The Walker Leadership Fellows "Super Tuesday"
2015 - Society on Latino Affairs "Camp ground for the Boys and Girls Club"
2014 - Alpha Sigma Alpha "Be the Change"
2013 - University Christian Fellowship

Directors Choice Award

 2014 - Women's Empowerment Retreat Committee

EPPIIC Values Award

2021 -  Student Affiliates of School Psychology at MU

Excellence in Academic Programming

2017 - National Broadcasting Society 
2016 - Public Relations Society of America 
2015 - The International Association of Emergency Managers

Excellence in Arts and Culture Programming 

2016 - Citamard
2015 - Fashion at Heart
2014 - Marauder Music Productions

Excellence in Diversity Programming

2017 - Friends of Advocates For Native Nations
2016 - Fashion at Heart
2015 - Shaq Glover – MU Pridefest
2014 - The Black Student Union

Excellence in Greek Programming

2017 - Alpha Sigma Tau 
2016 - Lambda Chi Alpha
2015 - Alpha Sigma Alpha 
2014 - Alpha Phi Alpha

Excellence in Service and Civic Engagement Programming

2017 - The Walker Fellows
2016 - Student Athlete Advisory Committee
2015 - The Disability Student Union
2014 - Council for Exceptional Children

Excellence in Spiritual Programming

2017 - John Newman Association 
2016 - United Campus Ministries
2015 - Footprint Praise Dance Ministry
2014 - Bible Campus Ministries

Excellence in Sports and Leisure Programming

2017 - Ice Hockey Team 
2016 - Ice Hockey Team
2015 - Cycling Club 
2014 - MU Dance Team

Leadership in Diversity, Equity, and Inclusion Program Award

2020 - Coming-Out Week/Pridefest

Most Improved Organization

2013 - Public Relations Student Society of America

Outstanding DEI Program

2021 - University Theatre's fall production of Twilight: Los Angeles, 1992

Outstanding New Student Organization Award

2020 - Student Affiliates of School Psychology at MU

Philanthropic Project of the Year

2017 - Alpha Xi Delta "Xingo"
2016 - Student Alumni Association "I Heart MU Week"
2015 - Lambda Chi Alpha's Feeding America Food Drive
2014 - Lambda Chi Alpha's Feeding America Program

Registered Student Organization of the Year

2021 - Alpha Sigma Alpha & University Activities Board
2020 - International Association of Emergency Managers
2019 - Color of Teaching Mentoring Program
2018 - International Association of Emergency Management
2017 - Black Student Union 
2016 - WIXQ
2015 - Psychology Club
2014 - Society On Latino Affairs
2013 - Early Childhood Organization

INDIVIDUAL LEADERSHIP AWARDS

Advisor of the Year

2021 - Dr. Miriam Witmer
2020 - Dr. Lauren Kaiser
2019 - Kathie Giorgio (Student Government Association)
2018 - Jayme Trogus (Lambda Chi Alpha)
2017 - Andrea Baker (University Christian Fellowship) 
2016 - Dr. Bill Dorman (MUTV and National Broadcasting Society) 
2015 - Debra Vredenburg-Rudy (Psychology Club)
2014 - Matthew Storm
2013 - Jayme Trogus

Commitment to Social Justice Award 

2021 - Mei Ke Reichard
2020 - Domir Kent
2018 - Cindy Vicente
2017 - Teonta Aviles, Monica Rush, and Cassian LeJuene 

Emerging Student Leader Award

2021 - Valentina Zamora
2020 - Emily Wolfe, Martin Zavadan, Najiyyah Pendleton
2019 - Cole Fitch
2018 - Dylan Hyer

EPPIIC Values Award

First-Year Student Leader of the Year

2017 - Noah Sundberg
2016 - Rachel Heckman
2015 - Elizabeth Thompson

Fraternity Leader of the Year

2021 - Stephin McCloskey
2020 - Gasser Abousaif
2019 - Matthew Hudak
2018 - Jared Schumaker
2017 - Lenny Paparo (Sigma Tau Gamma) 
2016 - Anthony Celiberto (Lambda Chi Alpha)
2015 - Anthony Celiberto (Lambda Chi Alpha)
2014 - Colin Herbine

Graduate Student Leader of the Year 

2021 - Bailey Gibson & Channel L. Lowery
2020 - Justin Egresitz
2017 - Christopher Pula 
2016 - Elliot White, Dana Beth Wile

Intramural Athlete of the Year

2020 - Grace Haley, Kyle McDermott
2019 - Dennis Porter, Vivian Feliciani
2018 - Bailey Koehn, Ashtyn Epting
2017 - Brooke Crumbling, Dan Ernst 
2016 - Lexi Ketterman, J.D. Ricapito
2015 - Rachel Kleinfelter, Daneil Ernst
2014 - Pete Williams, Rachel Kleinfelter
2013 - John Rader, Jerika Volckers

Junior Student Leader of the Year

2017 - Ben Flocken 
2016 - Joe Gratz
2015 - Kelly Milligan
2014 - Markesha Burnett

Leadership in Diversity, Equity, and Inclusion Award

2021 - Allison Lawrence
2020 - Mei Ke Reichard
2019 - Shanyce Glass
2018 - Philip Rooney
2016 - Fashion at Heart
2015 - Shaq Glover
2013 - Marshall Hild

Living the Mission Award

2020 - Mamie Covell
2019 - Madison Stoutland
2018 - Rachel Heckman

Marauder of the Year

2021 - John Smith IV & Sabreena Shaller
2020 - Adam Weiner & Cait Parks
2019 - Rachel Heckman
2018 - Haley Poust, Robert Capella

Newman Civic Fellows Award

Outstanding Organization Member of the Year 

Benjamin Daum (American Chemical Society)
2016 - Shayne McIntosh (Cyber Defense Organization)
2015 - Justin Miller (Student Senate)

Peer Educator of the Year

2021 - Megan Hlodash
2020 - Kay Igyor
2019 - Emonie Reviere
2018 - Johanna Simpson
2017 - Rolando Rodriguez-Jiminez
2016 - Remi Schwartz
2015 - Casey Stover

Senior Student Leaders of the Year 

2017 - Margaret Mumma and Priscilla Mulrooney
2016 - Abby Spanos and Christian DeJesus
2015 - Casey Stover
2014 - Phillip Cook 

Sophomore Student Leader of the Year 

2017 - Kasey Fitzpatrick 
2016 - Hollie Citerone
2015 - Elijah Green
2014 - Christian Copeland

Sorority Leader of the Year 

2021 - Jasmine Kelliehan
2020 - Delaney Bosworth, Lauren Walker
2019 - Kay Igyor
2018 - Alexandra Jean-Paul 
2017 - Haley Poust (Alpha Sigma Tau) 
2015 - Danielle Keaser (Alpha Sigma Alpha)
2014 - Nicole Guy

Student Employee of the Year 

2016 - Elizabeth Werner
2015 - William Myers
2014 - Racheal Bontempo
2013 - Erica Haertter

Student Organization Officer of the Year

2017 - Raeann Buskey (Student Athlete Advisory Committee) 
2016 - Ashley Stuart (University Christian Fellowship) 
2015 - Cartneri Sanchez (Color of Teaching Mentoring Program)
2014 - Zach Juliano (Lambda Chi Alpha)