Center for Public Scholarship & Social Change
About the Center
The Center for Public Scholarship & Social Change brings together teams of faculty, students, and members of the community to engage collaboratively in research for public purposes. Aiming to leverage the ability for shared research on public issues, the Center for Public Scholarship lends assistance and expertise in identifying research issues, developing research designs, collecting data, writing up results, disseminating results, and working with policymakers and practitioners to resolve issues affecting local, regional, and global communities.
Goals for the Center include the following:
Organize and direct focused research on public issues and develop new models, provide expertise, create linkages to support public impact activities, and help initiate and guide public policy decision-making
Collaborate with community organizations to define and prioritize the issues on which such research focuses
Help raise the level of public awareness about and responsiveness to public issues
Coordinate faculty and visitor colloquia, workshops, and conferences to bring awareness to and support the development of community-based scholarship
Offer funding opportunities for individual faculty members, visitors, students, and student organizations to subsidize community-based research activities
Stepping Stones update
Congratulations to Dr. Jennifer Frank, Dr. Laura Granruth, Dr. Mary Glazier, Rachel Preibisch, Dawn Watson, and Brittany Leffler on their newly published article: "Please, Mr. Postman:" Exploring the Use of Letter Writing to Address Loneliness. CLICK HERE to read the full article.
2023 Community Engagement Grant Program 
The application for the 2023 Grant is now open!
To download the application and learn more about the grant, please visit the Community Engagement Grant Program page.
 Eastern Sociological Society Conference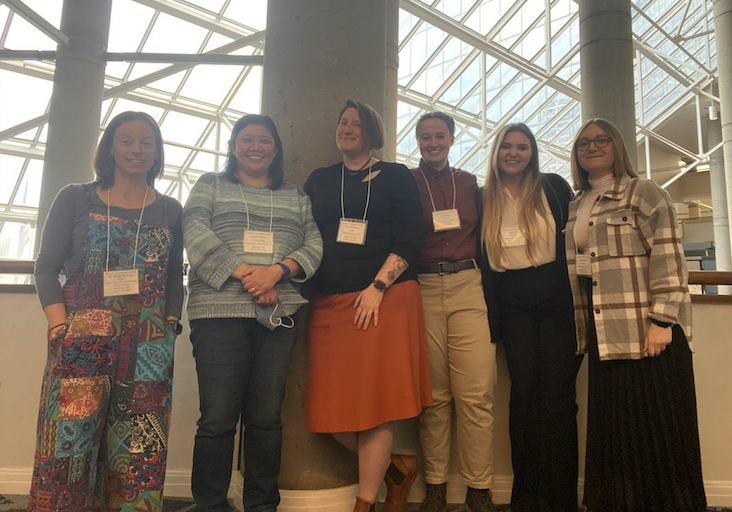 The Center had the opportunity to present three projects at this year's Eastern Sociological Society Conference in Baltimore:
People & Places: Exploring the complexities of unsheltered homelessness in a local community by Dr. Jennifer Frank, Dr. Mary Glazier, Jenna Graeff, Dawn Watson,  and Rachel Preibisch
Stepping Stones: Using letter writing to enhance human connection and address lonliness by Dr. Jennifer Frank, Dr. Mary Glazier, Dawn Watson, and Rachel Preibisch
Life in Affordable Housing: Residents' Perceptions of Dignity, Autonomy, and Quality of Life by Dr. Carrie Smith, Helen Schirf, Amy Sheeley, and Alicia Hill
Congratulations to all the faculty and student researchers who presented! 
"Undergraduate research day" at the capital
Congratulations and a special thanks to Alicia Hill, Amy Sheeley, and Lyndsey Kregel for their outstanding job of representing the Center in Harrisburg!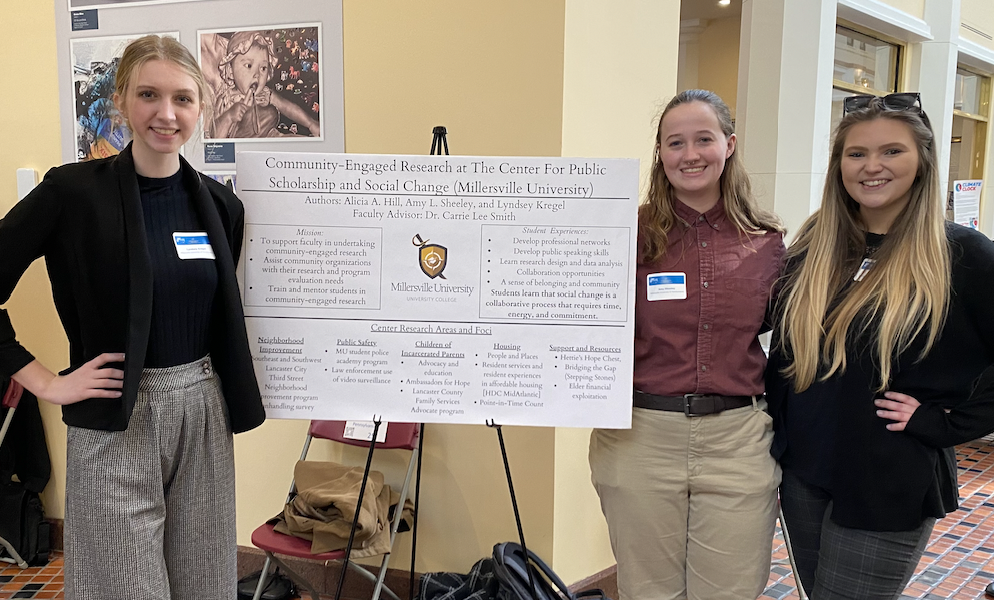 Meet the Crew
Get to know the faculty, staff and research assistants who work incredibly hard on the Center's projects!
About Us
Research Reports
Please feel free to look through all the research reports the Center has done over the years!
Click Here
University College

CPSSC is part of MU's University College whose affiliated offices champion achievement, foster opportunities for personal, professional, and academic growth, and promote work/life balance for sustained success as a life-long learner. The University College provides services, resources, and experiences to support a student's pathway to success.