EPPIIC Student Compassion Fund
Are you a student who is facing undue financial hardship and in need of support and emergency assistance? Please review the information below to see if you qualify before applying.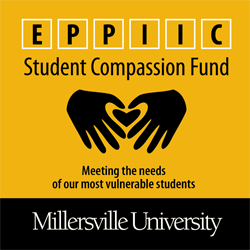 Am I Eligible?
All full-time, currently enrolled graduate or undergraduate students in good standing* with the university are eligible to apply for support from the Millersville University EPPIIC Student Compassion Fund.
*Good standing refers to having at least a 2.0 GPA and not being on academic suspension or behavioral probation or suspension or having outstanding fines.
Review Financial Considerations and Process

Financial Considerations

Generally, payment is made to the approved student. Under special circumstances, and with approval ahead of time, payment may be made to vendors or another third party (e.g., landlord, medical provider, airline) with documentation. Payment will be distributed as soon as possible but will require additional information obtained directly from the student, especially if they do not have direct deposit capabilities.

Priority will be given to those students who have exhausted all other means of financial support. The funds are limited and not intended to provide ongoing relief for recurring expenses, but students are still welcomed to request again if your financial status worsens. The number of students who can be served by the Student Compassion Fund is subject to the availability of funds.

Process

Please complete an EPPIIC Student Compassion Fund Application and attach available documentation.

Apply using the online application
On the application indicate the reason for the need and intended use of the funds.
Attach to the application any available documentation for the need such as invoices or bills due.
Once an application is received an appointment may be required with the Associate Vice President of Student Affairs and Enrollment Management.
A recommendation will be made for all approved requests for disbursement of funds.
The Student Compassion Fund representative reviews the submitted applications and determines the appropriate funding amount.
Funds distributed may vary between $100 - $1,200.
If you do not have direct deposit, please sign up for it as most funds awarded will be applied to individual student accounts, then deposited directly to your designated bank account. You will receive a confirmation email after submitting this form which will provide you with details for setting up direct deposit.

Review Covered Expenses

Covered Expenses May Include:

Emergency housing assistance which could include rent, security deposit, short-term hotel costs incurred to relocate, quarantine or isolate, for personal safety, etc.
Unexpected medical, mental health or dental costs not covered by insurance.
Unplanned travel expenses to receive medical care, to self-quarantine or isolate. Examples could include airfare, car rental, bus or train fare, etc.
Costs of additional equipment, software or services to complete educational requirements via remote learning.
Temporary assistance with food insecurity.
Unplanned or additional childcare costs necessary to complete classwork.
Emergency personal or "incidental" expenses such as clothing, hygiene items, etc.
The fund is intended only for costs directly to the student but could be incurred as a result of providing care to a dependent or other family member.
Safety-related needs such as change of locks, legal assistance, etc.

Expenses Not Covered:

Parking tickets, library fines, or other expenses mistakenly incurred or preventable expenses 
Alcohol and drug related offenses, fines and court fees/ Penalties, fines, tickets, legal fees, or jail bonds
Car repairs 
Normal and anticipated academic expenses already covered through financial aid (tuition, housing, fees, health insurance, and books)
Costs for entertainment, recreation, or non-emergency travel/ travel over breaks (Fall, Thanksgiving, Winter or Spring)
Student conferences 
Expenditures resulting from poor financial management
Phones

Want to Help?

The Millersville University EPPIIC Student Compassion Fund has been established by the Office of Advancement to meet the needs of our most vulnerable students during the COVID-19 crisis. The alumni, friends, faculty, staff and students have been very generous in developing this fund that is available to assist students with food, online learning resources, housing assistance, medicine and other health related assistance and transportation.