EPPIIC Student Compassion Fund
Are you a student who is facing undue financial hardship and in need of emergency assistance? Please review the information below to see if your request qualifies for the EPPIIC Student Compassion Fund.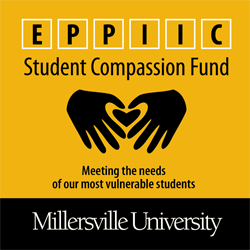 Am I Eligible?
All full-time, currently enrolled graduate or undergraduate students in good standing with the university are eligible to apply. 
WHAT EXPENSES ARE COVERED?
Safety expenses and emergency housing assistance
Unexpected medical costs not covered by insurance
Costs of educational products or services
Temporary assistance with food insecurity
Unplanned or additional childcare costs
Emergency personal expenses such as clothing, hygiene items, etc.
WHAT EXPENSES ARE NOT COVERED?
Parking tickets, fines, penalties, court fees, legal fees, jail bonds, or other preventable expenses
Normal and anticipated academic expenses covered through financial aid (such as tuition, meal plans, on-campus housing)
Costs for entertainment, recreation, or non-emergency travel
Student conferences
Financial Considerations and Process

Financial Considerations

The EPPIIC Student Compassion Fund is subject to the availability of funds. Payments to approved student applications will be distributed as soon as possible but may require additional information and/or documentation. Priority will be given to students who have exhausted all other means of financial support. Funds are not intended to provide ongoing relief; however, students may submit more than one application.

Process

Apply using the online application
Indicate the reason for need and intended use of funds
Attach appropriate documentation such as invoices or bills due
Once an application is received an appointment may be required with the EPPIIC Student Compassion Fund Committee.
The EPPIIC Student Compassion Fund Committee reviews submitted applications and determines available funding.
Funds will be distributed via check or direct deposit upon receipt of required documentation including a W-9 and/or direct deposit form.

Want to Help?

The Millersville University EPPIIC Student Compassion Fund was established by the Office of Advancement in conjunction with Student Affairs to meet the needs of our most vulnerable students. Alumni, friends, faculty, staff, and students have been generous in developing this emergency fund for Millersville University students in need of food, housing assistance, health related assistance, learning resources, and transportation. Thank you for your support!