Women's Gender and Sexuality Studies
EVENTS CALENDAR
The Women's, Gender, and Sexuality Studies Program encourages attendance at varied events that will help us refine our intersectional mindsets and develop more inclusive social justice perspectives.
Spring 2023: Book Talk Series
Register Now for Spring 2023 Book Talk Series: Book: Sexual Citizens: Sex, Power, and Assault on Campus by Jennifer S. Hirsch and Shamus Khan
JOIN US: March 1, 2023. from 5-7 pm. 
Co-Facilitators:Emily Baldys, Ph.D., Assistant Professor, English Nicole Pfannenstiel, Ph.D., Associate Professor, Digital Media Karen Rice, Ph.D., LSW, ACSW, Professor, School of Social Work
This Book Talk Series combines bibliotherapy and Expressive Arts to:
• Enhance compassion and empathy for self and others • Enhance coping strategies • Make meaning of larger issues • Identify ways to affect change
Sign up before the end of the Fall 22 semester and pick up your book to read over Winter Break. Register for Free Here
Contact: learninginstitute@millersville.edu
Carter Woodson Lecture
March 2 2023 at 7 p.m. in the Student Memorial Center.
The Carter Woodson lecture will focus on this gender justice issue: What impact will the proposed prison have on girls and women of color in Lancaster County?
International Women's Day 2023 Events
The President's Commission on the Status of Women (PCSW) is eagerly planning International Women's Day 2023 celebrations and they cannot wait to tell the MU community about everything they have planned. This year's theme is #EmbraceEquity. 
On Thursday, March 2, 2023 there will be an International Women's Day Student Celebration in the Student Memorial Center Atrium from 11am-1pm. Student clubs/organizations, on-campus departments and programs, and community organizations are invited to table and highlight how their group embraces and promotes equity on campus. There will be music, food, and fun! Groups interested in tabling, should register at https://getinvolved.millersville.edu/submitter/form/start/569957
Thursday, March 8, 2023 will be the International Women's Day Theodora Talks event at the Ware Center. From 5:00-7:00pm vendors are invited to table and/or sell their items related to #EmbraceEquity. Beginning at 7:00pm that evening, Theodora Talks will kick off featured guest speakers, and various performing arts groups. Evening guest speakers include Dr. Amaka Nnamani, a board-certified general pediatrician and breastfeeding advocate, Artist Keisha Finnie, and Church World Services speakers and Millersville University student leaders Samickshya Subedi and Apsara Uprety.
Questions? Email PCSW's Planning Committee member Jackie.Aliotta@millersville.edu
All Things Equal- The Life and Times of Ruth Bader Ginsburg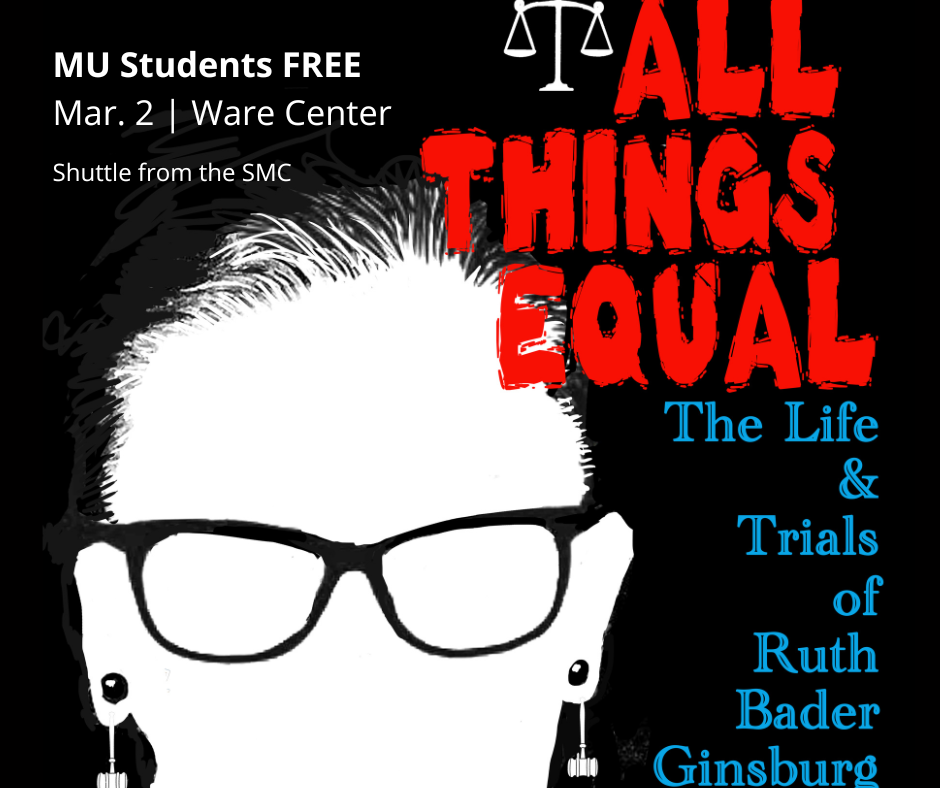 March 2 2023 at 7:30 p.m. at the Ware Center; doors open at 7 p.m.

Free tickets for Millersville students. Free shuttle leaving from the SMC and returning after the performance.
For more information and tickets: https://artsmu.com/event/all-things-equal-the-life-and-times-of-ruth-bader-ginsburg/the-ware-center/
YWCA Sexual Assault Hotline Training
March 7-April 11, 2023 from 6-9 p.m. 
YWCA Sexual Assault Hotline Training
Join YWCA Lancaster's 24-hour Sexual Assault Hotline as a volunteer and advocate!
Volunteer your time to answer calls from the comfort of your own home. The primary role of the hotline volunteer is to provide crisis intervention, support, information, and referral for victim-survivors of sexual assault and their family members. The training consists of 20 hours of online content that is completed at your own pace and 20 hours of instruction that is completed live.Training Dates: Tuesdays and ThursdaysMarch 7th-April 11thTime: 6-9 pmLocation: Millersville University Campus*NO FEE TO PARTICIPATERegistration is required. Please contact Danielle H. at wehearyou@ywcalancaster.org to register or for questions.Contact Email: wehearyou@ywcalancaster.org
Film Series: Warrior Women
March 14, 2023 at 6:15 p.m. at The Ware Center.
HER Campus Event
March 21, 2023 from 7-9 p.m. at the SMC MPR.
Project Condom Event
March 30, 2023 from 7-9 p.m. in the SMC MPR.
Student organizations will compete in a Project Runway style competition where they make outfits completely out of condoms. The event features informational and resource tabling, fashion show, and education program on safer sex practices.
Bystander Moment
April 6, 2023 from 7-9 p.m. in Myers Auditorium (McComsey 260).
The Bystander Moment: Transforming Rape Culture at its Roots
The #MeToo movement has shined much-needed light on the pervasiveness of sexual harassment and abuse and created unprecedented demand for gender violence prevention models that actually work. 
The Bystander Moment tells the story of one of the most prominent and proven of these models—the innovative bystander approach developed by pioneering activist and writer Jackson Katz and his colleagues. In a riveting analysis illustrated with archival footage and clips from news, sports, and entertainment media, Katz explores the role of bystanders—especially friends, teammates, classmates, and co-workers—in perpetuating sexual harassment, sexual assault, and other forms of gender violence. Katz also gives special attention to the peer culture dynamics – in particular the male peer culture dynamics across race and ethnicity — that help to normalize sexism and misogyny while silencing other men in the face of abuse. Along the way, The Bystander Moment stresses the crucial importance of appealing to people not as potential perpetrators or passive spectators, but as active bystanders and potential leaders who have a positive role to play in challenging and changing the sexist cultural norms that too often lead to gender violence. The result is an indispensable educational tool in the ongoing struggle to prevent sexism and misogyny and promote gender equality.
She Said
April 10, 2023 at 6 p.m. in Myers Auditorium (McComsey 260).
Spring Into Wellness Fair
April 12, 2023 from 11am-2pm. This is being held outside between the SMC and Gordinier.
Join CHEP, along with various other on-campus and off-campus resources and organizations, to celebrate health and wellbeing while learning about the dimensions of wellness.
This event includes free food, free tshirts, educational information, resources, and other giveaway items.
Lunch with Joanne Carroll, PA Trans Advocate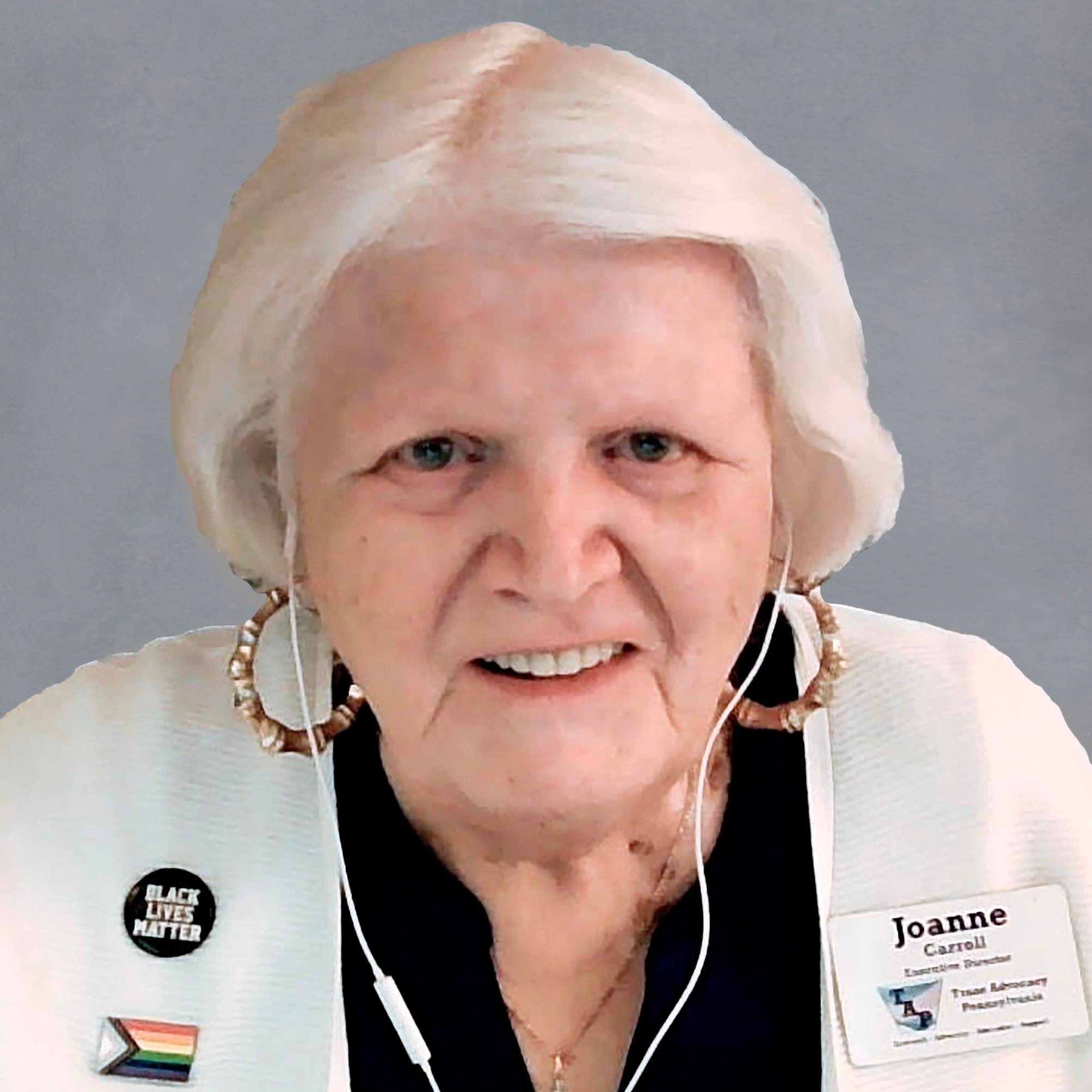 Join the Executive Director of Trans Advocacy Pennsylvania and Commissioner of the Pennsylvania Commission on LGBTQ Affairs Joanne Carroll for lunch, her story, and conversation on the status of LGBTQ+ issues on PA.

Ford Atrium, McComsey Building, 11:30-1:30, with buffet cold lunch
10th Annual Global Well-Being and Social Change Conference
10th Annual Global Well-Being and Social Change Conference: Achieving Sustainable Change in an Evolving World.
April 20, 2023 at 5:30 p.m. at The Ware Center. 
Take Back the Night
April 26, 2023 from 7-9 p.m. in the SMC MPR. 
Tack Back The Night's mission is to end all forms of sexual violence, including sexual assault, sexual abuse, trafficking, stalking, gender harassment, and relationship violence, and to support survivors in their healing journeys. Take Back The Night seeks to unite people from every background, belief, and culture across our campus to take a visible and vocal stand.
Millersville's event includes informational and resource tabling, guest speakers, survivor speak out video, and glow walk.
Ubuntu Day
April 27, 2023 from 11 a.m.-1 p.m. in SMC 114.