Archaeological Excavations 2007
Archaeological Excavations 2007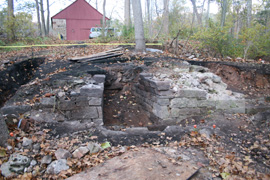 This arch, original though to be the main casting arch, was determined to be a tuyere arch. This is where the pipe carrying air from the bellows would have entered the furnace. The main casting arch is located in the trench on the left.
Initial excavation at Elizabeth Furnace revealed an archway that was originally thought to have been the main casting arch of the furnace. This past years excavations around the furnace have revealed that much that was previously thought about the structure of Elizabeth Furnace was incorrect. Traditionally the furnace has been drawn with the main casting arch at the base of the hill down slope from the charcoal barn. In fact the main casting arch was on the southern side of the furnace near the road, and the arch discovered during the first year of testing was a tuyere arch. The main casting arch of was discovered at the very end of the Fall 2007 field school, nearly five feet below ground. The main casting arch is more than twice as wide as the tuyere arch, comprising nearly the whole south side of the furnace.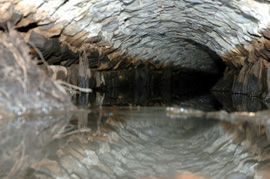 The tail race tunnel discovered during fall excavations. It had a vaulted or arched ceiling and was large enough for a person to crawl inside.
Another exciting discovery made late in the fall of 2007 was the discovery of a nearly 100ft long stone arch vaulted tail race, the part of the furnace race that carried water away from the waterwheel after it was used to power the bellows. Testing in the area was conducted to determine the nature of an anomaly visible on the 2006 GPR survey conducted within the furnace core area. This sub surface anomaly was thought to be the continuation of the furnace race, but we never expected to discover a vaulted stone tunnel nearly 100ft long and perfectly preserved. It is so well preserved that it still carries water, although it has silted up substantially since it was initially constructed. It was likely abandoned in the 1850's when the water wheel used to power the bellows was replaced with a steam engine. In short, the excavations in the fall of 2007 answered many questions about the layout of the furnace and have indicated areas, such as the casting house floor, that are worthy and in need of further attention in the coming years.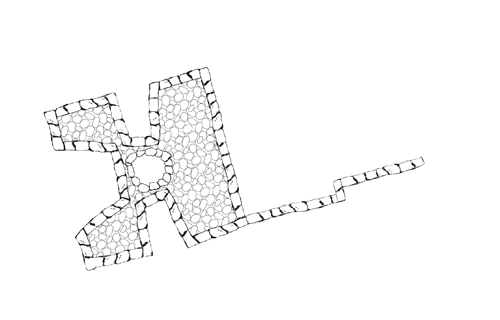 This is a plan view drawing of the structure of Elizabeth Furnace, based on all available data. Revisions and additions will follow as excavations progress.