Get to Know the Big 4
Recycling is Changing. Get to Know the Big 4.
Historically, many of the materials recycled in the U.S. were sent to China where they were used as source materials for products developed by China.  Now that China can source those materials internally, it has restricted what it will accept from the U.S. and other countries.  This has dramatically affected the market for recyclable materials in the U.S. and changed what we can recycle here at Millersville University and in Lancaster County.
The Big 4
At Millersville University, we recycle the Big 4: Cardboard, Glass, Metal Cans, and Plastic with a Neck.  
1) Plastic Bottles and Jugs: Plastic bottles, jars, jugs, and anything else with a neck. Rinse out the container and throw away the lids.
All other plastics should be thrown in the waste bins. Ignore the numbers, as they don't indicate if the plastic is recyclable.
2) Metal Food and Beverage Cans: All food and beverage cans made from aluminum or steel.  Rinse out the container and throw out the lid.
3) Glass: Clear, green, and brown glass bottles and jars.  Rinse out the container and throw away the lid.
4) Corrugated Cardboard: Any size sheet of corrugated cardboard, including items like shipping boxes, packing boxes, and pizza boxes that are free of grease or food remnants. Flatten the boxes and remove all packaging materials such as bubble wrap and styrofoam.
Paperboard, such as cereal boxes, and food cartons can not be recycled. 
Click the image below for recycling guidance provided by the Lancaster County Solid Waste Management Authority (LCSWMA).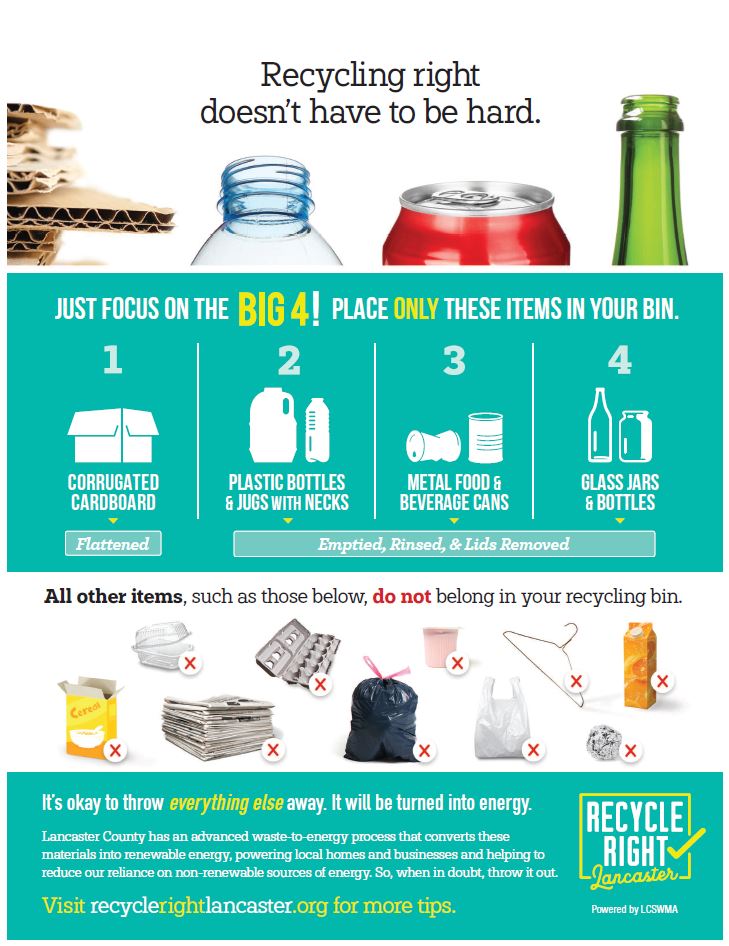 When in Doubt, Throw it Out
"Wishful Recycling" by throwing items in the recycling bin that you hope can be recycled can do more harm than good.  When in doubt, throw it out.
The short video below, prepared by Millersville University student, Matt Viscomi, explains more.
What Else Can I Recycle?
Items that can be thrown in the University recycling bins are limited to the Big 4. Individuals can recycle other items such as newspapers, office paper, and styrofoam at Lancaster City's recycling center located at 850 New Holland Ave. For more information on what's happening locally, see this LNP article.
Toner Cartridges
Ricoh Copiers - Toner cartridge boxes should come with a return label for returning the used cartridges to Ricoh.  If these are not available, return labels can be printed through Ricoh's Product Stewardship and Recycling website.
Other Toner Cartridges - Faculty, staff and students can drop other toner cartridges off at the Office of Sustainability (located in the Lombardo Welcome Center) to be recycled.
Waste to Energy
Unlike other locations where waste goes to a landfill, Millersville University's waste goes to LCSWMA's waste-to-energy facility where it's used to make energy for regional homes.