Award Recipients
Summer 2022 AWARDS
Susquehanna Bancshares Internship Program
Miranda Miller- Elmwood Park Zoo, Conservation Education Internship

"Throughout my internship I was able to facilitate the giraffe feeding experience, run the barnyard experience with the goats, and help with the walk-through bird experience. There were also times I would be stationed at different exhibits and give talks to the families and groups walking by. I'm an Environmental Biology major who is very interested in conservation and wildlife, so this internship gave me the ability to explore those options and what parts of conservation I'd like to be involved in. My overall goal is to be more comfortable communicating with the public and getting everyone excited about science while still learning for myself!"
Cassandra Sharrow- Jacksonville Zoo & Gardens, Mammal Area 3 Keeper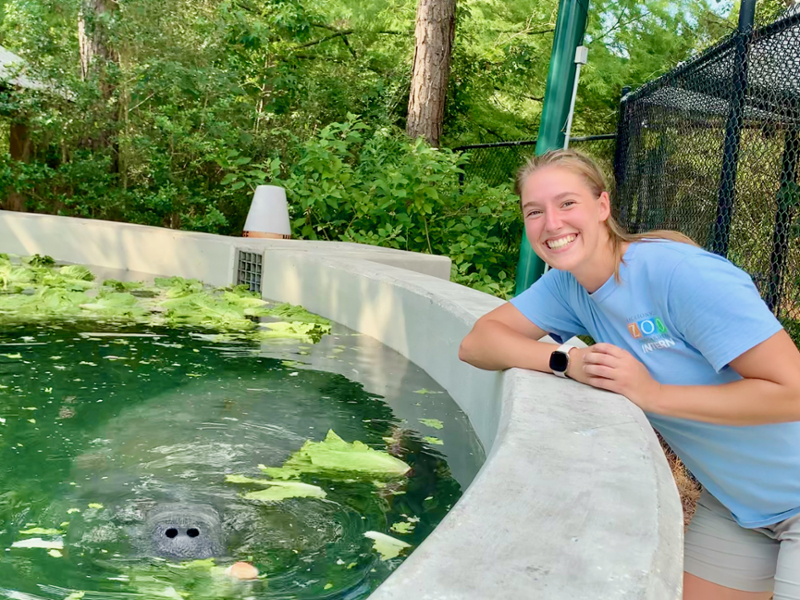 "I interned at the Jacksonville Zoo & Gardens in their African Forest and Wild Florida departments. I primarily assisted the keepers in their daily duties, provided enrichment for several species, and observed the wellness team assess studies. Academically, I have been able to fulfill another requirement in my concentration to graduate. As for my future career, this opportunity has allowed me first-hand experience, and determined if I'd like this as a career. This internship has enabled me to work with a variety of species, allowed me to network, and build my resume. This has truly been an invaluable experience".
Starbrad in Excellence Science Award
Caitlin Curran- Penn State's Southeast Agricultural Research & Extension Center, Research Intern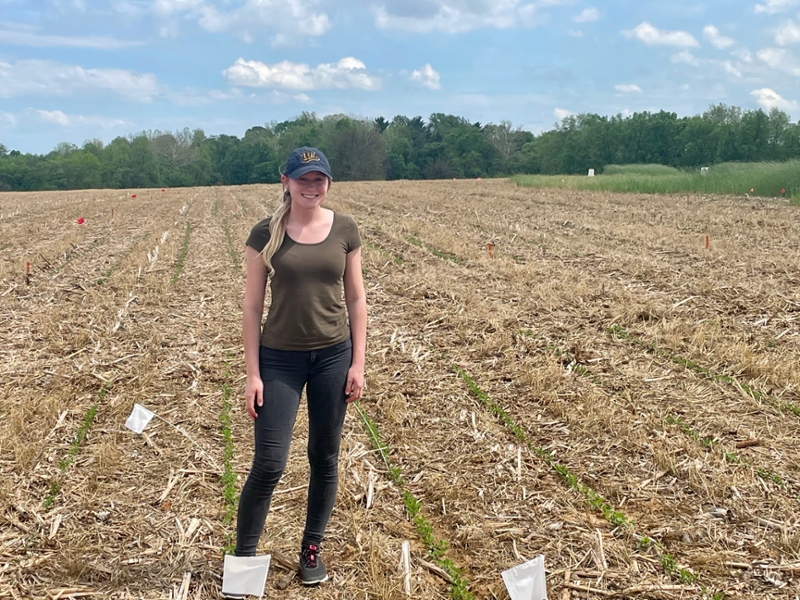 "I am beyond thankful for my summer internship at Penn State's Southeast Agricultural Research & Extension Center, located in Landisville, Pennsylvania. With this experience, I spent an extensive amount of time working with cover crops, soybeans, and more studies aimed at bettering farming in Pennsylvania. Anything from soil sampling to biomass collections was all a part of the experience. This internship relates to my career goals as I strive for a future in environmental and ecological biology. Learning about sustainable farming methods and various data collection techniques will benefit me greatly in my future endeavors".
SPRING 2022 AWARDS
Carol & Marc Phillips Fellowship in Community Engagement Endowment Fund Award
Isaiah Boyer - VITA (Volunteer Income Tax Assistance), United Way of Lancaster County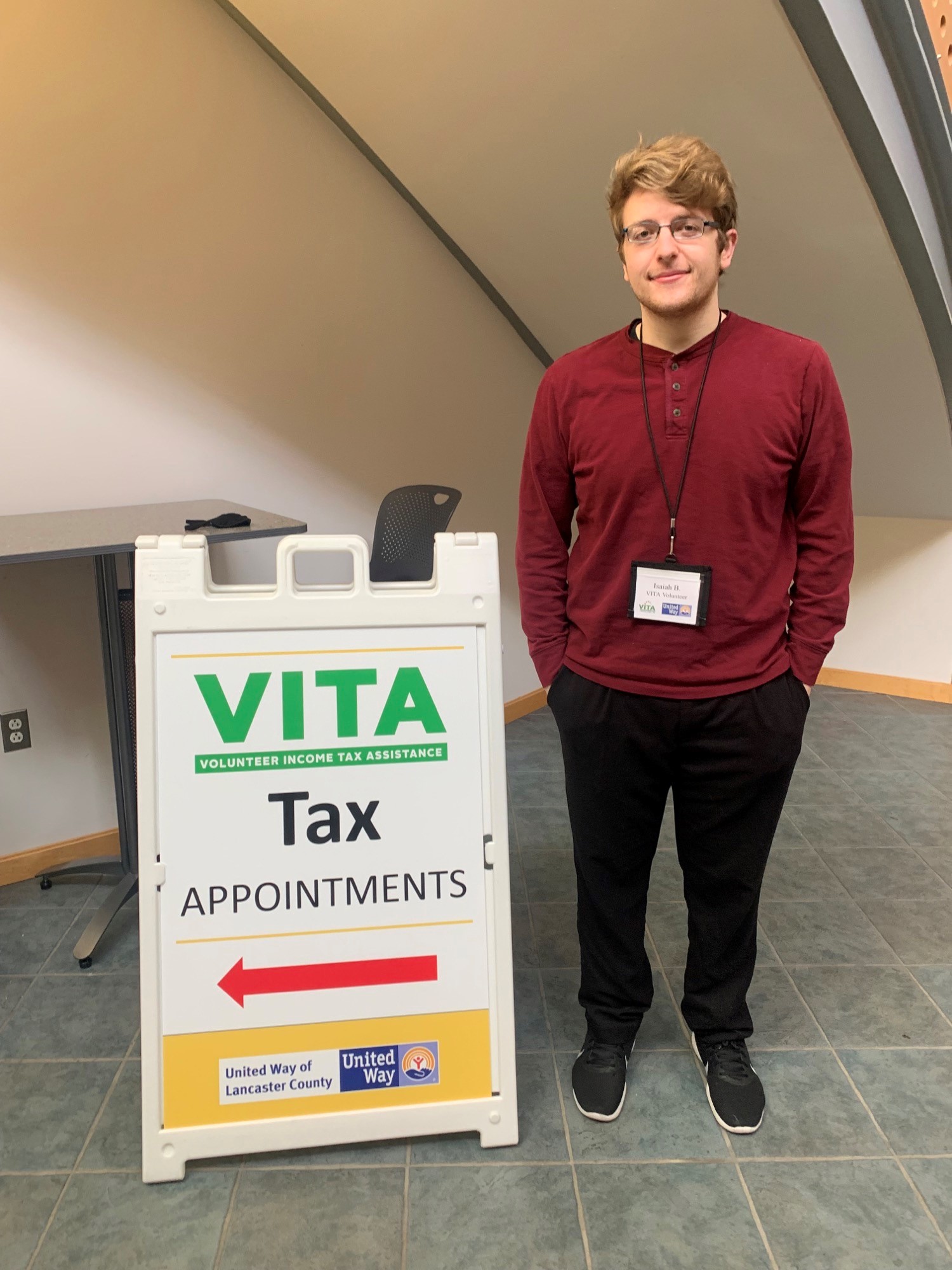 "I have been lucky to intern with VITA this spring. We are a program focused on providing free tax prep to low-income individuals in Lancaster County. Personally, I love helping people in need, so this program has been perfect for me. Not only that, but I have learned so much, from tax knowledge, to problem-solving and communication skills, to supervisory and management experience. While I may not go into the tax field upon graduation, everything I learned here can be applied to all areas of my life, and for that I'm so grateful!"
Lancaster County Community Foundation/BB&T Bank College Works Award
Nicolas Lopez - VITA (Volunteer Income Tax Assistance), United Way of Lancaster County

 "My internship at VITA was a great experience since it allowed me to learn about the tax world. All the sites where I did tax returns had a great environment since everybody was polite and welcoming. As an illustration, the other tax volunteers and coordinators guided and showed me how to prepare and handle the different tax cases. As a Finance and Accounting major, taxes are a crucial part of the business world when companies or financial firms make decisions. I would recommend this experience to students since it provides knowledge about how to complete federal, state, local, and property/rent rebate taxes.  I am grateful that VITA allowed me to be a tax volunteer".
 Dylan Boas - Boys and Girls Club of Lancaster
"My internship was at the Boys and Girls Club of Lancaster (Columbia Clubhouse). I acted as a mentor for different youth groups overseeing the children as the engaged in various after school activities. My major is Sociology, and my minor is Psychology. After completing my undergraduate programs, I am planning on pursuing my master's degree in School Counseling. My career goal is to be a guidance counselor at the elementary or junior high school level. My internship provided me with an amazing experience in working with children and learning how to interact with children of different ages".
Craig Ness - Lancaster County GIS Department
"After my internship with the Lancaster County GIS Department everything changed for the better. I was surrounded by experts in every area of GIS and was able to boost my confidence from the knowledge I gained. The knowledge from my internship and schooling has become a perfect combination of classroom and hands-on experience".