State Authorization Reciprocity Agreement (SARA)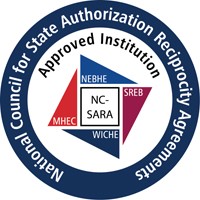 Effective January 1, 2017, The Commonwealth of Pennsylvania joined the National Council for State Authorization Reciprocity Agreements (NC-SARA).
Millersville University has been approved by the state of Pennsylvania to participate in the National Council for State Authorization Reciprocity Agreements.
NC-SARA is a voluntary, regional approach to state oversight of postsecondary distance education. For more information on NC-SARA, please visit www.nc-sara.org.
Online Education Complaint Process
In compliance with 34 CFR 668.43(b) Code of Federal Regulation and U.S. Department of Education (USDOE) rules, an institution offering distance education must "provide its students or prospective students with contact information for filing complaints with its accreditor and with its State approval or licensing entity and any other relevant State official or agency that would appropriately handle a student's complaint." This process refers to the student's available recourse if the distance education student has exhausted all possible avenues for complaints at the institution related to consumer protection and the issue has not been resolved to the student's satisfaction.
All current, former, and prospective distance education students, regardless of their residency, must first submit any grievances, complaints, or concerns directly to Millersville University in accordance with university policies located in the Catalog. This step must be completed prior to seeking external resolution for an issue. Please note that student complaints about grades or student conduct cannot be addressed through the SARA/distance education complaint process and must be addressed by the university.
A student may appeal to the portal agency of the home state in which the institution is legally domiciled for consumer protection issues. The Pennsylvania Department of Education is the state portal agency and will notify NC-SARA of an appealed complaint in efforts to seek resolution. Complaints can be addressed to the Pennsylvania Department of Education, Higher and Career Education, 333 Market Street, Harrisburg, PA 17126, or via email at ra-distanceeducation@pa.gov. Students may also file consumer protection complaints with the Pennsylvania State System of Higher Education or the university's accreditor, the Middle States Commission on Higher Education.
If you have any questions, please feel free to contact the Office of Online Programs at (717) 871-7200.
Professional Licensure
Applicants who are applying to programs that lead to licensure in states other than Pennsylvania must be aware of the various state professional licensure requirements. Please check licensure requirements by state by visiting CareerOneStop.
Alternatively, you may use these discipline-specific CareerOneStop links:
Millersville University programs fulfill all requirements for licensing and approval within the state of Pennsylvania. However, Millersville University is unable to make a determination about licensing requirements in other states. In order to assist you, WCET/SAN has compiled a helpful list which provides per-state help on finding licensure information. You are encouraged to review that here: 2020 Links to Licensed Professions per State