Accepted Online Students
Roadmap to Enrollment
Congratulations & welcome new online students!
In order to best prepare for your upcoming online program at Millersville, you should follow the steps below!
1.  Review the Roadmap to Enrollment (linked below)
The Roadmap to Enrollment is a valuable resource and your guide to getting started at Millersville University.  You can download it, review the Online Student checklists and resources, and save it for your reference.
2.  Review your Welcome Packet.
Once you have confirmed your acceptance you will receive a Welcome Packet in the mail and also by email with additional information on getting set up and getting started.
3.  Review the Online Student Support Resources page.
Please visit our Online Student Support Resources page for more information on the resources available to you throughout your time as an online student at MU!
4.  Complete your online orientation.
There will be a mandatory online orientation in D2L to complete closer to your start date.  Be sure to check your personal and MU student emails for information from our Student Support Specialists on when your orientation is available.
If you have any questions, please contact the Office of Online Programs at (717)871-7200 or OnlinePrograms@millersville.edu.
Best wishes in your online program!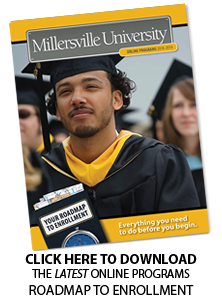 Additional Resources

Search for Online Courses

Search through all available online courses by term, level (undergraduate or graduate), and method (fully-online or blended).

Tuition & Fees for Undergraduate Students

Check this page for exact tuition & fees for undergraduates; this includes costs for both fully online & face-to-face students, as well as in-state & out-of-state.

Online Programs Student Forms

Visit this page for a complete list of student forms used by the Office of Online Programs, such as Change of Delivery (COD) forms and Admission Response forms.

Contact Us

Office of Online Programs

Millersville University
Lyle Hall, Room 212
PO Box 1002
Millersville, PA 17551

Email: OnlinePrograms@Millersville.edu


Phone: 717-871-7200

Hours: Mon. - Fri. 8:00am to 4:30pm