Graduate Gifts
Parents: Congratulate your graduate for all their hard work!
Senior Class Honorary Gift Messages provide a special opportunity for you to recognize your graduate's time at Millersville University.  With Commencement postponed, please know that messages will be displayed on the Senior Class Gift webpage beginning Saturday, May 9 and will stay live for the remainder of 2020. As a parent or friend, your donation will reflect your pride in your graduate's accomplishments while supporting the effort to raise funds for the senior class gift. Click HERE to make a secure donation of $30 or more and scroll down to the box under "Additional Information" to submit your message by Thursday, April 30, 2020.
Diploma Frames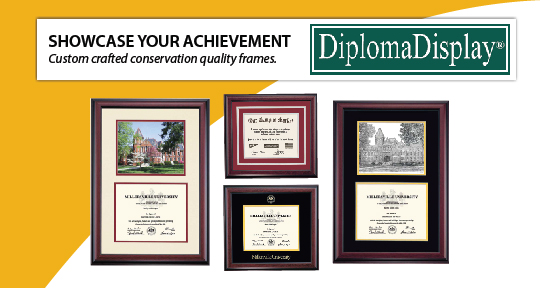 Your symbol of achievement deserves to be protected and displayed with a custom diploma frame from Diploma Display. This frame allows your diploma to be slipped right in through the back of the frame--no tools or hassles. Each frame features elegant hardwood molding and museum-quality matting, with a hand-embossed Millersville University seal in gold leaf or an official photograph of Biemesderfer Center for a special touch. For more information on orders, call 800-422-4100.
Commencement Photos

GradImages is the official photographer for our Commencement ceremony.  Pictures can be ordered online, by phone or by mail. GradImages can be contacted at 800-261-2576 or on the web at www.gradimages.com.
Registering with GradImages online ensures they have accurate mailing and email addresses.  With the proper information, proofs will be emailed three to five days after graduation.  You may also provide them with email addresses of up to six friends and family members to share your accomplishment.
Attention Graduates and Parents! Click here to register your email and get $5 off orders of $25 or more!