Faculty, Staff & Administrators
General Information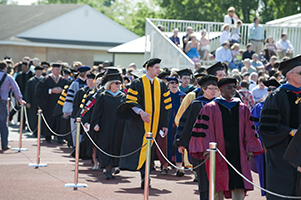 Commencement marks an important milestone in the lives of our students, and all members of the campus community are invited to celebrate with the graduates and their families.
The presence of the faculty has always been a strong tradition at graduation ceremonies. The centuries-old rituals of the faculty procession in academic attire led by the senior member carrying the University mace convey the continuity of academic tradition from medieval times to the present.
Staff and administrators are invited guests to the commencement ceremonies, and many of them have forged strong bonds with our students.
Faculty, staff and administrators are encouraged to attend commencement! Order your robe by stopping by the University Bookstore to place and order or call 717-871-7610.