Faculty, Staff & Administrators
General Information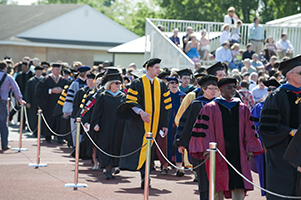 Commencement marks an important milestone in the lives of our students. All members of the campus community are invited to celebrate with the graduates and their families.
The presence of the faculty has always been a notable tradition at commencement ceremonies. The centuries-old ritual of the faculty procession in academic attire led by the senior member carrying the University mace convey the continuity of academic tradition from the past to the present.
CEREMONY TIMES ---
Friday, May 5, 2023 - Master's and Doctoral Degrees
     6:00 p.m. - College of Graduate Studies & Adult Learning
Saturday, May 6, 2023 - Undergraduate Commencements 
9:00 a.m. - College of Education & Human Services
1:00 p.m. - College of Science & Technology
5:00 p.m. - College of Arts, Humanities & Social Sciences with the Lombardo College of Business
For Saturday May 6 ceremonies, faculty should plan to immediately exit the facility after the recessional if you are not planning to participate in the next ceremony.  This will permit University staff to prepare for the next ceremony.  We thank you in advance for your understanding and cooperation. 
All ceremonies will last approximately two (2) hours and will occur in Pucillo Gymnasium.
Invitation to Participate & Process in the Ceremony(ies)

We are looking forward to celebrating the accomplishments of our graduates at the 2023 May Commencement Ceremonies.  All faculty are strongly encouraged to robe and participate!

The Commencement Cmmmittee asks for you to respond to your department secretary no later than April 13th to indicate your plans to process in regalia.  This information will allow us to plan appropriately for the number of seats needed and to know the numbers to be able to order food and drinks for the faculty robing room (we will need to supply catering with a projected number of attendees).  Each department secretary is helping us to gather an accurate number of attendees for each department.

The ceremonies are scheduled to be held in Pucillo Gymnasium and will be livestreamed and archived for future viewing.

There will be an alternate viewing location at the Winter Center for Visual and Performing Arts. Tickets are not required for anyone to attend at this location.

As a robing member of the faculty processional, you will NOT need a ticket. 

A designated faculty robing area is on the second floor of Pucillo Gymnasium.  Faculty are recommended to arrive one (1) hour prior to the ceremony.

Additional details will be provided in late April to those who have responded with their intention to process.

If you would like to attend the ceremony, but not process in regalia, you will need a guest ticket to enter the gymnasium. A guest ticket provides access to the general admission seating areas in the bleachers on the lower or upper levels. Information regarding how to reserve a ticket will be posted in 'Ville Daily.

Regalia

Deadline to order regalia is Monday, March 27, 2023. Contact the  University Store at (717) 871-7610 or mnitroy@ssi.millersville.edu.

Regalia Pricing:

Doctoral Unit (velvet tam, gold metallic tassel, gown, and hood)  $85
Doctoral Unit (gown, hood, without tam and tassel) $62
Doctoral: hood only  $31
Doctoral: tam only  $29                                                                            
Master Unit (cap, gown, hood, tassel) $58
Bachelor Unit (cap, gown, hood, tassel)  $56

Questions and Contacts