Faculty, Staff & Administrators
General Information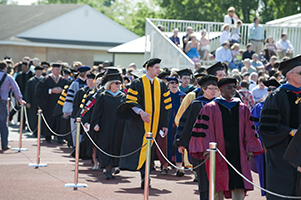 Commencement marks an important milestone in the lives of our students, and all members of the campus community are invited to celebrate with the graduates and their families.
The presence of the faculty has always been a notable tradition at commencement ceremonies. The centuries-old ritual of the faculty procession in academic attire led by the senior member carrying the University mace convey the continuity of academic tradition from medieval times to the present.
Faculty, staff and administrators are encouraged to attend commencement! We ask you to respond no later than November 30 to indicate your plans to process in regalia.  If you do not register by the deadline, floor seating is not guaranteed. Please click here to RSVP!
Deadline to order regalia is October 17. Contact the  University Bookstore: 717-871-7610 or mnitroy@ssi.millersville.edu.