Commencement
I am pleased to announce that Millersville University is planning to honor the Classes of 2020 and 2021 by hosting in-person Commencement ceremonies in May!
Thursday, May 6 at 5 p.m.
Undergraduate ceremony for May 2020, December 2020 and winter 2021 graduates

Friday, May 7 at 5 p.m.
Graduate ceremony for Spring 2020 and Spring 2021 Grad Studies graduates

Saturday, May 8:
Undergraduate ceremonies for May 2021 undergraduates

10 a.m. College of Arts, Humanities and Social Sciences & Lombardo College of Business
3 p.m. College of Education and Human Services & College of Science and Technology
The ceremonies are scheduled to be held outdoors in Biemesderfer stadium, rain or shine. Various safety measures will include appropriate social distancing, limiting potential touchpoints and the requirement to wear facial coverings. Registration and tickets will be required for all graduates and their guests.
While aspects of the in-person ceremony will be a bit different than previous ones, we are committed to holding a meaningful celebration. We realize that not all graduates or their families will be able to travel to campus to attend the ceremony, so all ceremonies will be livestreamed and archived for viewing at a later date.
Additional information will be shared soon regarding how graduates will register to attend the ceremony, how to order tickets and how and when to purchase regalia. We are anticipating an allotment of two guest tickets per graduate, but that could change based on the venue capacity restrictions in place as we get closer to May.
Throughout our planning process, safety precautions have been at the forefront and will continue to aid our decision-making in regards to public health and safety and in compliance with government directives. If circumstances require, we are creating an alternate plan to host the ceremonies as livestreamed virtual events.
This website will be updated as details continue to be confirmed. Please note that future communications about commencement will be provided to graduates by email.
The entire campus community is looking forward to celebrating the extraordinary achievements of our graduates in May!
Dr. Vilas A. Prabhu
Provost and VP for Academic Affairs
---
CELEBRATING THE ACHIEVEMENTS OF OUR GRADUATES!
Alumni Encourage our Graduates
Listen to 20 messages of encouragement from 20 MU alumni.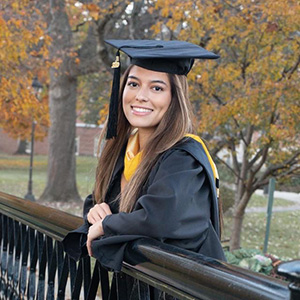 Congratulations to the 353 undergraduate students who earned their bachelor's degree in December! Click here to view the names of the graduates. Learn more about a few of our recent graduates.