Director, MU Honors College
Dr. Elizabeth Thyrum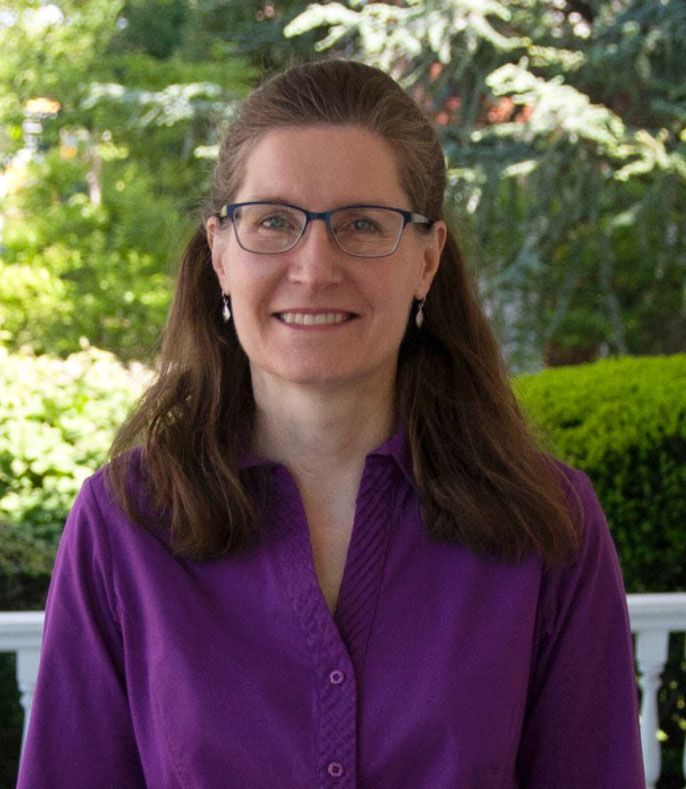 Dr. Thyrum, the Director of MU's Honors College as of August 28, 2017, advises and works with students in the Honors College as well as advocates for the program. Dr. Thyrum is an Associate Professor of Psychology at Millersville University, where she has taught since 1994. She is an MU alumna (1986) and a graduate of MU's original Honors Program. Dr. Thyrum received her M.S. in Behavioral Neuroscience and Ph.D. in Clinical Psychology from Rutgers University. Prior to returning to MU as a faculty member, Dr. Thyrum completed a clinical psychology internship through Brown University's Medical School as well as a PostDoctoral Fellowship/Research Associate position in the Division of Medical Psychology at Duke University Medical Center. She currently is a licensed psychologist in Pennsylvania. During her 24 years at MU, Dr. Thyrum has taught a variety of undergraduate and graduate courses in psychology, including Psychology of Drug Addiction, Health Psychology, Directed Projects and a graduate course in Biopsychology. She has supervised numerous departmental and University Honors College senior theses along with Master's theses. During the past decade, she has worked to further develop community partnerships with non-profit organizations, educational settings, and other physical and mental health-related agencies as a way to broaden opportunities for students completing service learning projects and for students enrolled in Directed Projects (a field experience course for psychology majors). Dr. Thyrum's research interests, publications and conference presentations have been related to issues concerning substance abuse, stress and coping, cognitive functioning and physical illness (HIV, hypertension), and quality of life as related to chronic illness. Dr. Thyrum looks forward to continuing to broaden connections between students in the University Honors College both on campus and in the greater community. 
Contact Information:
Dr. Elizabeth Thyrum, Ph.D., '86
University Honors College
Psychology Department
Millersville University
Millersville, PA 17551
Office: 200 Franklin House & 120 Luek Hall
Tel: (717) 871-7552 or (717) 871-7278
Email: Elizabeth.Thyrum@millersville.edu
Zoom Personal Meeting Room:
https://millersville.zoom.us/j/2946295508
Zoom Meeting ID:  294 629 5508
Past Directors
Dr. Dennis Downey
He taught at Millersville University since graduating from Marquette University in 1981. He is now a retired Professor of History and was the Director for the University Honors College from 2006 to 2017. In addition to his teachings, he is the author or editor of five books of history including No Crooked Death (1991), A Season of Renewal (2002), and We Sing to Thee (2004). He has published more than three dozen scholarly articles and essays. He have has also received several awards for his writing, including the Philip S. Klein Prize and an Outstanding Book Citation from the Gustavus Myers Center for Human Rights. In 2005-6, he served as President of the Pennsylvania Historical Association. Dr. Downey retired from the University in the Fall of 2017.
Dr. Steven M. Miller
A member of the faculty since 1985, Dr. Miller served the English department. Dr. Miller taught  several literature courses including Western Intellectual Tradition (WIT), Early English Literature, Folklore, and Poetry. Dr. Miller served as Director of the Honors College from Fall 1999 through Spring 2006 and was instrumental in the process of getting the Honors Program changed to the Honors College.
In the summer of 2003, Dr. Miller began the reading project for incoming Honors freshmen. Each freshman received a book during Orientation that was written by an author who was scheduled to visit the campus during the academic year. During the first week of classes, the students met for a one-time discussion group with a faculty member or administrator who volunteered to read the book and lead the discussion. Upper level Honors students were also involved in the project and many have returned each year since to help with the reading project.
Dr. John B. Osborne
A member of the faculty since 1970, he served the history department for over 33 years. In addition to English history, which was his main focus, he taught several other courses at the undergraduate level, including Western Intellectual Tradition (WIT) for honors. Dr. Osborne established the Honors Program serving as Director for 19 years. Dr. Osborne retired from Millersville University in June 2003.