R.A.D. (Rape Aggression Defense)
Rape Aggression Defense
Next Class: TBD
Classes will be held in room 24 of the SMC, except for the Sept. 13th class which is in room 18 of the SMC.

Classes for Millersville University Students, Faculty and Staff only.
A $10 registration fee is required in addition to a $5 deposit which will be returned upon completing all four classes. If you do not attend all four classes, the $15 will be utilized towards the cost of the program (checks payable to Millersville University Police Department RAD Program). Cash, check and money order are accepted.
The Rape Aggression Defense System is a program of realistic self-defense tactics and techniques for women. The R.A.D. Basic Physical Defense System is a comprehensive, women-only course that begins with awareness, prevention, risk reduction, and risk avoidance, while progressing on to the basics of hands-on defense training.  R.A.D. is not a Martial Arts program.  Our courses are taught by nationally certified R.A.D. instructors and provide each student with a workbook and reference manual.  This manual outlines the entire physical defense program for reference and continuous personal growth and is the key to our free lifetime return and practice policy for R.A.D. graduates.
To register or for more information contact Jayme Trogus with the MU Wellness Department at (717)871-2238. For more information check the website www.rad-systems.com.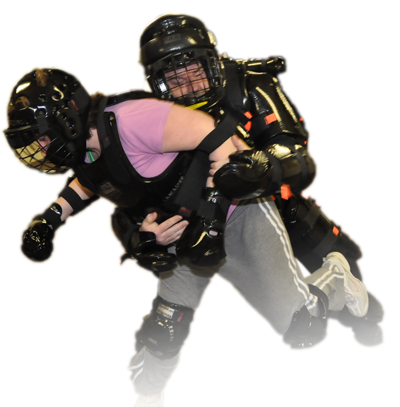 Basic Physical Defense
The cornerstone of R.A.D. Systems is in the foundations in education and awareness.  The course includes lecture, discussion, and self-defense techniques suitable for women of all ages and abilities.  Classes are twelve hours in length usually broken into four classes held throughout the week.
Frequently Asked Questions
Do you need any prior experience to attend this class?  Do I need to be in top physical shape to participate? No. This program is designed for the average woman with no previous experience or background in physical skills training.
What is the cost of a basic program? R.A.D. Systems programming has been offered on the Millersville University campus for several years and all self-defense programs taught at Millersville University campus are free to members of the campus community.
How many women have taken this program? To date, over 250,000 women worldwide have attended R.A.D. Basic Physical Defense Program.  At Millersville University several hundred female students have taken part in the R.A.D. program over the fifteen plus years it has been offered.
What are the requirements to become a R.A.D. instructor? Any woman with the desire to share this information with other women may become an instructor.  Men who wish to become an R.A.D. instructor must have a law enforcement background or be willing to submit to a background investigation.
Instructors   Current Millersville University R.A.D. instructor is police officer Kyle Garrity.