Out-of-State Certification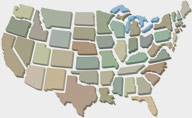 If you have completed your certification at MU and have a form from another state to be filled out by the Certification Office, send it to us at the information in the 'Contact Us' area located in the lower right.  Be sure to include the address to which the completed form should be sent.
For information on certification requirements in another state, contact the certifying agency in that state directly.
If you are certified in another state or country and interested in Pennsylvania certification, contact the Pennsylvania Department of Education (PDE) for more information.