Center For Academic Excellence
CAE Innovative Practices Spotlight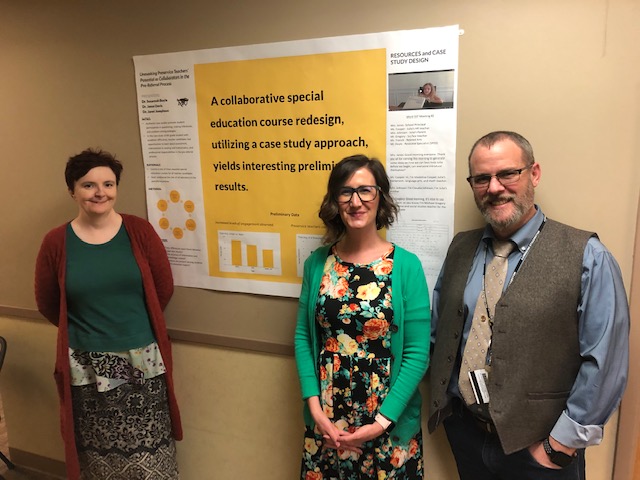 Drs. Davis, Josephson & Boyle are being recognized in the February Innovative Practices Spotlight for their collaborative redesign of a core course in the teacher education program.
Please visit the CAE Innovative Practices Spotlight  to learn about their exciting experience and to learn ways to incorporate innovative practices into your classroom.
Since October 2015, the Center for Academic Excellence has regularly shared "Innovative Practices Spotlight" on the our Webpage.  The spotlight is intended to highlight faculty on campus who are examining their practice, taking risks and engaging their students in new ways.
Now is your chance to nominate a colleague for this recognition. Do you know someone who is supporting student success in creative ways? Do you know someone who is incorporating new strategies to teach and assess their students? Head to https://tinyurl.com/InnovPrac to nominate them.
To see a list of all of the previous Innovative Practices Spotlights, check out: https://www.millersville.edu/cae/innovative-practices-spotlight/index.php
Welcome to the CAE
Want to receive emails on CAE happenings?
Click to opt into the CAE email list:

Want to add CAE events to your calendar?
Click to check out CAE's Online Calendar:
Contact Us

Director: Dr. Oliver Dreon

Phone: 717-871-7366

Upcoming Sessions

 

 Monday Morning Mentor: How Can I Use LMS Conditional Releases to Efficiently and Intentionally Engage My Students?

May 11, 2020

Oliver Dreon, PhD, Professor & Director, Millersville University of Pennsylvania

Tools embedded in most learning management systems can simplify faculty workload while intentionally engaging students in course content. One such tool is conditional release, which releases online course material contingent upon a student meeting a particular condition or reaching a predetermined criterion. Using conditional release helps scaffold learning, personalize learning, and differentiate content. This program compares actions in six teaching examples and demonstrates the benefits of conditionally releasing course content compared to traditional online teaching methods.

---

Take a look at the links below for further information!