Center For Academic Excellence
CAE Innovative Practices Spotlight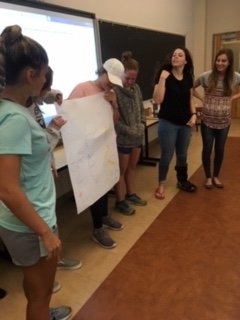 Professor Tatiana Pashkova-Balkenhol is being recognized in the December Innovative Practices Spotlight for her creation of a project called Research 2 Practice: Bridging the Research, Theory, and Practice Divide in an upper-level early childhood education course. 
Please visit the CAE Innovative Practices Spotlight  to learn about her exciting experience and to learn ways to incorporate innovative practices into your classroom.
Since October 2015, the Center for Academic Excellence has regularly shared "Innovative Practices Spotlight" on the our Webpage.  The spotlight is intended to highlight faculty on campus who are examining their practice, taking risks and engaging their students in new ways.
Now is your chance to nominate a colleague for this recognition. Do you know someone who is supporting student success in creative ways? Do you know someone who is incorporating new strategies to teach and assess their students? Head to https://tinyurl.com/InnovPrac to nominate them.
To see a list of all of the previous Innovative Practices Spotlights, check out: https://www.millersville.edu/cae/innovative-practices-spotlight/index.php
Welcome to the CAE
Want to receive emails on CAE happenings?
Click to opt into the CAE email list:

Want to add CAE events to your calendar?
Click to check out CAE's Online Calendar:
Contact Us

Director: Dr. Oliver Dreon

Phone: 717-871-7366

Upcoming Sessions

Monday Morning Mentor: What is the Best Teaching Advice I Ever Received?

January 27, 2020

Kenneth Alford, PhD, Professor, Brigham Young University

What things can teachers do to become more effective in the classroom? For faculty who are interested in becoming a better teacher, this presentation shares teaching advice collected from outstanding research professors. Some of their suggestions may be a surprise!

 

Monday Morning Mentor: How Can Online Instructors Better Manage Their Workload?

February 3, 2020

Brian Udermann, PhD, Director, University of Wisconsin-La Crosse

About 60-70% of faculty believe that teaching online courses is more work intensive than teaching face-to-face courses. Factors include course preparation before teaching, managing sometimes unwieldy online discussions, and even fielding student questions around the clock. While teaching online can be time demanding, faculty can use a variety of strategies, including simple, quick tasks to do before the course starts, to better manage their workload while instructing their online course. Most importantly, when instructors can keep their workload to a manageable level when teaching online, they will reduce stress, which translates to a better overall experience for both instructors and students.

---

Take a look at the links below for further information!