November 2019
Professor Heidi Leitzke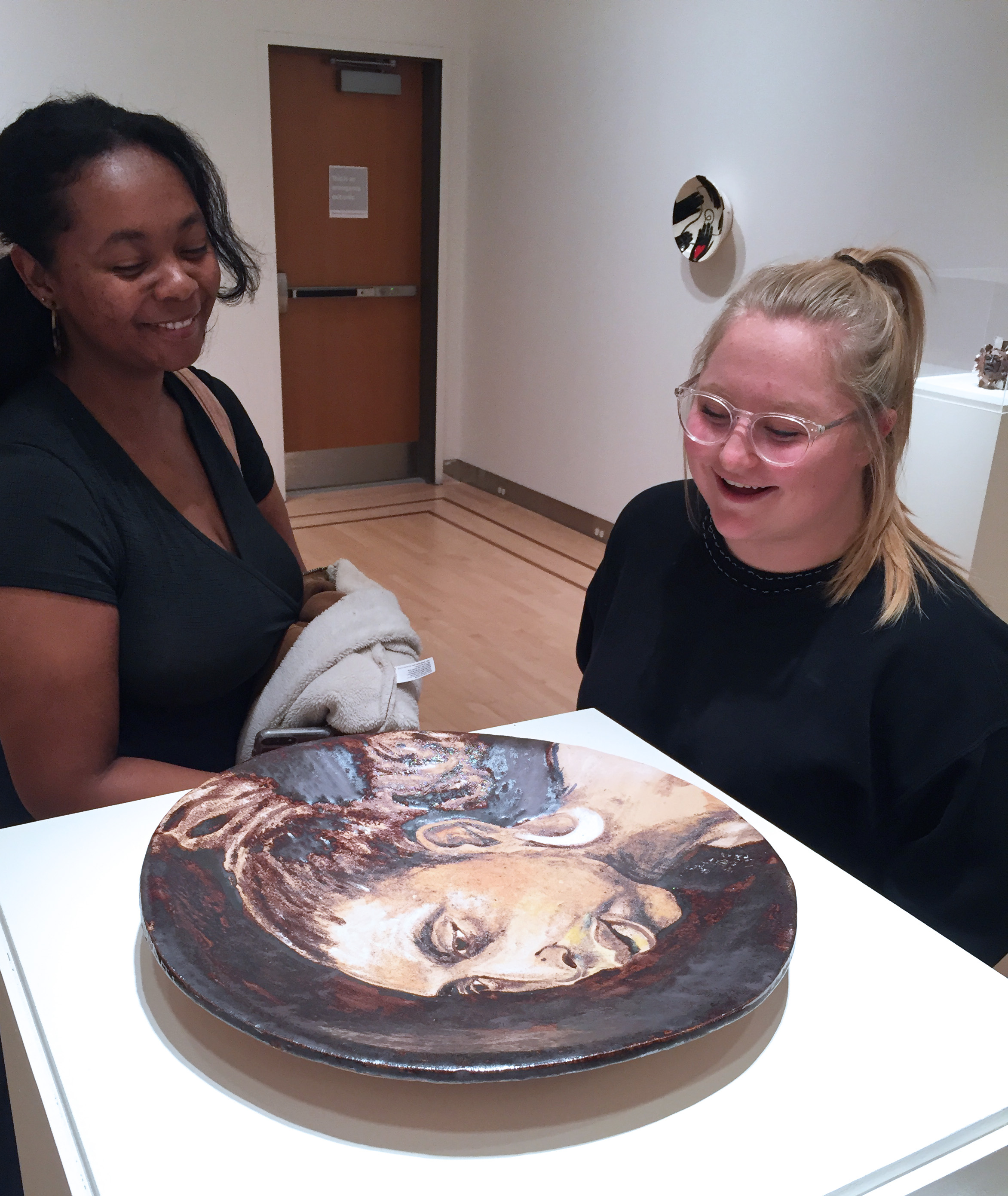 The Center for Academic Excellence is recognizing a faculty member every month in the CAE Innovative Practices Spotlight to highlight his or her innovative classroom practices and outstanding contribution to Millersville University.
Professor Heidi Leitzke is being recognized in November for her work in support of the One Book initiative this year. Through her work with the Eckert Gallery, she created ways to offer informal education and interdisciplinary, co-curricular applications for this year's One Book Homegoing.
1. What innovative practice did you incorporate? When did you implement the new practice? 
When I began my work as Director of Eckert Art Gallery in 2017 I started to seek ways to collaborate across-campus, draw connections between disciplines, and create high-impact learning experiences. After learning about the One Book initiative, I saw it as a perfect opportunity to curate a gallery exhibition that would explore similar themes to those in the book. Upon joining the One Book committee in 2019, I was able to make this concept a reality when the exhibition, Diasporic Musing was installed. (The exhibition continues through Dec. 6, 2019.)
The four ceramic artists featured in this show are African-American, and they each explore themes of personal and cultural identity in their work. This exhibition evokes thoughts of ritual, adornment, passage of time, healing wounds, and more, creating an ideal situation for students and faculty to draw observations between this visual artwork and Yaa Gyasi's novel Homegoing.
2.  How has the use of the new practice affected student engagement and their level of participation?
As part of the project, I worked with Dr. Nicole Pfannenstiel to create a One Book/ Eckert Gallery Connections Worksheet, which guides students, often in Univ 103 classes, through a visit to the gallery and encourages them to think critically about the artwork. They are challenged to draw connections between visual art and literature, while considering their personal experience as a college student.
Looking at and studying original works of art is a wonderful opportunity for object-based learning, which is a student-centered learning approach that uses objects to facilitate deep learning. In this case, the art objects may provoke deep emotional responses, cause students to re-think cultural assumptions, or start a conversation about difficult racial or social topics.
3. What were students reactions?
According to Dr. Pfannenstiel, students from her Univ. 103 class "were initially skeptical because the critical thinking and critical engagement required when connecting themes in visual art to literature is new, and hard. Ultimately it was an incredibly rewarding experience." As gallery director, it was gratifying, because I saw students who were engaged in careful looking and critical dialogue as they made thoughtful connections between the themes in Homegoing and the artwork.
4. How has the use of the new practice positively affected the learning environment?
A field trip to the gallery gets students to walk across campus, and take advantage of our diverse learning resources. This type of high-impact experience is memorable and the new environment may generate fresh conversations, observations and willingness to engage with complicated content.
5.  What challenges did you encounter when you were implementing the new practice?
My hope is that students, faculty and staff from all corners of campus will see the Eckert Art Gallery as a laboratory for learning. Making sure that the schedule of exhibitions and programming is widely promoted is an ongoing challenge, as I work to build meaningful connections with faculty who are able to incorporate a new project or field trip to the gallery into their course.