Jono Anzalone
Global Disaster Response and Relief Partnerships lead for Airbnb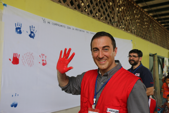 Jono serves as the Global Disaster Response and Relief Partnerships lead for Airbnb. Prior to this, Jono was the Vice President of International Services at the American Red Cross based out of Washington, DC. In this role, Jono oversaw disaster preparedness, response, and recovery programming in more than 34 countries, including the Measles and Rubella Initiative which since 2001 has helped vaccinate more than 2billion children and reduce global measles by 84%...greater than 20.4 million lives. 
Prior to assuming the position in October 2016, Jono was the North Central Division Disaster Executive at the American Red Cross, serving the states of ID, MT, ND, SD, MN, WI, IL, NE, IA, KS and MO where he leads and manages the team responsible for the implementation of disaster services programs throughout the division ensuring disaster services (Prepare, Respond and Recover) are delivered in a rapid and accessible manner, meeting the urgent needs of clients.
Jono has also served as a Regional Voluntary Agency Liaison at FEMA Region VII with responsibilities for coordinating with voluntary organizations active in disaster and FEMA Mass Care and Emergency programs in Nebraska, Iowa, Kansas and Missouri.  Jono has been affiliated with the American Red Cross since 1994, serving in a variety of capacities including Disaster Committee Chair for the Heartland Chapter (Omaha, Nebraska), Director of Emergency Services for the Heartland Chapter, ESF6 Mass Care Manager based out FEMA Region VII in Kansas City, Disaster Management Delegate seconded to the International Federation of the Red Cross Red Crescent Societies' Pan-American Disaster Response Unit (PADRU) in Panama City, Panama and Director of Government Operations for American Red Cross National Headquarters based out of Washington, D.C.
Since 1997, Jono has been a member of the American Red Cross Disaster Service Human Resource (DSHR) system. His numerous disaster deployments include a number of national and international disaster assignments with both the IFRC and ICRC working operations in Mexico, Belize, Suriname, Jamaica, The Bahamas, Turks and Caicos, Liberia and Haiti, to include being detailed to the United States Agency on International Development (USAID) during the 2010 Haiti Earthquake and assigned to their Response Management Team to lead the agencies donations management activity. Jono also has serves as an adjunct faculty member for a number of colleges and universities teaching courses in economics and finance.
Jono served as the chair of the Advocacy Committee for the National Voluntary Organizations Active in Disaster (National VOAD) from 2012-2015.
Jono graduated from Creighton University with a BA in Political Science, the University of Nebraska with an MS in Economic, the Harvard School of Public Health and Kennedy School of Government National Preparedness Leadership Initiative, and has earned the International Association of Emergency Management Certified Emergency Manager (CEM®) credential.  He is currently near the end of his work on his Doctorate in Educational Leadership and Higher Education at the University of Nebraska.
Jono and his husband Andy, a Gender Equality Fellow at Save the Children, live in Washington, D.C. and enjoy all things outdoors and their love of family and friends.