Kyle Elliott, M.S.
Director, Weather Information Center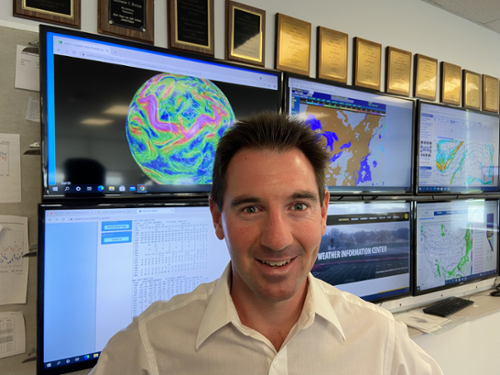 Contact Information
Office: Caputo 401B
kyle elliott
CONTACT:
Phone: 717-871-4845
E-mail: Kyle.Elliott@millersville.edu
BACKGROUND:
Kyle holds a B.S. in Meteorology from Millersville University and an M.S. in Meteorology from the Pennsylvania State University. Kyle worked at AccuWeather from 2016-2020 as an operational forecaster. He then joined Millersville Meteorology in fall 2021. His primary focus is on weather analysis, media meteorology and the development of Internet weather resources. An expert forecaster, he has been quoted in newspapers and magazines and has composed hundreds of forecasts for TV and radio broadcasts.
SPECIAL INTERESTS:
Kyle enjoys being outdoors, spending time with friends, and singing karaoke. Some of his favorite pastimes include fishing, golfing, biking, hiking, and exploring new places.