Department of Earth Sciences
Rock Solid Preparation
Millersville University geology graduates passed the most recent Fundamentals of Geology Examination at a rate of 80%.  This pass rate is well above the national average of 58%.  In nearly all content domains of the exam, the Millersville geology alums exceeded the national average, in some cases by over 10 percentage points.  The Fundamental of Geology Examination is a four hour test administered by the National Association of State Boards of Geology.  It has been established to assess common knowledge and skills in geology throughout the nation. 
Geology Field Trips
New York
This spring, students from Dr. Talor Walsh's Field Geology and Dr. Lynn Marquez's Petrology classes traveled to New York for a weekend of studying different varieties of rocks. Students traveled to twelve different stops throughout the weekend, identifying rocks, their structures, and their origins, as well as mapping several of the outcrops. Students had a great time despite the cold temperatures!
---
Pennsylvania
This fall, geology students travelled across Pennsylvania, examining the impact of Pleistocene glaciers on the landscape.  In the photo above, students are standing on a diabase sill that is exposed along the banks of the Susquehanna River near Three Mile Island.  The landforms of the surrounding area (including water gaps, river terraces, and potholes) are the result of the interplay between melting glaciers and the underlying rock. 
---
Bear Valley and Hudson Valley
Geology students recently returned from field trips to the Bear Valley (PA) and Hudson Valley region of New York. Shown above, students are standing on vertical beds of Becraft Limestone deposited during the lower Devonian (~400 million years ago). Students mapped contacts between various formational units and created a map to be used in a cross-sectional interpretation of a fold and thrust belt environment.
---
News

Students attend NE GSA Meeting in Bretton Woods, NH
During spring break geology students travelled to Bretton Woods New Hampshire for the annual Northeast Geological Society of America meeting.  Along the way, the students looked at some great rocks.  Students stopped at classic exposures of Barrovian Metamorphism associated with the Taconic Orogeny in Dutchess County New York.  They also stopped outside of Albany New York to check out the Lower Devonian fossiliferous limestones exposed at the Helderberg Escarpment.  They might have been able to see even more with less snow on the ground and falling from the sky!
---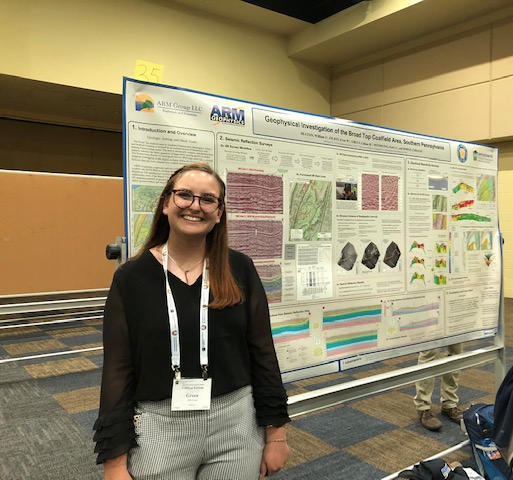 Gillian Green ('20) presented at the Northeast Geological Society of America with her colleagues from the ARM Group, LLC. Gillian is a staff geologist working in geophysics. This particular project used geophysics to identify coal seams in the Broad Top Coalfield.