Office of The Provost
Welcome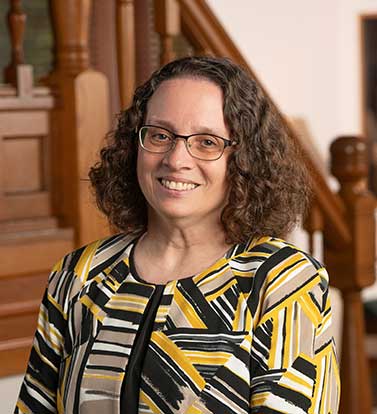 Dr. Gail E. Gasparich is Provost and Senior Vice President for Academic Affairs for Millersville University. Reporting directly to the President, the Provost oversees the Deans of the four academic colleges, the University College, and Graduate Studies and Adult Learning as well as the University's planning process, all academic programs and curriculum development, grants and sponsored programs, plus related support services such as assessment and budgeting.  Additionally, the Provost oversees Intercollegiate Athletics and Enrollment Management which includes the Registrar, Admissions, and Financial Aid.
Dr. Gasparich is responsible for leading the Division of Academic Affairs to fulfill Millersville University's vision to transform each learner's unique potential into the capacity for successful engagement in career and life opportunities. Under her guidance, Academic Affairs strives to provide undergraduate and graduate programs of distinction, grounded in the liberal arts tradition, and prepare students to be lifelong learners, civically-engaged citizens, and productive professionals in a global and diverse society.
The Provost oversees the areas below, as well as the following faculty processes: appointments, development, evaluation, promotion, tenure and sabbatical leave.
Associate Provost for Academic Administration
Associate Provost for Student Success
University College
College of Arts, Humanities and Social Sciences
Lombardo College of Business
College of Education and Human Services
College of Science and Technology
College of Graduate Studies and Adult Learning
Office of Institutional Assessment and Planning
Office of Grants, Sponsored Programs and Research 
Enrollment Management (Admissions, Registrar, and Financial Aid)
Intercollegiate Athletics
International Programs and Global Engagement
Through a culture of openness, continuous improvement and reflective assessment, the mission of the Provost and the Academic Affairs Office is to constantly enhance opportunities for students to grow intellectually, think critically, and develop leadership skills. Faculty, staff, students and community members collaborate on professional, scholarly and creative works that contribute to the health of our institution, our community and the Commonwealth of Pennsylvania.
MISSION:
The Division of Academic Affairs will offer high quality academic programs to educate and prepare students for the workforce, and provide the necessary supports to ensure student success.
VISION:
The Division of Academic Affairs will provide opportunities for every student to succeed in their academic career.
INCLUSIVE EXCELLENCE STATEMENT:
The faculty and staff in the Division of Academic Affairs embrace the diversity of our community as the foundation of our university's academic excellence.  We are committed to our EPPIIC value of inclusion, and respect the rights and dignity of every member of our community.
OFFICE HOURS:  Monday - Friday, 8 a.m. - 5 p.m.