Dr. Jack Ogutu
Professor/Department Chair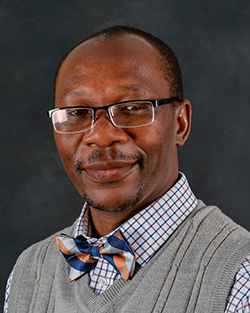 Contact Information
Office: 202-C, Osburn Hall
Phone: 717-871-7229
Fax: 717-871-7931
Office Hours
M: 9:00am - 11:30am
T: 3:15pm - 4:15pm
W: 9:00am - 11:30am
R: 3:15pm - 4:15pm
Comments:

Jack O. Ogutu, Ph.D., is the Chairperson of The Applied Engineering, Safety & Technology Department. He obtained his BS in Mechanical Engineering from The University of Nairobi (2004) and his MS and PhD in Industrial & Systems Engineering with a concentration in Occupational Safety & Ergonomics from Auburn University, Alabama (2013). His research interests are in the areas of Occupational Ergonomics, Biomechanics, Risk Assessments, System Safety Analysis.  
Dr. Ogutu is the N.C. Adams '73 and W.G. Adams Endowed Professor for Occupational Safety & Environmental Health & Lombardo College of Business. He also oversees the NIOSH Training Program Grant for Millersville University.
Dr. Ogutu also volunteers for the ABET-ANSAC commission as a commissioner and an accreditation visit team chair.