Dr. Jack Ogutu
Associate Professor, Occupational Safety & Environmental Health Program Coordinator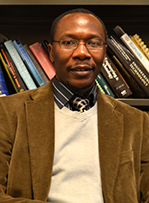 Contact Information
Office: 202-E, Osburn Hall
Phone: 717-871-7229
Fax: 717-871-7931
Office Hours
M: 9:00am - 10:00am
T: 3:00pm - 4:30pm
W: 9:00am - 10:00am
R: 3:00pm - 4:30pm
Comments:

Jack O. Ogutu, Ph.D., obtained his BS in Mechanical Engineering from The University of Nairobi (2004) and his MS and PhD in Industrial & Systems Engineering with a concentration in Occupational Safety & Ergonomics from Auburn University, Alabama (2013). His research interests are in the areas of Occupational Ergonomics, Biomechanics, Risk Assessments, Noise Dosimetry, and System Safety Analysis.  Dr. Ogutu has taught a number of classes in the Occupational Safety & Environmental Health (OSEH) program at Millersville University of Pennsylvania, including; Industrial Hygiene, Human Factors, Safety Engineering Principles, System Safety and an Introductory course in Occupational Safety and Health. Jack is an authorized OSHA 10 & 30 hour general industry trainer.
Dr. Ogutu currently serves as Program coordinator of Occupational Safety & Environmental Health program and oversees the NIOSH Training Program Grant for Millersville University.
Dr. Ogutu also volunteers as a Program Evaluator for the ABET-ASAC commission and is a professional member of the American Society of Safety Engineer.