Applied Engineering, Safety & Technology
Leadership ♦ Innovation ♦ Professionalism ♦ Teamwork
Tech Camp for Kids Returns in 2021!

After taking the summer off in 2020 for public health considerations, Tech Camp for Kids is back this year and better than ever. This year the summer is chock-full of engaging and enriching experiences for campers of all levels from grades 1 through 12. 
We are taking added extra precautions this year to respond to the public health directives issued by the CDC and Commonwealth of Pennylvania by limiting our camp sizes, designing activities and spaces to maximize social distancing, requiring face coverings, providing frequent hand washing,  and thorough sanitization of environments on a daily basis. Our goal is to provide an interesting and exciting experience to our campers in the safest environment possible. 
Please see the camp offerings below and follow the registration link to sign up your camper. Please email Len Litowitz, camp director at Len.Litowitz@millersville.edu or call him at 717-871-7215.
Programs for every interest and every student
Hit the ground running with the experiences gained in the Department of Applied Engineering, Safety & Technology.
Millersville Receives Grant to Develop COVID-19 Training Materials
Millersville University is among the 90 nonprofit organizations nationwide to receive a Worker Safety and Health Training Grant from the U.S. Department of Labor's Occupational Safety and Health Administration (OSHA). Millersville's share is $72,000 for the one-year between October 1, 2020 – September 30, 2021.  The grants will provide education and training programs to help workers and employers recognize serious workplace hazards, including the coronavirus, implement injury prevention measures and understand their rights and responsibilities under the Occupational Safety and Health Act of 1970.
"Having Millersville University selected through a competitive process to develop Pandemic Safety (COVID-19) Training Materials that will potentially be used nationally as approved "OSHA Training Materials" speaks to the quality of our program and our students," says Dr. Jack Ogutu, associate professor, Applied Engineering, Safety & Technology.  "Our Occupational Safety & Environmental Health (OSEH) majors who are planning on completing their internships during the summer 2021 semester will have the opportunity to participate in the pilot training sessions as representatives of their Environmental Health & Safety (EHS) internship employers. Additionally, once they graduate and are in full-time positions as EHS representatives, they will have full and easy access to the Pandemic Safety Training Materials that will be created through this grant."
Ogutu worked with Dr. Rene Munoz, director of Sponsored Programs & Research Administration on the grant and included Hope Schmids, director of Workforce Development & Continuing Education as a major participant in the grant. She will coordinate the training logistics and bring in local businesses and employers to participate in the pilot training sessions. The department has received two National Institute for Occupational Safety & Health (NIOSH) grants in the past, but this was the first from OSHA.
"The grant is very timely especially with businesses trying to deal with the disruptions necessitated by the COVID-19 pandemic," says Ogutu. "Most businesses in Lancaster and around the country have limited resources to get quality training materials. We hope that through this grant we will develop materials that will be made accessible at no cost."
"I would like to acknowledge my OSEH faculty colleagues, Dr. Betty-Jo Legutko and Dr. Mehdi Khalighi who are Co-PIs on this grant. I also want to thank one of our OSEH Industry Advisory Board members, Steve High (President, High EHS Consulting), who worked with us and provided support in putting the proposal together."
The Susan Harwood Training Grants Program funds grants to nonprofit organizations, including community and faith-based groups, employer associations, labor unions, joint labor-management associations, colleges and universities. Target trainees include small-business employers and underserved vulnerable workers in high-hazard industries. The fiscal year 2020 award categories are as follows: Targeted Topic Training, Training and Educational Materials Development, and Capacity Building.
The program honors the late Susan Harwood, former director of OSHA's Office of Risk Assessment, who died in 1996. During her 17-year OSHA career, she helped develop federal standards to protect workers exposed to bloodborne pathogens, cotton dust, benzene, formaldehyde, asbestos and lead in construction.
AEST Grads Have Been Called Many Things: "Unemployed" Isn't One of Them!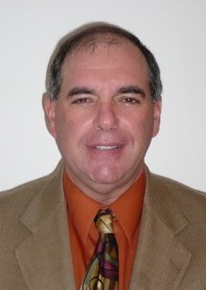 A colleague recently shared an article entitled Is College Still a Good Investment? The article indicated that the value of a college degree has declined in recent years, but acknowledged that for many, college is still an overwhelmingly good investment. Even though the cost of attending college has risen over time, college graduates are still likely to earn more than $900,000 than non-college graduates over the course of a lifetime. The key to making a good investment in education is choosing a major wisely.
 Here in the Department of Applied Engineering, Safety & Technology (AEST) we are exceptionally proud of the employability of our graduates. Our Technology & Engineering Education teacher preparation program has five documented job openings for every teacher candidate we can graduate. Similarly, our Occupational Safety & Environmental Health, Applied Engineering and Engineering Technology graduates are in high demand. Many are hired directly from internships they complete in the summer of their junior and senior years. The Table below indicates some employability data as collected by the MU office of Institutional Research. It clearly indicates that graduates of departmental programs are employed at a rate and salary that is higher than graduates of the university at large. Don't let the 98% employment rate fool you – we send a few people off to graduate school every year! If we were to count them as employed, we would likely be at 100%. Check out the number below:
Majors in the
AEST Department
Majors in the College of
Science & Technology
All Majors at
Millersville University
FULL-TIME EMPLOYMENT IN YOUR MAJOR
90%
84.4%
77.1%
FULL-TIME EMPLOYMENT 
98%
87.4%
83.8%
AVERAGE STARTING SALARY
$53,000
$44,000
$35,000
Dr. Len Litowitz, Chair of the Department of Applied Engineering, Safety & Technology
AEST Welcomes Two New Professors
Dr. John Haughery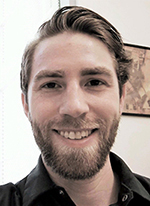 John Haughery brings 15 years of combined teaching, research and professional experience back to his alma matter. John Graduated from Millersville University with a BS in Industrial Technology and a concentration in Electronics/Control Systems in May of 2006. He went on to earn his Master of Science Degree from Morehead State University in Kentucky in 2014, and his PhD in Industrial and Agricultural Technology from Iowa State University in 2017. Professionally, John has eight years of experience designing, installing, and validating industrial instrumentation, automation, and control systems. He serves as a journal reviewer to the Journal of Technology, Management and Applied Engineering, Journal of Engineering Technology, Journal of Industrial Technology, International Journal of Mechanical Engineering Education. John is professionally active with the ATMAE association.
Mr. Dominick Manusos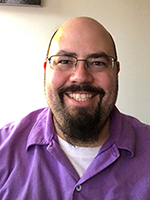 Dominick Manusos is originally from the suburbs of Chicago. He started his formal education in 2009 in North Carolina at North Carolina State University completing his BS in Technology, Engineering & Design Education with a minor in Graphic Communications in 2013.  He earned his Master's degree in Sustainable Technology from Appalachian State University in 2015 and he is currently pursuing a Doctorate in Technology Education at North Carolina State University. Dominick has 1.5 years of public school teaching experience at the HS level and served as a graduate teaching assistant at North Carolina State University for two years. Dominick has seven years of experience working for a general contracting construction company where his experiences ranged from laborer to crew foreman, estimator, bidder and scheduler including new construction and renovation projects. He has experience with many aspects of the construction industry including writing quotes, providing job oversight, and logistics.
Considering a Major in AEST?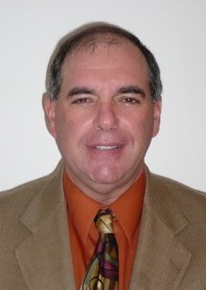 Choosing a college and a major requires a lot of thought and planning, and now is a lot tougher than it used to be. If you're looking for a program in Technology Education, Applied Engineering & Technology Management, Engineering Technology, or Occupational Safety & Environmental Health, you've found the right place! While we would love to have you come to a University Open House or come for a personal tour or visit, we understand that is not possible right now. As you work through your stay-at-home college search, getting you the information you need is our top priority.
If you have any questions about majoring in any of the programs in The Department of Applied Engineering, Safety & Technology, please contact the department chairperson Len Litowitz at Len.Litowitz@Millersville.edu. He can provide you with the needed information and offer to set up a face-to-face to meeting with you using Zoom. Thank you for visiting The Department of Applied Engineering, Safety & Technology Web site.
Junior Clark Miller wins SGIA "Best of Show"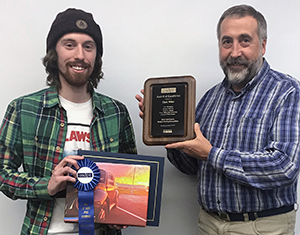 The Department of Applied Engineering Safety & Technology is pleased to recognize junior Clark Miller as the recipient of the Best of Show Award in the Tom Frecska Student Printing Competition sponsored by the Specialty Graphic Imaging Association (SGIA). These awards are highly sought after by students pursuing a career in printing related industries and all winning entries were displayed to industry leaders at the Printing United Expo held in Dallas, TX in October, 2019. SGIA is the trade association of choice for professionals in the industrial, graphic, garment, textile, electronics, packaging and commercial printing communities.
 All student entries were evaluated by experts in the Academy of Screen and Digital Printing Technologies (ASDPT). Miller's entry was a giclée print that utilized a high-quality inkjet printer to reproduce an image on canvas. His entry was created as a required project in the ITEC 351–Digital Imaging class offered through the Graphic Communication concentration in Osburn Hall. Miller printed his image digitally and entered it in the fine art category of the competition.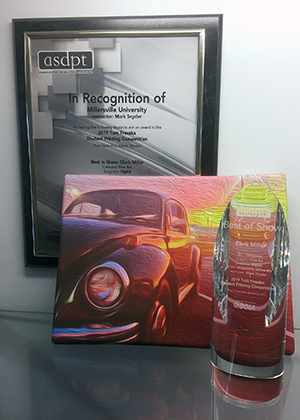 This student competition includes several categories according to different types of printed products and/or processes. First place winners within each category receive an ASDPT Award of Excellence. The most exceptional entry from the first place winners across categories is honored with the Best of Show distinction. Best of Show winners receive a special Academy Student Achievement Award and a cash prize of $500 to use toward their graphic arts education. Instructors also receive $500 to use toward their school's graphic arts educational program.
Professor Mark Snyder regularly encourages his students to get involved in industry competitions. Not only does it help build the reputation of the MU Graphic Communication program but, foremost, it helps students understand industry expectations of quality. And, receiving national recognition such as this is certainly good for a student's prospects after graduation. Snyder stated, "this was a great opportunity and Clark has shown that he has what it takes to excel in the industry."
Firefighting Robots Compete in Osburn Hall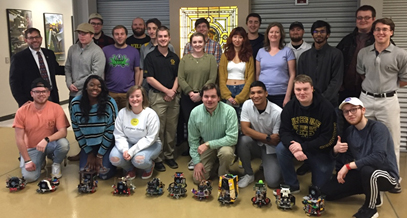 This year we had 11 robots compete for The "Coveted" Best Firefighting Robot Award. The contest is embedded (pun! we use embedded microcontrollers) in the ITEC 467 Mobile Robotics Class. Student teams of one or two members develop unique robots from a selection of available components (sonar sensors, infrared sensors, ultraviolet sensors, machine vision, servos, relays, liquid crystal displays (LCDs), fans, chassis, etc. to tackle the four room, 8' x 8' maze. 
The objective is for their robots to locate and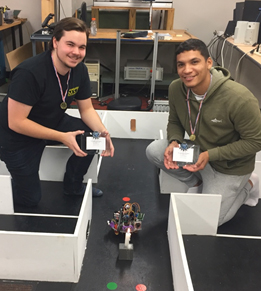 extinguish a candle randomly placed in one of four rooms in less than five minutes. Students use the Teensy Microcontroller and C++ to control their designs. Every year a twist, known as the unknown factor, is introduced in the last few weeks of the semester. This year, our maze had occupants. Not just any occupants, but superheroes (The Flash & The Green Lantern) that live in the maze together. The robots were to try and use a new machine vision unit called OpenMV Cam (using Python) to perform color recognition (Red or Green). Once the robots identify a randomized occupant, they either try and tell the superhero to leave the maze via the LCD onboard module (which signals the instructor to remove them physically from the maze) or avoid them altogether, as running over a superhero is an automatic disqualification. 
In the end, the winning team was comprised of two AETM RCS majors, Bradford Molchany and Giovanni Rivera. As a grand prize, the developers of the winning robot earn A's in the class and are excused from the final code exam in addition to receiving a custom plaque/trophy and fancy gold (plastic) metals. Congrats to the new champs!
'18 Graduate Becoming an Imagineer
Check out this video that Andy Miller created as part of this Honors Project. Read more about it in the Abbozzare!
Spring/Summer Abbozzare
MSA Safety Incorporated Partners with OSEH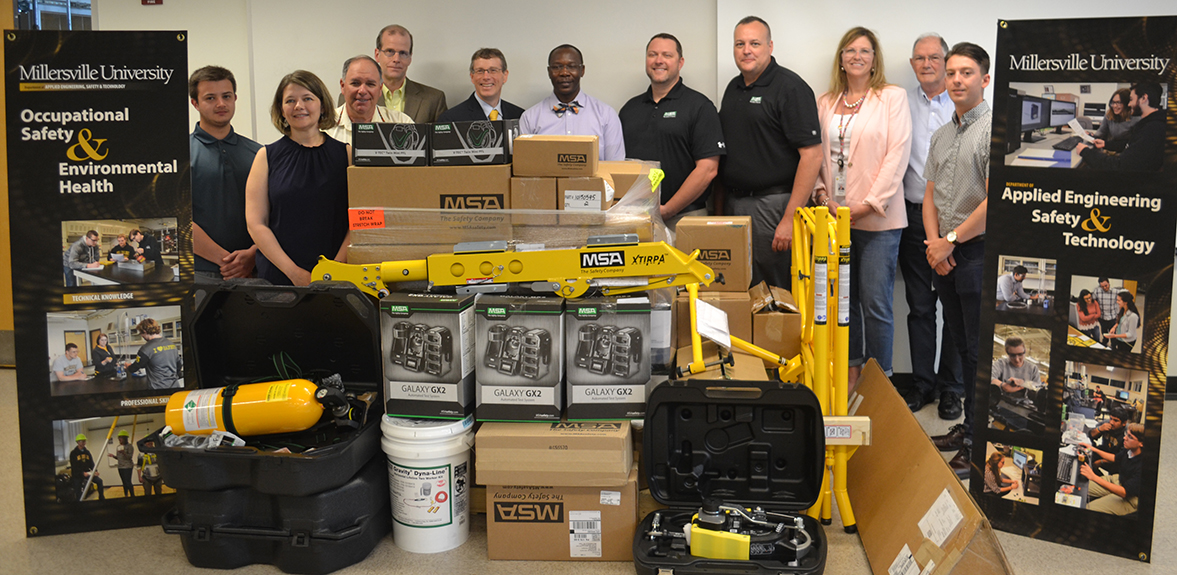 Millersville University OSEH Program recently entered into a partnership with MSA Safety Incorporated. Through the partnership MSA donated equipment estimated at about $50,000 to be used for training students in our OSEH labs. As part of the partnership, MSA will also be providing training support to the students in our labs. Representatives from MSA will be working with OSEH faculty to train students on equipment use and applications. The OSEH Program regularly works with local companies to provide EH&S support. Including students in these local projects enables them to apply whatever they are learning in the classroom into the "real-world".  We try to bridge the gap between available information and active student participation in connecting with industry in the R&D cycle.
The donation by MSA is a good start, we hope that more companies will come forward with similar offers in the future. This will not only be good for our program, but it will also be an investment by the companies/organizations in the future of the safety & health profession. The support from industry will help support the next generation of safety & health leaders locally, regionally, and nationally. The equipment donated includes; gas monitoring and detection instruments, filter-type respirators, gas masks, breathing apparatus, head protection, confined space entry and rescue equipment, and a broad range of fall protection products.