Applied Engineering, Safety & Technology
Leadership ♦ Innovation ♦ Professionalism ♦ Teamwork
The Department of Applied Engineering, Safety & Technology (AEST) is the home of Technology & Engineering Education, Applied Engineering & Technology Managment, Occupational Safety & Environmental Health, Automation & Intelligent Robotics Engineering Technology, and the Manufacturing Engineering Technology programs. There are programs available for all levels of interest from 2-year associates degrees to 4-year bachelor's degrees, teacher training and certification, through graduate studies - all specifically designed to meet your learning needs.
New CNC Machining Center Installed Fall 2019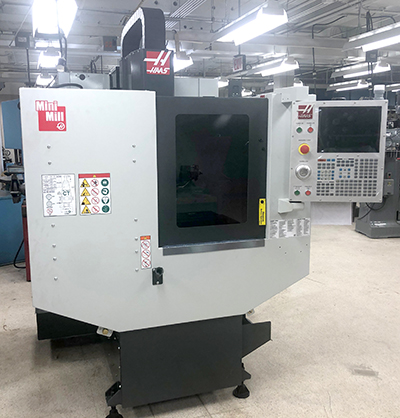 The Department of Applied Engineering, Safety & Technology installed a new piece of equipment in the Metals Laboratory at the beginning of Fall 2019. Haas Mini Mills are the industry standard for compact machining centers. They provide an economical solution for small parts machining in a compact package that is loaded with full-sized features. The addition of this machine into the growing CNC offerings in the department offers students a much richer experience when it comes to metal machining. The Mini Mill is a three-axis machine that comes with a 10 tool changer to make complex milling operations possible.
The Haas Mini Mill was purchased with funds provided by Millersville University's Technology Fee funding. Other CNC machine available in the metals area are two Trax CNC mills, an EMCO lathe, a Wabeco CNC benchtop mill, and a Wabeco CNC benchtop lathe. The woods lab features four Forrest Scientific CNC routers, and a CNC wood lathe.
MSA Safety Incorporated Partners with OSEH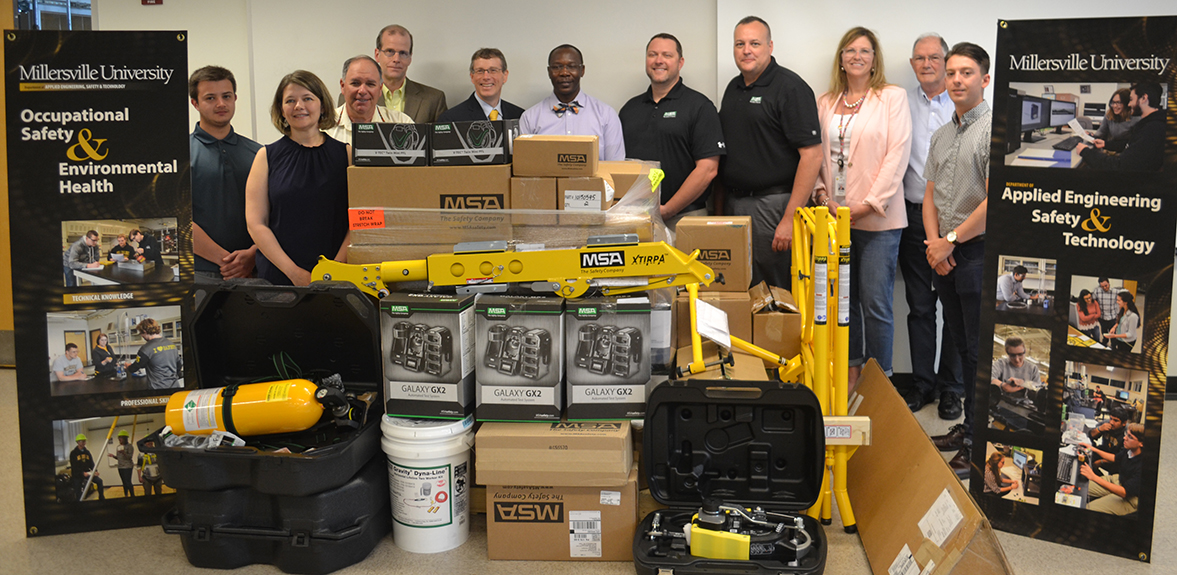 Millersville University OSEH Program recently entered into a partnership with MSA Safety Incorporated. Through the partnership MSA donated equipment estimated at about $50,000 to be used for training students in our OSEH labs. As part of the partnership, MSA will also be providing training support to the students in our labs. Representatives from MSA will be working with OSEH faculty to train students on equipment use and applications. The OSEH Program regularly works with local companies to provide EH&S support. Including students in these local projects enables them to apply whatever they are learning in the classroom into the "real-world".  We try to bridge the gap between available information and active student participation in connecting with industry in the R&D cycle.
The donation by MSA is a good start, we hope that more companies will come forward with similar offers in the future. This will not only be good for our program, but it will also be an investment by the companies/organizations in the future of the safety & health profession. The support from industry will help support the next generation of safety & health leaders locally, regionally, and nationally. The equipment donated includes; gas monitoring and detection instruments, filter-type respirators, gas masks, breathing apparatus, head protection, confined space entry and rescue equipment, and a broad range of fall protection products.
'18 Graduate Becoming an Imagineer
Check out this video that Andy Miller created as part of this Honors Project. Read more about it in the Abbozzare!
Spring/Summer Abbozzare
ISEM Faculty Recognized: Gerhard Salinger Award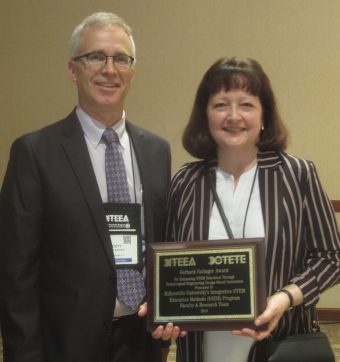 The Millersville University Integrative STEM Education Methods (ISEM) Program Faculty and Research Team received the 2019 Gerhard Salinger Award for Enhancing STEM Education through Technological/Engineering Design-Based Instruction. The ISEM program faculty and research team includes Sharon Brusic (AEST), Nanette Dietrich (EDFN), Jason Petula (EMEE), Jennifer Shettel (EMEE), Scott Warner (AEST), Janet White (MATH), and Charlton Wolfgang (EMEE). This award is presented annually to an individual or team of collaborators whose work has exemplified, promoted, investigated, and/or enhanced teaching and learning in Science, Technology, Engineering, and Mathematics (STEM) through the effective application of technological / engineering design activity. The award was created in honor of Dr. Gerhard Salinger, program officer at the National Science Foundation from 1989 to 2014, whose work to promote the use of engineering design activity and whose advocacy for technology and engineering education has widely influenced STEM education. Sharon and Scott accepted the award on behalf of the entire team.
Read more about in on Millersville News by clicking here.
Take a Virtual Tour!
From new residence halls to high-tech facilities, learn why students refer to MU as a "home away from home."
Take the tour