Graphic & Packaging Technology (AETM)
Program Goals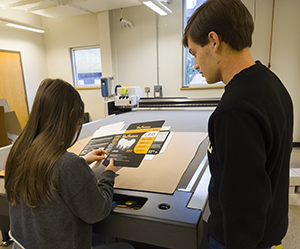 The Graphic & Packaging Technology program provides graduates with the skills to enter into fields such as print production, packaging design, digital publishing, and graphic design. These technical fields employ people working as prepress/premedia specialists, researchers, technicians, sales personnel, customer service representatives, quality control specialists, production supervisors and managers.
Interested in Graphic & Packaging Technology? Request More Information.
See what one of our AETM degrees can do for you.
Please view the video to learn more about the Applied Engineering and Technology Management degrees at Millersville...
BACHELOR OF SCIENCE (B.S.) 4-YEAR DEGREE
APPLIED ENGINEERING AND TECHNOLOGY Management (AETM)
Graphic & Packaging Technology CONCENTRATION
The Graphic & Packaging Technologies concentration provides students with both theoretical knowledge and hands-on technical experiences relevant for careers in industry. Courses provide preparation in design principles, digital imaging, print production, webbased publishing, packaging engineering, and research and development. The program also includes courses in management, marketing, entrepreneurship, and quality assurance to prepare students for entry level management track positions. Graduates of this program typically find employment in planning and estimating, customer relations, digital production, sales, and quality control.
Bachelor of Science AETM Graphics & Packaging Technology Catalog Listing
"The core classes I had in Applied Engineering, Safety & Technology are proving to be highly beneficial in my current job and professional activities. My education at Millersville University set me up to be a life-long learner. I have many projects going on at one time, but my degree from the AEST department prepared me for the challenges."

- Eric Nuss | 2015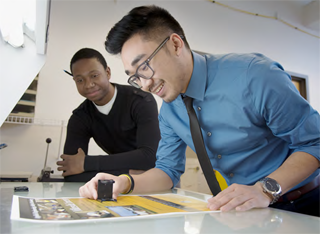 Graphic Communication
associate OF TECHNOLOGY (AET-GCOM); 2-YEAR program
The Graphic Communication concentration within this two-year program provides students with the same basic technical coursework as the AETM program, but without courses in management. Graduates of this degree concentration typically find employment in all technical phases of the industry, from pre-press through post-press operations, including design and layout, and desktop publishing.
ASSOCIATE OF TECHNOLOGY GRAPHIC COMMUNICATION TECHNOLOGY Catalog Listing

MINOR IN Graphic Communication
Graphic Communication minor students complete 18 credits of technical courses. Three of these are  foundational graphics classes, then students choose three technical courses from topics like digital imaging, desktop publishing, packaging, research and development, and contemporary printing.

Minor in Graphic Communication Catalog Listing
Top three reasons to study Graphic & Packaging Technologies at mu:
Companies in the graphic and packaging industry offer competitive starting wages and salary packages.
Stability. There is always a need for packaging and printing which means job opportunities for young workers with technical skills and an interest in packaging and graphics.
This creative field requires thinkers, innovators, and designers.
MAKE YOURSELF MORE EMPLOYABLE, CONSIDER AN INTERNSHIP:
Graphic & Packaging internships combine the student's academic, technical and management preparation with actual on-the-job experiences in packaging and print production facilities. Internships have a significant management component and students are required to engage in management-related activities such as planning, organizing, directing, and supervising in the workplace. The student, the employer, and the Department of Applied Engineering, Safety & Technology faculty work cooperatively to assure the internship experience achieves the best possible learning value.


LABORATORY FACILITIES FOR AETM Graphic & Packaging Technology MAJORS:
There are several laboratory facilities dedicated to Graphic Communication:
Digital Publishing
Print Production
Package Engineering
Research and Development
Clubs & Activities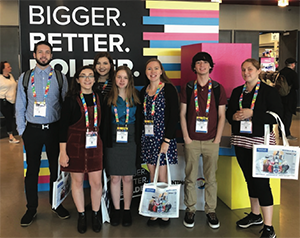 Marauder Graphics Club (MGC) – is an organization for students interested in the printing and graphic communications industries. MGC sponsors many social and professional events, including tours of local printers and industry trade shows.
Gamma Epsilon Tau (GET) - Omicron Chapter. Gamma Epsilon Tau is an American collegiate honors fraternity for graphic artists.

Epsilon Pi Tau (EPT) – Beta Phi Chapter. Epsilon Pi Tau is an international honor society for professions in technology. At Millersville, this includes Technology & Engineering Education, Applied Engineering & Technology Management, and  Occupational Safety & Environmental Health majors.