Programs available in the AEST Department
AEST at Millersville University
We are your choice for quality programs in Applied Engineering, Safety & Technology at Millersville University!
Undergraduate Programs in AEST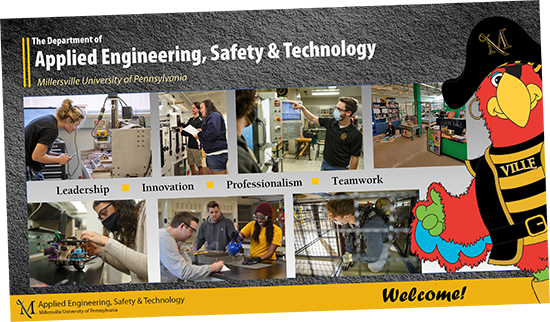 The Department of Applied Engineering, Safety & Technology offers an array of program options that will lead you to a career as a teacher, applied engineer, safety professional, robotics and engineering professional, or manufacturing engineering professional. There are eight bachelor's degree and nine assocaite's degree options offered by AEST. There are also minor options available for many of our programs that will help increase your competitiveness in the job market!
Click on the image or link below and a short presentation will open on your device. There are videos and explanations in it to get you started thinking about AEST. The best way to get to know is would be to come for a visit and tour. Email us and let us know when you're coming!
Graduate Programs in AEST
The Master of Science in Technology & Innovation is a unique program designed to complement and enhance your undergraduate degree with new ways of thinking about the world. Discovering and mastering the use of valuable thinking skills such as creativity, problem solving, critical thinking, decision making, design, and innovation are the focuses of this exciting program. The program is built on four courses: EDTE 603: Fostering Creativity by Design, EDTE 604: Engineering Principles and Concepts for the Non-Engineer, EDTE 506: Applying Critical Thinking and Decision Making, and EDTE 646: Writing the Professional Paper.

This program is ideal for:
Teachers with a range of backgrounds in education, content areas, and grade levels who are interested in further developing and strengthening their teaching abilities.
Entrepreneurs, scientists, engineers, and other professionals seeking career advancement and psychological insight as to how people think and grow
Graduate students who are looking to start or complete a master's degree.