Applied Engineering, Safety & Technology Minors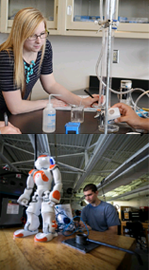 One way to increase your future career opportunities is to complete a six-course minor as a part of your program of studies while here at MU. Many students have found that adding an AEST minor has given them an edge when seeking employment in competitive job markets. AEST majors command among the highest starting salaries of all MU graduates. A minor in AEST could help you acquire some of those same marketable skills. Minors are available in the following areas:
Click on the minor title below to view the requirements.
For more information on declaring a minor in any of the AEST concentrations, please contact our department by emailing AEST@Millersville.edu.
Schedule a visit to Applied Engineering, Safety & Technology

University Open House Days and Personal Tours Available.

The best way to get to know us is to come and see us!

Several opportunities are available throughout the year for you to come and visit the Millersville University campus to learn about the programs offered, student life, financial aid, and the application process. Please click on Admissions Department to go to their page.

We are also available to meet with interested students and their families at times other than the scheduled open house days. Please email or call us using the information below. We'll schedule a time to meet with you and connect you with a professor who specializes in your area of interest.

Email: AEST@millersville.edu
Phone: 717-871-7237

 

AEST News Blog and Department Information

Keep up on the latest things happening in and around the Department of Applied Engineering, Safety & Technology. You can see what the students and staff are doing right now, and back issues of the former AEST Newsletter, Abbozzare, are available.

Osburn Hall Building Hours

Office Hours:
7:30 a.m. - 4 p.m. Monday through Friday
Building Hours:
7:30 a.m. - 10 p.m. Monday through Thursday
7:30am - 4:30 p.m. Friday