Featured Alumnus: Mr. John Haughery
John Haughery Awarded Fellowship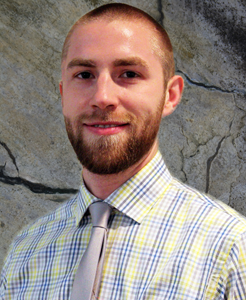 John Haughery, former AEST graduate (class of May 2006), was recently awarded a fellowship to Iowa State University's PhD program in Industrial and Agricultural Technology. This fellowship, awarded by the Department of Agricultural and Biosystems Engineering, carries with it teaching and research duties to start August 2014. John is excited about this opportunity to continue pursuing his research in renewable energy and engineering education methodology. He will be studying under Dr. Raj Raman, Associate Department Chair for Teaching in the ABE department, and will be responsible for teaching and researching educational approaches for freshman level engineering and technology courses.
John received his BS in Industrial Technology-Electronic/Control Systems from Millersville University. In May 2006 he was awarded The Instrumentation, Systems, and Automation Society Central Keystone Section's George Espy Achievement Award for outstanding scholastic and personal achievement of his undergraduate honors thesis titled Integration And Optimization of a Vision Enhanced Automated Robotic Work Cell. Additionally, John served as president, treasurer, and robotics team captain of Millersville's NAIT (currently ATMAE) student chapter. During the 2005 NAIT Conference in St. Louis, John led the team to a second place finish.
After graduation, John spent six years working for Multi-Dimensional Integration, a systems integrator serving the automotive, food & beverage, water/wastewater treatment, power generation and pharmaceutical industries. During this period he held the positions of Panel Shop Manager, Project Manager, Hardware Systems Engineer, and Human Resource Representative. Each of these gave John a unique blend of advanced control systems engineering and upper level management experience.
Mr. Haughery then went on to complete his MS in Engineering and Technology Management from the Department of Applied Engineering and Technology at Morehead State University (May 2014). While completing his master's degree, John served as a graduate assistant teaching and researching in the areas of electronics, manufacturing/design, and renewable energy. His thesis topic was titled Identification Of Curriculum Content For A Renewable Energy Graduate Degree Program. The highlight of his time at MSU came in the spring 2014 semester, when he was awarded the Outstanding Engineering & Technology Management Graduate Student in the AET department.
John is continuing to pursue scholarly contributions as a primary-author and secondary-author of two papers and presented them at the 2014 ATMAE conference. These articles were titled Design of a Programmable Surface Acoustic Wave Correlator Using Binary Phase Shift Keying Encryption for Wireless Network Security (primary-author), and Circuit Design for Improved Capture of Ambient Energy Over A Wide Frequency Range by Piezoelectric Energy Harvesting Devices (secondary).
Congratulations to John on his fellowship and his accomplishments. The Department of Applied Engineering, Safety & Technology is very proud of him and wishes him the best of luck as he begins his fellowship!