Chemistry in Art
Chemistry in Art Workshop
Since 1995, Dr. Patricia Hill has developed and facilitated nine workshops for college and university faculty on the topic of chemistry and art. The first two workshops were part of the National Science Foundation's Chautauqua Short Course Program. The next four workshops were funded by a National Science Foundation grant (DUE #9752769). Currently Dr. Hill offers the workshop each June funded under a nationwide NSF professional development grant administered by Georgia State University.
Goals of the Workshop

Expose participants to the many ways to integrate chemistry and art across the curriculum
Provide resources to help participants design and develop useful curricular materials
Provide knowledge and hands-on experience
Provide long-term support and consultation
Have fun!
Over 150 chemistry, science and art faculty from universities, colleges, community colleges, prep schools and several high schools have participated in these workshops. Participants have implemented workshop materials and activities at their home institutions in a number of interesting ways including:
Enhancing existing chemistry courses for science majors
Modifying existing courses for non-science majors
Creating new courses for non-science majors
Creating topics courses for chemistry majors
Bringing science into an art course
Developing science courses for conservators
Instituting student research projects for science and non-science majors alike
Creating science and humanities seminar courses
Enhancing high school science and art courses
Topics Covered
Some of the topics covered in the intensive weeklong workshop include: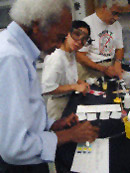 Light & color
Pigments & dyes
Chemistry of frescoes Detecting fakes & forgeries
Paints & paintings
Optical devices & art
Teaching basic chemistry
Ceramic, glass & geochemistry
Metals and metalworking
For more information please contact Dr. Patricia S. Hill at: Patricia.Hill@millersville.edu