Dr. Melissa A. Mullen Davis
Biochemistry, Assistant Professor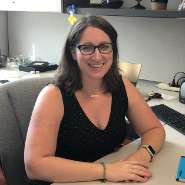 Office Hours
M: 11:00 am - 12:00 pm
W: 2:30 - 4:30 pm
F: 9:00 - 11:00 am
Comments: Spring 2021 Office Hours to Take Place Online.

Education
B.A. Chemistry and Spanish - Colby College, 2005
Ph.D. Chemistry - The Pennsylvania State University, 2011
Postdoctoral Fellowship - Cleveland Clinic Lemer Research Institute, 2011-2014
Courses Taught
Chemistry! Better Things for Better Living (Chem 101)
Biochemistry I Lab (Chem 326)
Course Materials
Research Interests
Biochemistry research in the Mullen Davis lab focuses on how organisms respond to changing environmental conditions.  We use model systems to study gene regulation by transcription factors (in E. coli) and by non-coding RNAs (in the plant Arabidopsis thaliana) in response to changing temperature, nutrient availability, oxidative stress, and other abiotic stress conditions.  We are interested in transcription factor structure, interactions with small molecule effectors, and how transcription factor activity affects transcript levels of target genes after stress exposure.
About Dr. Melissa A. Mullen Davis
Originally from New Jersey, Dr. Mullen Davis earned her B.A. in Chemistry and Spanish from Colby College. She worked with Philip Bevilacqua studying nucleic acid biochemistry at The Pennsylvania State University to earn her Ph.D. in Chemistry. Dr. Mullen Davis completed a Postdoctoral Research Fellowship at the Cleveland Clinic Lerner Research Institute with Donal Luse where she studied mechanisms of eukaryotic transcription. Before coming to Millersville in 2018, Dr. Mullen Davis spent four years at the College of Wooster as a Visiting Assistant Professor teaching courses in Biochemistry, Chemistry, and Biology.