Dr. Steven M. Kennedy
Organic Chemistry, Associate Professor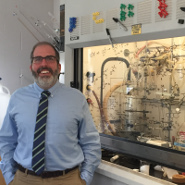 Office Hours
M: 1:30- 3:00 pm
T: 7:00 - 8:30 pm
R: 10:00am - 12:00 pm
Comments: Spring 2021 Office Hours to Take Place Online.

Education
B.S. Chemistry – Lewis-Clark State College, 2004
Ph.D. Organic Chemistry – University of California, Irvine, 2010
Postdoctoral Fellow – University of Pennsylvania, 2010 – 2012
Current Courses
Chemistry! Better Things for Better Living (Chem 101)
Chemists Have Solutions – First Year Seminar (Univ 103)
Organic Chemistry I and II (Chem 231 and 232)
Advanced Laboratory I (Chem 391)
Advanced Organic Chemistry (Chem 435)
Course Materials
Research Interests
Dr. Kennedy's research interests are in the areas of synthetic organic, organometallic catalysis, reaction methods development, and chemical education. The central themes of his research include: design and synthesis of biologically active natural products and analogues; utilization of screening techniques to expedite reaction optimization and new reaction discovery; development of synthetic routes and synthetic methods that are environmentally conscientious. His chemical education interests are in the areas of active learning, cooperative learning, inverted classroom strategies, and developing undergraduate teaching laboratories that incorporating natural product isolation and synthetic methods.