Dr. Aimee L. Miller
Biochemistry, Associate Professor, Department Chair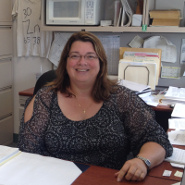 Contact Information
Office: Caputo 325
Phone: (717) 871-7414
Office Hours
M: 10:00 am- 11:00 am
T: 10:00 - 11:00 am
W: 9:00 - 10:00 am
R: 10:00 - 11:00 am
F: 9:00 - 10:00 am
Comments: Summer I 2021 Office Hours to Take Place Online.

Education
B.A. - Eastern Mennonite University, 1992
Ph.D. - University of Virginia, 2001
Post-doctoral research - Washington University in St. Louis and Vanderbilt University, 2001-2003
Courses Taught
General, Organic and Biochemistry I and II (Chem 103 and 104)
Introductory Chemistry I (Chem 111)
Biochemistry I and II (Chem 326 and 327)
Analytical Biochemistry Lab (Chem 328)
Freshman Seminar (Chem 188)
Course Materials
Research Interests
Dr. Miller is interested in protein structure and function and biochemical pathways at a cellular level. Her research includes use of genetic interactions in Saccharomyces cerevisiae (baker's yeast) as a way to evaluate functional relationships between proteins.
About Dr. Aimee L. Miller
Dr. Miller joined the Chemistry Department in August of 2003. She earned her Ph.D. at the University of Virginia doing biophysical analysis of metal binding to a protein involved in cell signaling. She then learned yeast genetic techniques doing post-doctoral studies of nuclear transport. At Millersville, she teaches introductory chemistry as well as upper-level courses in biochemistry.
Professional Affiliations
American Chemical Society (ACS)
Publications and Presentations
Aimee L. Miller and Laura J. Anna, Engaging Chemistry Students Using Poster Sessions, presentation, Mid-Atlantic Regional Meeting, Hershey, PA, June 2006.
Aimee L. Miller, Mythili Suntharalingam, Sylvia L. Johnson, Anjon Audhya, Scott D. Emr, and Susan R. Wente, Cytoplasmic Inositol Hexakisphosphate Production Is Sufficient for Mediating the Gle1-mRNA Export Pathway, J. Biol. Chem., 2004, 279 (49): 51022-51032.
Aimee L. Miller and Susan R. Wente, Regulation of mRNA Export by Inositol Hexakisphosphate, presentation, Chemistry Department, Millersville University, September 2003.
David J. Steger, Elizabeth S. Haswell, Aimee L. Miller, Susan R. Wente, and Erin K. O'Shea, Regulation of Chromatin Remodeling by Inositol Polyphosphates, Science, 2003, 299:114-116.
Shao-Chun Chang, Aimee L. Miller, Yuchen Feng, Susan R. Wente, and Philip W. Majerus, The Human Homologue of the Rat Inositol Phosphate Multikinase is an Inositol 1,3,4,6-Tetrakisphosphate 5-Kinase, J. Biol. Chem., 2002, 277(46): 43836-43843.
Aimee L. Miller and Gwenith A. Jones, Metal-Binding Properties of Phospholipase C-g1, presentation, Cancer Research Seminar, Virginia Division, American Cancer Society, March 1999.