FUTURE EDUCATOR ACADEMY
Millersville University July 23-29, 2023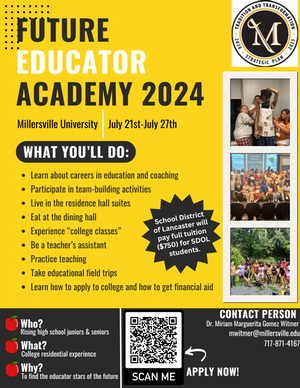 COST $675/participant includes:
Double Suite Occupancy with linens, Breakfast, Lunch, and Dinner, Transportation and admission fees for field trips.
School superintendents from across Lancaster County and the region report extreme difficulty in finding qualified teachers to staff their classrooms and provide quality coaching for extra-curricular events like athletic teams and marching bands. Future Educator Academy (FEA) at Millersville University is a week-long residential experience for high school juniors who have expressed interest in becoming a future PK-12 educator (teacher, administrator, school counselor, school social worker, athletic coach, etc.). A major goal of FEA is to recruit students into the field of education from underrepresented racial/ethnic minorities, students who are first-generation college students, and students from socioeconomically disadvantaged backgrounds. FEA is designed to be interactive and inclusive.

Goal: 
By participating in the Future Educator Academy, students will experience firsthand the roles and responsibilities of professions in the education field and better understand the dispositions and abilities needed to be a successful educator.  

Future Educator Academy Objectives:
Expose students to future careers in PK-12 school settings
Ease student anxieties about attending college
Recruit more high school students into the field of education
Live in the residence hall suites
Eat meals in the Upper Deck (dining hall)
Attend 50-minute lectures taught by MU professors/guest speakers
Complete self-reflection activities to help participants decide on a future career
Understand college admissions and financial aid
Have the opportunity to interact with younger children as teacher assistants for experienced teachers in a summer program.
Develop lesson plans and perform micro-teaching.
For more information, please contact:
Dr. Miriam Marguerita Gomez Witmer at mwitmer@millersville.edu or 717-871-4167