Department of Earth Sciences
Welcome to Earth Sciences
PASSHE Earth & Environmental Sciences Webinar Series
The Department of Earth Sciences offers comprehensive degree programs leading to:
Bachelor of Science
Master of Science
The Masters of Science in Integrated Scientific Applications (MSISA) offers five specializations.
Environmental Earth Systems Management (EESM)
Weather Intelligence and Risk Management (WIRM)
Geoinformatics (GI)
Space Weather and Environment (SWEN)
Climate Science Applications (CSA)
Graduate Certificate
The Department of Earth Sciences now offers a Graduate Certificate in Space Weather and Environment. Visit Space Weather and Environment: Science, Policy and Communication (SWEN) Certificate Program Page.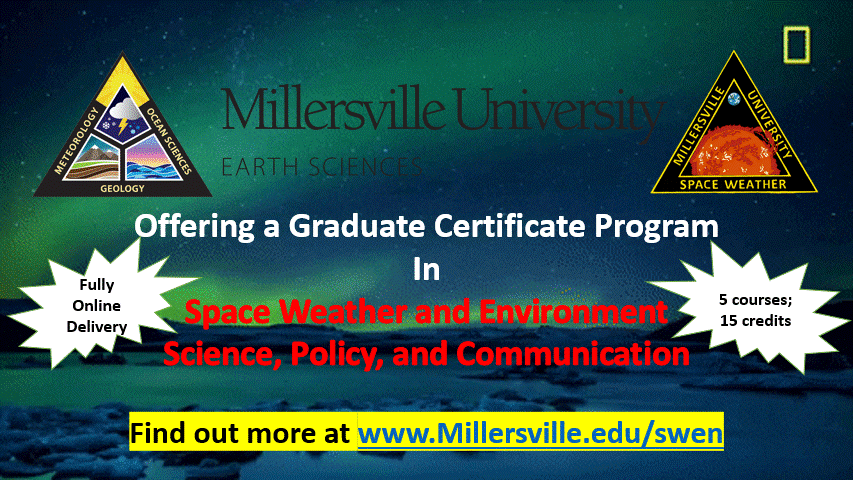 Why Millersville's Meteorology Program?
Our students are given experiences that grow their knowledge base and build skills essential to their careers.
Why Study Oceanography at Millersville?
Our Ocean Sciences program is among the Top 10 Values in Oceanography.
Earth Sciences
Millersville's Department of Earth Sciences provides access to the latest technologies to give you experience in...
Department News
Three Meteorology Students Awarded Hollings Scholarship
Three sophomores, Robert Commodari, Cameron Gonteski, and Elijah Crisden, received the Hollings Scholarship, which provides undergraduate students academic assistance (up to $9,500 per year) for two years of full-time study and a 10-week, full-time paid ($700/week) internship at a NOAA facility during the summer. This outstanding recognition marks the second consecutive year that Millersville students have earned this prestigious award. Last year, two Marauders, Benjamin Fellman and Chad Wiley, received the award. Only about 120 students are chosen each year from across the country and 75% of Hollings scholar alumni have pursued a graduate degree. Read more >>

---
State-of-the-Art Meteorology Classroom
Over the summer, one of Millersville's meteorology classrooms received an impressive upgrade that elevated its status to state-of-the-art. Our students now have access to a cutting-edge learning environment that merges content, visualizations, and virtual collaboration into a truly integrated classroom experience. Read more >>
---
Take a Virtual Tour!
From new residence halls to high-tech facilities, learn why students refer to MU as a "home away from home."
Take the tour