Department of Earth Sciences - Meteorology
Millersville Meteorology is a flagship program of the University, one that is nationally recognized for its deep and broad immersion in the atmospheric and climate sciences, and innovative curriculum in space weather, air quality, water resources, data analytics, and emergency response and disaster preparedness. Our graduates enter the workforce as knowledgeable, skilled and competent professionals.
MILLERSVILLE METEOROLOGY
It's more than a degree. It's an experience! Join us!
Research, Activities and News
Highlight Video of MU Meteorology Research Opportunities

---
Adam Weiner is Recipient of Tim Samaras Memorial Scholarship in Research Meteorology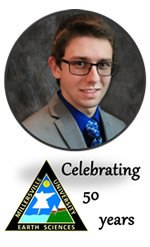 The Tim Samaras Memorial Scholarship in Research Meteorology was created to commemorate Tim Samaras, a world-famous engineer, inventor, and tornado researcher. His ground-breaking research greatly advanced the state of tornado science and will ultimately help save lives through more accurate and timely warnings. Adam Weiner is the first student from Millersville University to be awarded this scholarship, which includes an academic stipend for his final year of undergraduate study and partial funding to attend the 2019 Severe Storms and Doppler Radar Conference in Ankeny, Iowa. This conference encompasses his primary interests in research meteorology and will help him prepare for his Ernest Hollings summer internship at the National Weather Service in Raleigh, NC, where he will be analyzing Doppler radar data to classify storms that produce tornadoes in North Carolina. The scholarship will be presented to Adam at the Conference by the Central Iowa Chapter of the National Weather Association for sponsoring this opportunity.
---
MU Students Attend AMS Conference IN PHOENIX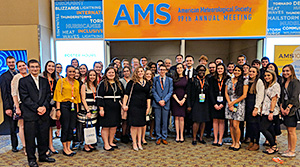 A record number of Millersville meteorology students and graduate students in the MSISA program attended the 99th Annual Meeting of the American Meteorological Society in Phoenix, AZ. Many students presented their research and used the event to network.
---
Millersville Meteorology installs new sensor package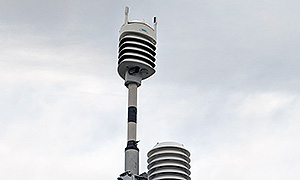 The Vaisala AQT400 combined with an WXT 530 streams conventional meteorological data (PTU, wind) plus routine measurements of trace gases and particles. The data are transmitted to a cell tower and then to a data cloud from which it can interrogated from anywhere.
---
The Hollings Scholars of Millersville Meteorology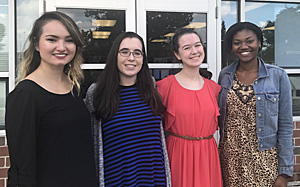 Millersville University Department of Earth Sciences is proud to announce the accomplishment of four meteorology students who are recipients of the NOAA Ernest F. Hollings Undergraduate Scholarship. Amber Liggett and Alyssa Cannistraci are members of the Hollings Class of 2016, while Mary Gilbert and Erin Jones belong to the Class of 2017. Read more >>
---
Space Weather Group Conducts First High-Altitude Balloon Measurements

A small group of meteorology majors, known as the Space Weather Group, conducted a maiden launch of a balloon carrying a payload of instruments for measuring X-rays, Gamma rays, and UV rays, as well as a radiosonde for collecting weather data. The balloon carried its payload to an altitude of 103,000 feet... Read more >>
Weather Watch TV
The latest edition of MU's Weather Watch!
Weather Watch TV
Program Information at a Glance
Download a printable Program Information at a Glance PDF file for more information.
Progam at a Glance
Student Success Stories

Our Meteorology Students in the Field

Joseph Seborowski

Joseph Seborowski Jr. (Meteorology 2014) is the recipient of the Person of the Year Award for his hard work and passion for the safety of the university, the students, and the community.  Joseph has been involved with the volunteer fire services since the age of 16, continuing his service with Millersville's very own Blue Rock Station 905.  Among other achievements, Joseph took the initiative on revising the outdated emergency operations plan for the Information Desk at the Student Memorial Center.  Joseph is currently in Millersville's Emergency Management graduate program.

Renee Duff - 1st Place Poster at AMS




Renee E. Duff, senior meteorology major, received top honor as the best student poster out of nearly 200 posters presented at the 14th Student Conference, held on 3-4 January 2015 (see photo above). Renee presented the research that she conducted at the Colorado State University in Fort Collins, CO during her summer 2015 internship on "Wildfire Pollution and its Effects on the Microphysical and Electrical Properties of Pyrocumulus."