Geo-Graphics Lab
Geo-Graphics Laboratory, McComsey 212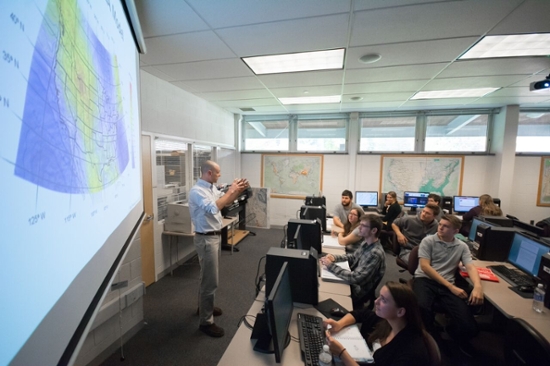 The Geo-Graphics Lab is the teaching classroom for several of our courses and serves as the common study and work space for students in all geography courses and for scheduled group tutoring. 
The Lab offers 17 PC work stations, a large-format plotter, and color and B&W printers. Instruction in all GIS-based courses utilizes the latest software, ArcGIS Pro. Students in GIS-based courses may be issued student licenses of the software for use on their own PC. 
Courses taught in the Geo-Graphics Lab include: GEOG 292 Quantitative and Spatial Analysis; GEOG 295 GIS I: Vector Data Analysis; GEOG296 GIS II: Raster Data Analysis; GEOG384 Cartography; GEOG395 GIS for Web Development; GEOG396 GIS Modeling; and GEOG397 GIS Data Management.
Employment in The Geo-Graphics Lab
There are several opportunities for current Geography students to be hired as lab assistants in the Geo-Graphics Lab. Preference will be given to students who have completed GEOG295, but it is NOT a requirement. Students must have already completed GEOG281 with a B+ or better. If you are interested or if you are a lab assistant planning to return in the next semester, please email Dr. Jessica Kelly the following: 1) the hours between 10am and 9pm, Monday-Friday that you are willing to work, and 2) the minimum and maximum number of hours you are willing to work. Also, please include whether you have taken GEOG295 and whether you would be interested in tutoring students in GIS (requires a minimum B+ in GEOG295).
In order to be hired as a student worker, you need to start three background clearance checks as required by Pennsylvania law. 
Act 34 (Criminal Record Check)
Act 114 (FBI Federal Criminal History-Fingerprinting)
Act 151 (Child Abuse History Clearance).
Given the length of time required for these checks, it is important that you contact us immediately so that you can begin the process as soon as possible. You cannot work in the lab until these background checks have been completed. The only exception here is if you have already worked for Millersville University (anywhere on campus) in the last 12 months.
Contract-Based Research
The Students (under the supervision of faculty) and/or faculty may be hired on an hourly basis for your project. All projects big (multi-year, continuous) and small (one-time) are welcome. To discuss your project and to receive a quote, please contact Dr. Jessica Kelly or Dr. Chuck Geiger to make an appointment. 
Laboratory-based Research
The Geo-Graphics Lab also supports research projects of individual faculty as well as contract-based research.
Learn More