Dr. Kathleen V. Schreiber
Professor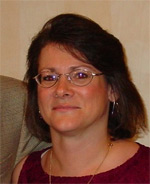 Office Hours
M: 12:00-2:00PM
W: 12:00-2:00PM
R: 3:00-4:00PM
Comments: No in person office hours for Spring 2021. All office hours are via phone or video-conference appointment. Please email for more information.

Education
Ph.D. Climatology, University of Delaware (Newark, DE), 1996
M.S. Geography, University of Delaware (Newark, DE), 1990
B.A. Sociology and Geography, University of Delaware (Newark, DE)
Dr. Schreiber's research interests focus on the atmosphere system and its interrelationships with the biosphere and environmental quality. She has been involved in applied climate research for nearly two decades, and has worked on projects as diverse as climate impacts on human health, visibility issues in the Grand Canyon, and air pollution damage to marble tombstones. A large focus of her work has been in synoptic climatology, which links the atmospheric circulation to the surface environment, and which has been used as a tool in her study of air and water quality issues. Her current research involves the development of climate-based watch/warning systems to predict and mitigate dengue fever, and evaluation of urban design techniques to reduce the magnitude of heat waves in city environments. In collaboration with the PA Department of Environmental Protection and other environmental geographers, she is developing lesson plans to introduce environmental law and policy to K-12 students.
Dr. Schreiber teaches courses (below) across the broad range of her interests, but focuses on human-environment relationships throughout her classes. She is particularly interested in widening students' knowledge of their environment and world through hands-on activities and student engagement in live and virtual field experiences. She teaches many of the department's upper-level environmental courses, and prepares and advises students aspiring to environmental careers. Dr. Schreiber is past president of the Delaware Valley Geographical Association, and is presently a board member of the North Museum of Natural History and Science. In her free time, she enjoys traveling, tent camping, canoeing, and hiking, which give her opportunities to enjoy and study the biogeography of the mid-Atlantic region.
Courses Taught
GEOG 202 Resources and the Environment
GEOG 333 Biogeography
GEOG 336 Climate and Society
GEOG 344 North America
GEOG 306 Environmental Impact Assessment