Strategic Planning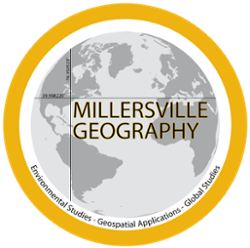 Mission Statement
The Department of Geography is committed to the advancement of geographic knowledge, the rigorous preparation of student-citizens, and engagement with our community.
Goals
The Geography Department recognizes the geography curriculum to be an important part of the University's General Education Curriculum. As such, the Geography Department aims to improve student awareness of the inter-relatedness of humans and their physical and human environments, and to help students become better-informed global citizens.
* The Geography Department will provide future teachers with conceptual, methodological and factual knowledge of geography, with which they can be certified and effective teachers in the public and private schools of Pennsylvania and other states.
* The Geography Department aims to provide geography majors and minors with a more thorough understanding of geographic concepts, knowledge, and skills, with which they are able to find employment and perform effectively in their chosen career.
* The Geography Departments aims to prepare geography majors who are able to continue their education and perform effectively in graduate schools.
* The Geography Department aims to act as a center for geographical information and training in the local region through faculty and student service, and in the wider world through the actions of our graduates.
* The Geography Department must provide for the intellectual stimulation and growth of its faculty.