Awards And Honors
Criminology, Sociology and Anthropology Department Senior Awards for Excellence
Criminology, Sociology and Anthropology Department Senior Awards for Excellence are awarded to graduating seniors who have achieved excellent grades, undertaken honors theses or other independent research projects and contributed to the department, the university and the community through leadership and service.
2023 Award Recipients
Sociology: Gabby Rodriguez
Sociology/Criminology: Alyssa Daniels and Alicia Hill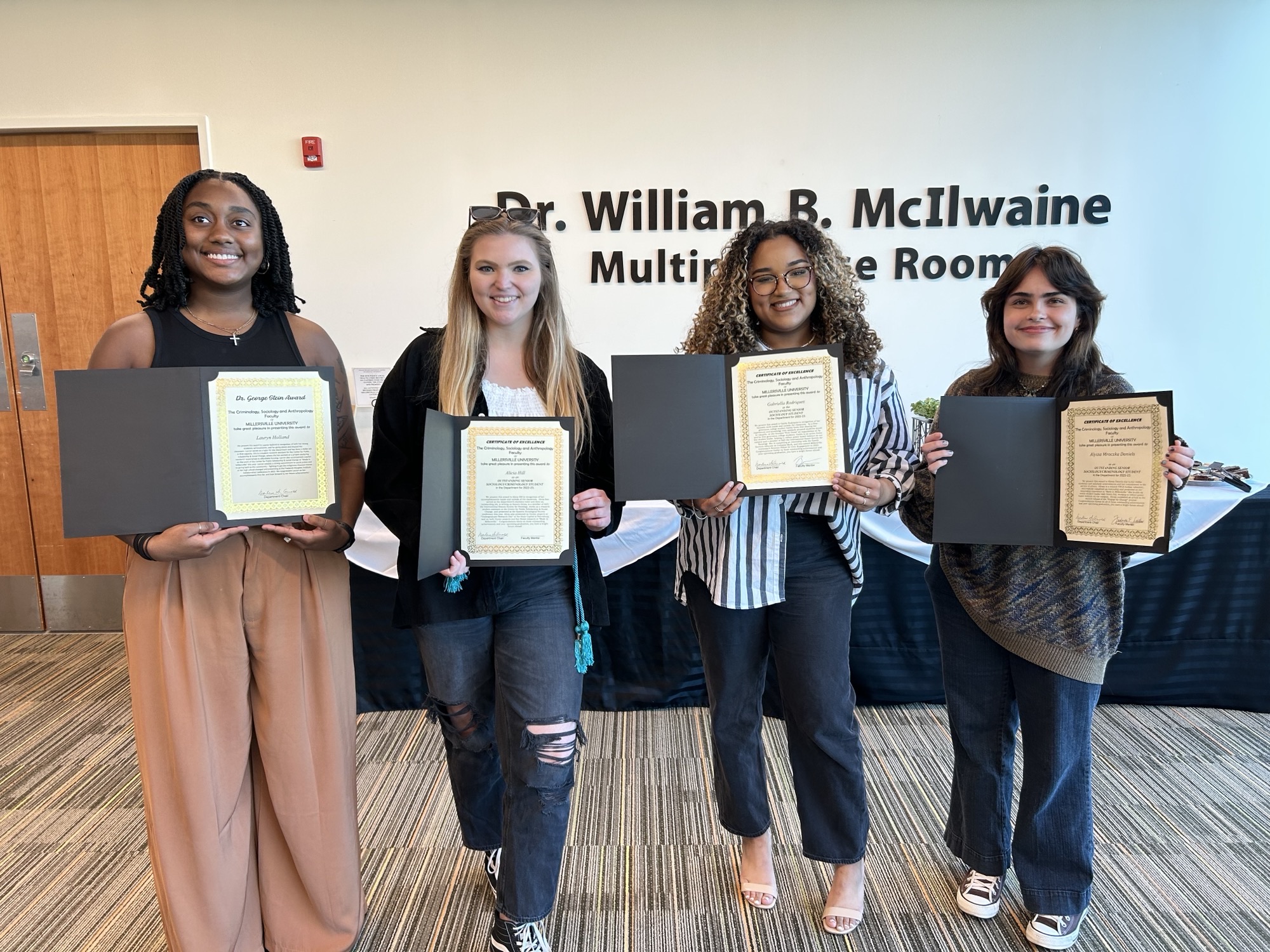 Pictured, from left: 2023 Drs. George and Helen A. '64 Stine Sociology Award reipient Lauryn Holland, Outstanding Sociology/Criminology Recipient Alicia Hill, Outstanding Sociology Recipient Gabby Rodriguez, Outstanding Sociology/Criminology Recipient Alyssa Daniels
Previous Award Winners
2022
Sociology/Criminology: Ellie Rohrback
2020
Anthropology/Archaeology: Christian Murgia
Sociology: Laddie Springer
Sociology/Criminology: Miranda Hanna
2019
Anthropology/Archaeology: Mark Cianciosi, Melissa Lee
Anthropology: Chantel Jones, Caseem Luck
Sociology: Patrick Clemens, Tyler Peak
Sociology/Criminology: Abigail Jefferys, Brandon Lee
2018
Anthropology/Archaeology: Adam MacBeth, Tabatha Smith
Sociology: Elizabeth Quinn
Sociology/Criminology: Kelly Di Camillo
2017
Anthropology/Archaeology: Hannah Lerew
Sociology: Kendall Seigworth
Sociology/Criminology: Robyn Spatichia
 
2016
Sociology: Kurt Lituma, Melanie Herbert, Chelsey Ann Wirth
Sociology/Criminology: Zachery Everidge, Christine Illes
2015
Anthropology/Archaeology: Maria Jacome Ottati
Anthropology: Emma Williamson
Sociology: Chelsey Ann Werth
Sociology/Criminology: Benjamin P. Shoff, Amarilys Rivera-Plaza, and Christine Harrison Mahrer
2014
Anthropology/Archaeology: Tanny Sanderson
Anthropology: Amy Colm, Margret Wilson, Robin Talmadge, and Victoria Stilley
Sociology: Virginia K. Handley
George and Helen Stine Award
Drs. George and Helen A. '64 Stine Sociology Award – awarded annually to an outstanding sociology major who is a "rising junior" with a GPA in the major of at least 3.0 and an overall GPA of 2.5 or higher.
Elizabeth Rohrback 2020
Ruhama Lumre 2019
Patrick Hoffman 2018
Patrick Clemens 2017
Abigal Longen 2016
Jessica DeLoriea 2015
Thelmelis Abreau 2014
Krystal Prince 2013
Kellen Hughes 2012
Vanessa Blanco 2011