Dr. Kimberly Mahaffy
Professor & Coordinator of Latino Studies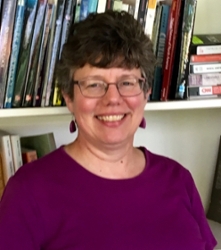 SPRING 2022
M: 12:30-2:30 PM
W: 12:00-2:00 PM
F: 12:00-2:00 PM
Comments: Additional office hours available by appointment.

About Dr. Mahaffy:

To understand my passion for statistics, it helps to know that I became a sociologist after pursuing two other careers. I was a high school mathematics teacher in New Hampshire for two years and then spent six years helping welfare recipients in Massachusetts transition to employment. Both of those experiences inform my thinking about educational gaps, immigration, women, and poverty.  
Because I felt unprepared to provide career counseling to welfare recipients, I completed a Master's in Human Resource Counseling. It was through this degree program that I realized I really enjoyed doing research on social issues. Both of those careers inform my thinking about education as a social institution, immigration, women's lived experience, and poverty. I chose to earn a Ph.D. in Sociology because this discipline helped me understand why immigrant (and native born) women with children could be working really hard to survive but return to the public welfare system. Hint: The social support system for poor people is not adequate! I recognize that part of my role as a professor is to illuminate and improve the experiences of people at the margins of society. To that end, I have been involved in a number of advocacy efforts as well as community-based research projects. 
I have evaluated the Lancaster County Adult Drug Court, conducted research for the PA Liquor Control Board and the Borough of Millersville, studied the impact of the Latino Student Leadership Institute (which I facilitate), and evaluated the Green Dot by-stander intervention training.  
Education:
University of New Hampshire
PhD in Sociology and Cognate in College Teaching, Dissertation: "When Does Gender Matter?"
University of New Hampshire
MA in Sociology
Northeastern University
MS in Human Resource Counseling
Gordon College
BS Mathematics
Courses Taught at MU:
Social Statistics
Social Research Methods
Social Psychology
Senior Seminar
Introduction to Latina/o Studies
Human Population
Latino Studies Senior Seminar
Introduction to Women's and Gender Studies
U.S. - Mexico Border Issues
Research and Scholarly Interests:
US Interventions in Panama and Puerto Rico, Immigration Law, Latina/o educational attainment
Other:
Pennsylvania Immigration Resource Center, board member
Treasurer, Midwest Association for Latin American Studies
President's Commission on Cultural Diversity and Inclusion, member
Facilitator of the Latino Student Leadership Institute