Robotics & Control Systems
See what one of our AETM degrees can do for you.
Please view the video to learn more about the Applied Engineering and Technology Management degrees at Millersville...
BACHELOR OF SCIENCE (B.S.) 4-YEAR DEGREE
APPLIED ENGINEERING AND TECHNOLOGY 
Robotics & Control Systems CONCENTRATION
The Robotics & Control Systems concentration involves the optimization and automation of processes. Students in the Robotics and Control Systems concentration are introduced to the fundamentals of current power and electronic systems used in industry. Laboratory courses may require students to design, program, develop and construct projects independently as well as in small groups. Seniors are encouraged to participate in a cooperative education or internship experience to further their knowledge and technical/managerial skills in an industrial environment.
Click here to view a typical 4-year program of study. This is provided for reference only. You will work closely with your advisor to determine the best way for you to complete your degree.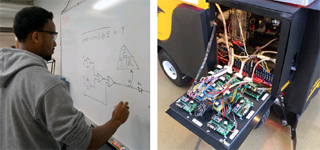 ASSOCIATE OF TECHNOLOGY (A.T.) 2-YEAR DEGREE
APPLIED ENGINEERING AND TECHNOLOGY 
Control systems technology
The Control Systems Technology concentration within this program provides students with the same basic technical coursework as the AETM program, but without courses in management. Typical entry level professions include: Process Technicians, Application Engineers, Controls Technicians, Field Technicians, Manufacturing Technicians, and Robotic Technicians.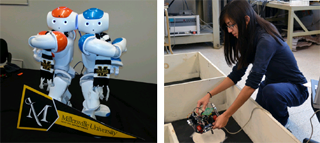 MINOR IN Control Systems Technology
A minor in Control Systems Technology is available to students who complete 18 credits of technical courses related to the study of Robotics and Control Systems.
AEST at Millersville
Video montage of student-built robots competing in an autonomous fire fighting challenge.
REASONS WHY YOU SHOULD CONSIDER A DEGREE IN APPLIED ENGINEERING & TECHNOLOGY MANAGEMENT, Robotics & Control Systems:
Opportunity to learn about system integration, robotics, and process control.
Excellent starting salaries (among the highest of any major on campus).
According to O*Net Resource Center, sponsored by the U.S. Department of Labor/Employment Training, the Robotics Engineer and related occupations, is identified as have a "bright outlook" with a score of 100/100. Source: O*Net (2011). Summary Report for 17-2199.08-Robotics Engineers. O*Net 13.
MAKE YOURSELF MORE EMPLOYABLE, CONSIDER AN INTERNSHIP:
Robotics & Control Systems internships combine the student's academic, technical, and management preparation with actual on-the-job experiences in controls integration and process engineering. Internships have a significant management component and students are required to engage in management-related activities such as planning, organizing, directing, and supervision at the workplace. The student, the employer, and faculty work to assure the internship experience achieves the best possible learning outcome.
LABORATORY FACILITIES FOR AETM Robotics & Control Systems MAJORS:
There are multiple laboratory facilities dedicated to supporting the Robotics & Control Systems concentration. Specific labs include:
Automation/Robotics
CADD
Electronics
Energy, Power, Transportation
Fluid Power
Materials Processing
Rapid Prototyping/3D Printing
Self-reported job titles from a recent alumni survey:
Application Engineer & Product Specialist
Assembly Engineer
Automation Engineer
Automation General Manager
Automation Programmer
Automation Specialist
Certified Machinery Safety Expert
Control System Engineer
Design Engineer
Engineering Supervisor
Engineering Technician
Industrial Automation Engineer
Installation Supervisor
IT Project Specialist
Lead Systems Engineer
Manufacturing Engineer
Plant Service Engineer
Process Control Engineer

Process Engineer
Product Design Engineer
Product Manager
Program Engineer
Project Engineer
Project Manager
Quality Manager
Robotics/Automation Engineer
Sales Engineer
Sales Representative
Site Supervisor
Software Application Engineer
Solution Engineer
Sr. Engineer
Support Engineer
Team Supervisor
Validation Lead
Vice President Sales & Marketing