Robotics & Control Systems
Robotics Students Fire Fighting Robot Competition
Andrew Miller, an AETM RCSY major, recently edited a video of the mobile robotics students' journey as he and his fellow students worked in teams of two to complete their research and development final project. The students were challenged to develop firefighting robots that seek out and extinguish a randomly placed candle in an 8' x 8' maze.  The challenge in modeled after an international robotics competition called The Trinity College Home Fire Fighting Robot Contest which has been held in Hartford, Connecticut annually since 1993. The purpose of the challenge is gain experience designing autonomous systems with real-time data acquisition for known environments while mastering programming in C++. "This is no easy task. Simulation is one thing, but designing real-world autonomous robots that are reliable is quite another" says Dr. John Wright, course instructor and ARET Program Coordinator. The challenge is one of the capstone experiences for all AETM RCSY and ARET majors within the AEST Department.
Sign up for more information Apply to Millersville University
See what one of our AETM degrees can do for you.
Please view the video to learn more about the Applied Engineering and Technology Management degrees at Millersville...
AEST at Millersville
Robotics Students Fire Fighting Robot Competition
Degrees/Minor
Bachelor of Science (B.S.)
Applied Engineering and Technology Management
The Robotics & Control Systems concentration involves the optimization and automation of processes. Students in the Robotics and Control Systems concentration are introduced to the fundamentals of current power and electronic systems used in industry. Laboratory courses may require students to design, program, develop and construct projects independently as well as in small groups. Seniors are encouraged to participate in a cooperative education or internship experience to further their knowledge and technical/managerial skills in an industrial environment.
Click here to view a typical 4-year program of study. This is provided for reference only. You will work closely with your advisor to determine the best way for you to complete your degree.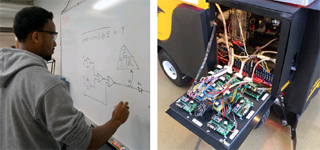 Associate of Technology (A.T.)
Applied Engineering and Technology (AET)
The Control Systems Technology concentration within this program provides students with the same basic technical coursework as the AETM program, but without courses in management. Typical entry level professions include: Process Technicians, Application Engineers, Controls Technicians, Field Technicians, Manufacturing Technicians, and Robotic Technicians.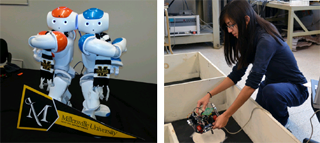 Minor in Control Systems Technology
A minor in Control Systems Technology is available to students who complete 18 credits of technical courses related to the study of Robotics and Control Systems.