Applied Engineering & Technology Management
Program Goals
Employers are looking for well-educated professionals to meet the needs of today's global society. With the rapid pace of change, you need to prepare yourself to be competitive as technology and engineering-related careers evolve. The Department of Applied Engineering, Safety & Technology can help you get the expertise to transform into a highly qualified professional ready to meet the challenges of an exciting career in technical businesses, industries, government, or education fields. The Applied Engineering & Technology Management degree will equip you for a successful career in one of many concentrations.
See what one of our AETM degrees can do for you.
Please view the video to learn more about the Applied Engineering and Technology Management degrees at Millersville...
AETM Degrees/Concentrations/Minors
BACHELOR OF SCIENCE (B.S.)
Applied Engineering & Technology Management (AETM)
This program prepares technical managers, design engineers, and technologists, with competency in an applied engineering specialty (known as a concentration), management, and general education. If you select this major, you'll gain experience with the University's general education requirements, a broad perspective of what technology and engineering is and what it does, as well as acquiring deep knowledge in the applied engineering concentration of your choice. You will also experience courses in management to prepare you for your professional career. Bachelor's Degree (4-year) concentrations are available in:
Click here to view a typical 4-year program of study. This is being provided as a reference only. You will work with your advisor to determine the best possible plan for your studies.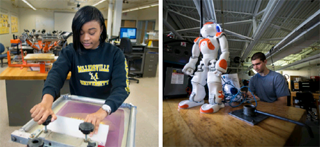 ASSOCIATE OF TECHNOLOGY (A.T.)
Applied Engineering & Technology (AET)
Applied Engineering and Technology (AET) is available for students looking for an applied engineering degree with reduced general education requirements and no management courses. The associate's degree is designed so that if you decide to transition into a bachelor's degree, you won't lose credit for the courses already taken. Associate's Degree (2-year) concentrations are
available in: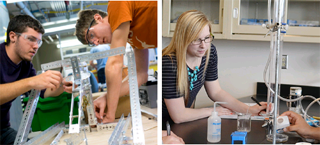 MINORS IN APPLIED ENGINEERING, SAFETY & TECHNOLOGY
Laboratory facilities in Osburn Hall
Advanced Materials Procesing & Testing
3D Printing & Rapid Prototyping
Automation & Robotics
Computer-Aided Design & Drafting
Confined Space & Ventilation
Digital Publishing
Design & Drafting
Electronics
Energy, Power, Transportation

Fire Protection & Hazardous Materials
Industrial Hygiene
Innovation
Metallics
Polymers & Ceramics
Print Production
Safety Engineering
Wood
SOme of the things AEST graduates may become
STEM Educator
Control System Specialist                           
Industrial Trainer
Product Designer
CADD Draftsman/Estimator
Senior Quality Analyst
Product Design Engineer
CNC Programmer
Validation Specialist
Graphic Layout Designer
Account Representative

Industrial Control Designer
Technology & Engineering Teacher     
Graphic Services Coordinator
Safety Inspector
Fire Safety Coordinator
Corporate Safety Officer
Innovations Manager
Process Flow Engineer
Design Engineer
Manufacturing Engineer
Industrial Hygienist

                                                ... and much, much more!