Advanced Manufacturing
Program Goals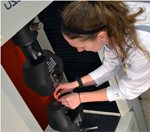 Manufacturing is a matter of fundamental importance to the economic strength and national security of the United States. More than any other industry, a globally competitive manufacturing sector translates inventions, research discoveries, and new ideas into better or novel products or processes (Source: National Network for Manufacturing Innovation, manufacturing.gov)
Interested in Advanced Manufacturing? Request More Information
Degrees/Minor
Bachelor of Science (B.S.)
Applied Engineering and Technology Management
The Advanced Manufacturing concentration prepares students for an ever-changing workplace that is increasingly driven by advanced technology. The new era of manufacturing is cleaner, more precise, and more efficient than ever before. It relies on innovation and highly skilled workers capable of synchronizing multiple aspects of product design, material processing, and resource management. Coursework includes theoretical principles and hands-on experiences with processing all categories of materials, computer-aided design and machining technologies, the principles of efficient process design and management, and business skills necessary to compete in 21st-century industry.
Click here to view a typical 4-year program of study. This is provided for reference only. You will work closely with your advisor to determine the best way for you to complete your degree.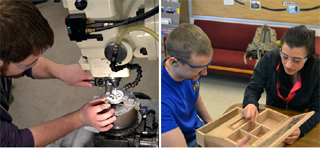 Associate of Technology (A.T.)
Applied Engineering and Technology (AET)
The Advanced Manufacturing concentration associate degree prepared students equally well for technical proficiency in modern manufacturing environments. The curriculum mirrors the AETM program, but does not include the same degree of business and management coursework. Transfer into the AETM program is seamless if desired later on.
Minor in Advanced Manufacturing
Students who minor in Advanced Manufacturing complete 18 credits of technical courses. Four of these courses are core materials, manufacturing, and computer-aided design classes with the option of advanced study in polymers and ceramics, wood technology, and computer numerical control (CNC).
Take a Virtual Tour!
From new residence halls to high-tech facilities, learn why students refer to MU as a "home away from home."
Take the tour