Computer Science
Welcome!
The Department of Computer Science maintains a rigorous, state-of-the-art program in Computer Science and Information Technology with eight full-time faculty and more than 250 majors.
We offer research and advanced undergraduate elective courses in computer graphics, artificial intelligence, networks, software engineering, databases, human-computer interaction, game programming, and parallel processing. The hardware and software in our laboratories are continually updated to support our student and faculty needs. By pursuing a Bachelor of Science degree, you can prepare for a rewarding, challenging career in business, industry, or government, or establish a solid foundation for graduate studies and research.
Millersville University began teaching programming courses in 1963. The Computer Science B.S. degree was approved in 1975, and Information Technology B.S. degree with a Health Care Analytics Option was approved in 2020, and the MDST in Data Science was approved in 2020. The Department has graduated over 1,500 majors who have become active, contributing members of the computing profession.
Tutoring Spring 2023
The Department of Computer Science is offering group tutoring both in person and digitally this semester. When tutoring is held, the tutor will be in Roddy 140, helping students on a first-come, first-serve basis.  They will also be available through Zoom, Meeting ID: 959-6169-3862.
By Course:
| | |
| --- | --- |
| Course | Days |
| 140 | Tuesday, Wednesday and Thursday evening |
| 161 | Monday, Tuesday, Wednesday and Thursday evening |
| 162 | Monday, Tuesday, Wednesday and Thursday evening |
| 330 | Tuesday, Wednesday and Thursday evening |
| 362 | Tuesday, Wednesday and Thursday evening |
| 366 | Monday, Tuesday, Wednesday and Thursday evening |
| 380 | Monday and Thursday evening |
| 420 | Tuesday and Thursday evening |
By Day:
| | |
| --- | --- |
| Day (Time) | Courses |
| Monday (5PM-8PM) | 161, 162, 366, 380  |
| Tuesday (5PM-8PM) |  140, 161, 162, 330, 362, 366, 420 |
| Wednesday (5PM-8PM) | 140, 161, 162, 330, 362, 366 |
| Thursday (5PM-8PM) |  140, 161, 162, 330, 362, 366, 380, 420 |
Introducing the CS Department Discord Community!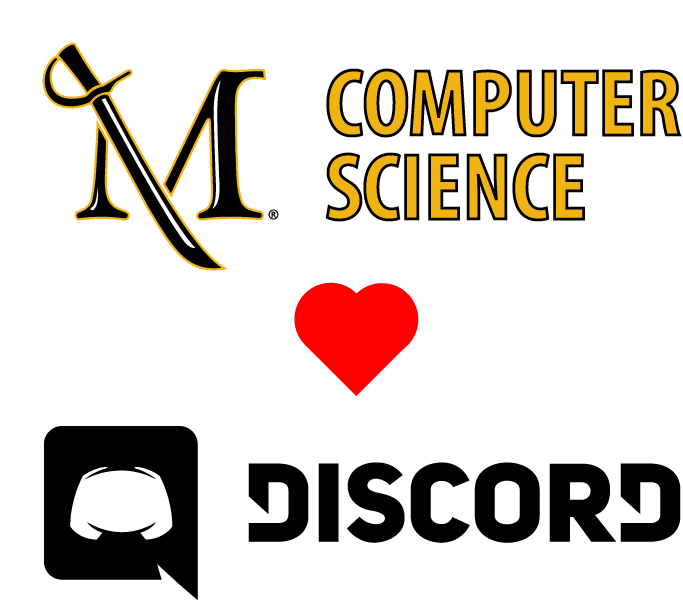 The Department of Computer Science has a Discord Community which all students enrolled in Computer Science or Information Technology courses are encouraged to join. Discord is a social platform where people can collaborate and socialize together in text and/or voice channels.
We have premade channels for all courses, social activities, troubleshooting, and more. You can download Discord to your computer, phone, and/or tablet through your device's respective App Store or from https://www.discord.com
To join the Computer Science Department Discord Server, click this button:
Setting Up Development Environments
Trying to get your computer set up for your Computer Science class? We have guides to help you! 
Cyber Defense Organization Qualifies for Regionals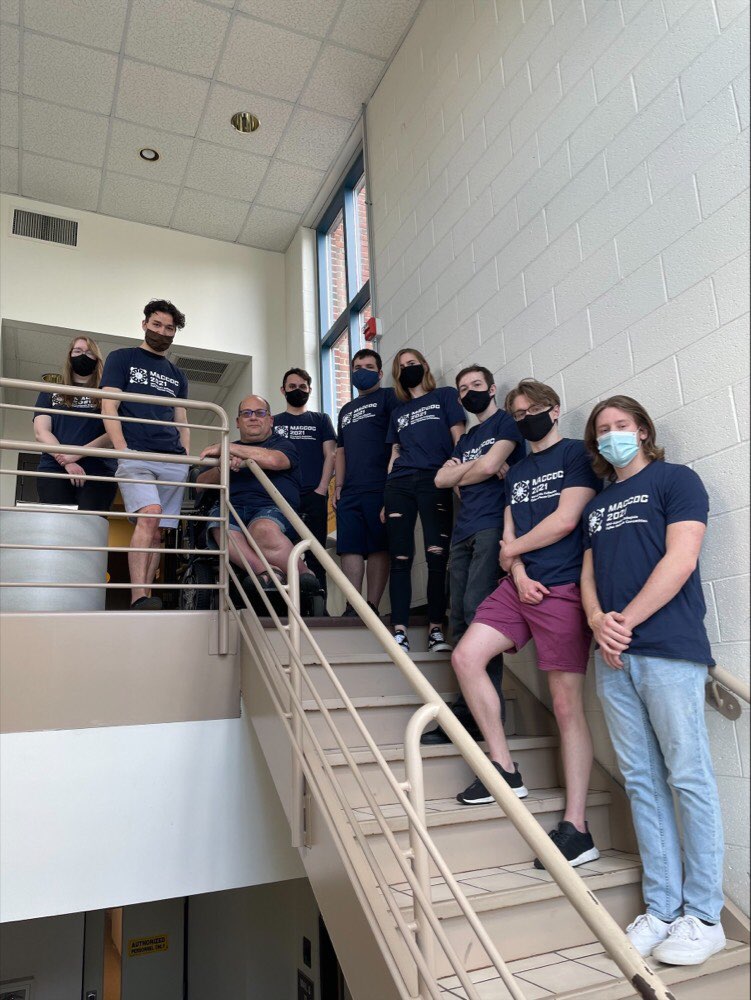 The MUCS Cyber Defense Organization competed in the qualifying rounds of the CCDC (National Collegiate Cyber Defense Competition) in March 2018 and placed 6th out of 25 teams. This qualified the team to compete in Regionals where they placed 4th out of 8 teams.  This is an outstanding achievement among very stiff competition.
The CCDC asks "student teams to assume administrative and protective duties for an existing "commercial" network – typically a small company with 50+ users, 7 to 10 servers, and common Internet services such as a web server, mail server, and e-commerce site.  Each team begins the competition with an identical set of hardware and software and is scored on their ability to detect and respond to outside threats, maintain availability of existing services such as mail servers and web servers, respond to business requests such as the addition or removal of additional services, and balance security needs against business needs.  Throughout the competition an automated scoring engine is used to verify the functionality and availability of each team's services on a periodic basis and traffic generators continuously feed simulated user traffic into the competition network.  A volunteer red team provides the 'external threat' all Internet-based services face and allows the teams to match their defensive skills against live opponents." [CCDC Mission]
John Hynes Completes Department Honors Thesis Defense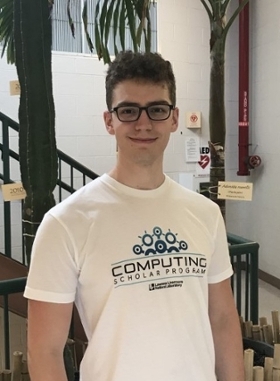 During the last year through online instruction, an MU CS senior, John Hynes, was concurrently working on his Departmental Honors Thesis: "A GPU-Accelerated Ray Tracing Engine in Modern C++". John built off of Peter Shirley's Ray Tracing in One Weekend and re-engineered the code to enable GPU parallelism with CUDA.
The ray tracing engine supports different types of objects such as spheres, planes, and triangles; different types of materials such as Lambertian, metal, emissive, and diaelectric; and a custom scene file format. The engine can run on NVIDIA GPUs through CUDA or on multi-core processors.
The code created throughout this thesis is Open Source and available on GitHub: https://github.com/JohnHynes/Thesis
Thesis Abstract: 
Ray tracing is a powerful and popular technique used in 3D graphics to simulate realistic light and shadows within a scene. Due to the high amount of computations that are inherent to ray tracing, engines often employ GPU acceleration and other such optimizations to greatly reduce render times, particularly in high-complexity scenes. This paper discusses the benefits and challenges experienced when implementing a GPU-Accelerated ray tracing engine in C++ using modern approaches and tools.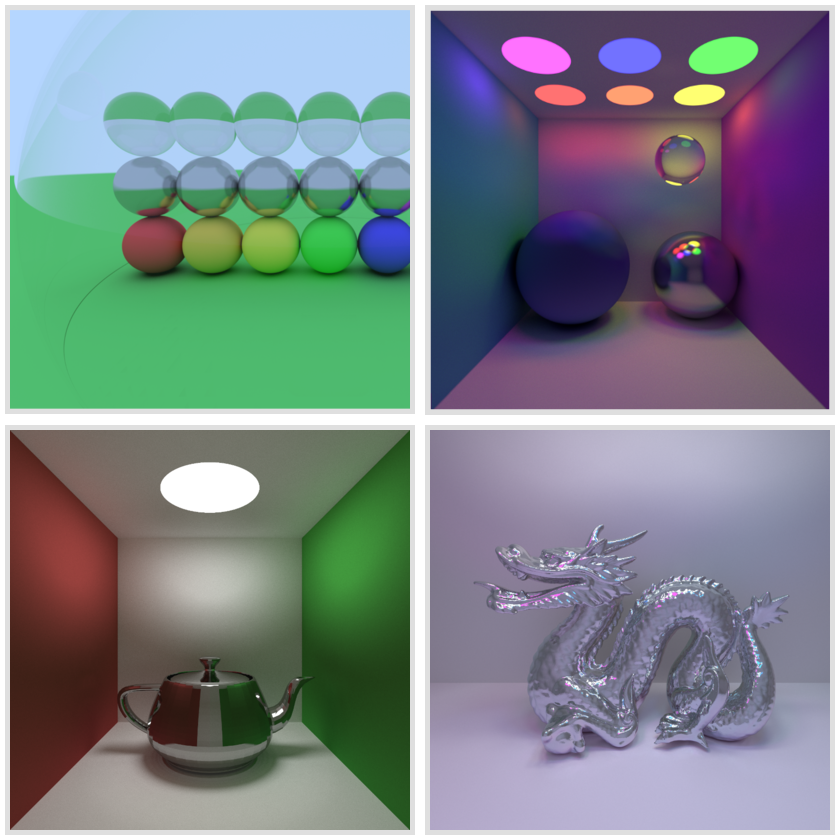 Millersville Computer Science Goes to CPOSC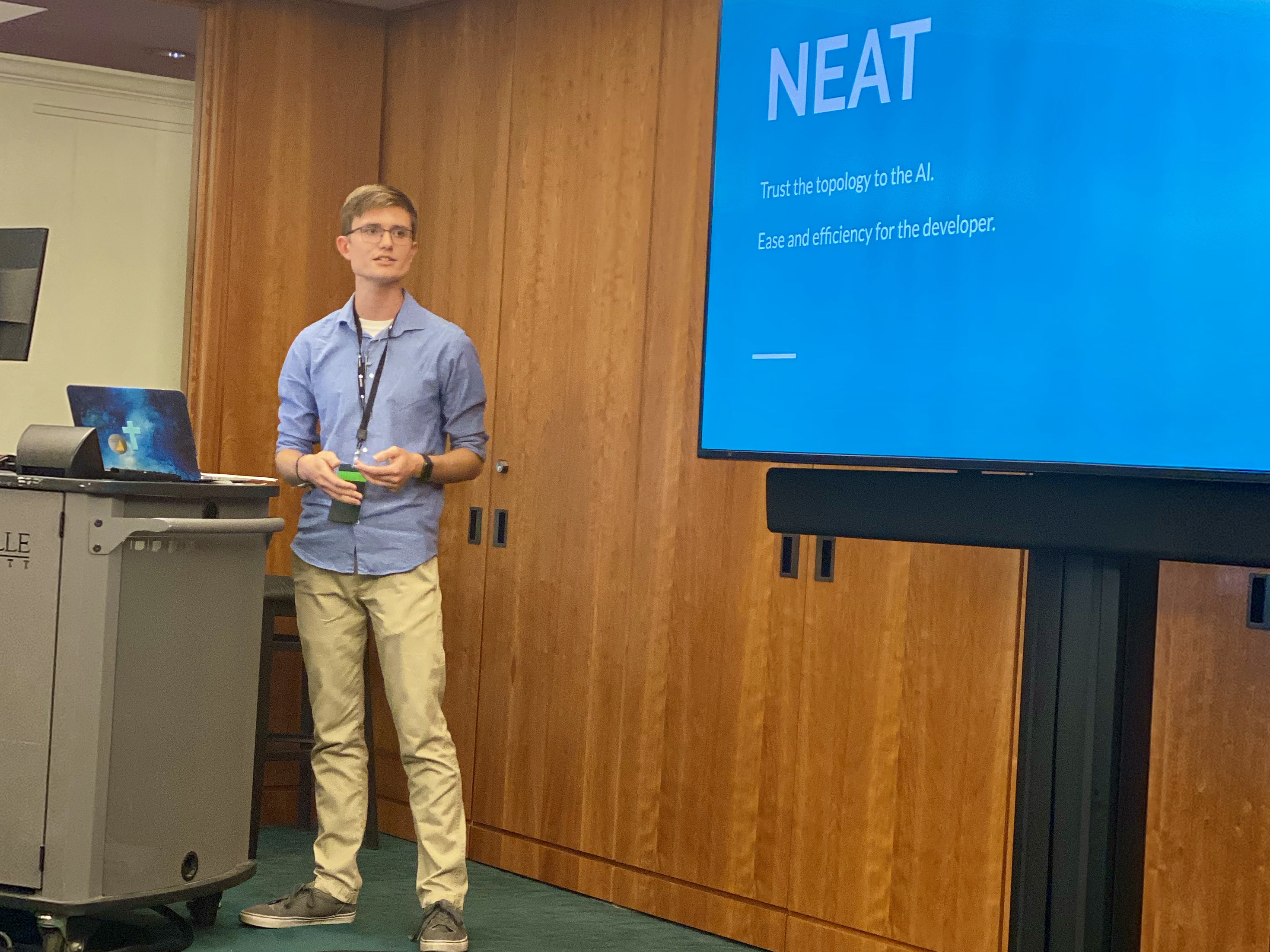 The 11th Annual Central Pennsylvania Open Source Conference (CPOSC) was held on Saturday, September 21st 2019 at the Ware Center in downtown Lancaster. Millersville University was well-represented with over 20 students and faculty in attendance. The computer science department also had three different presentations throughout the day!
"Evolving Neural Network Topologies with NEAT" by Connor Billings (an MUCS Senior)
"Application of Cryptography: Public Key Infrastructure and Digital Signature" by Dr. Nazli Hardy
"Machine Learning with Random Forests: How (and Why!) They Work" by Dr. Stephanie Schwartz
Two Millersville University Computer Science Alumni also gave talks this year at CPOSC: Ed Schwartz (2007) gave a talk on "Code Reuse Attacks and How to Find Them" and Mike Newswanger (2009) gave a talk on "Software Principles from Kubernetes".
CPOSC is organized by many local technology enthusiasts. This year two MUCS alumni, Court Ewing (2008) and Elyse Ewing (2009) were two primary coordinators. We look forward to next year!
Coding Club Attends Mid-Atlantic ICPC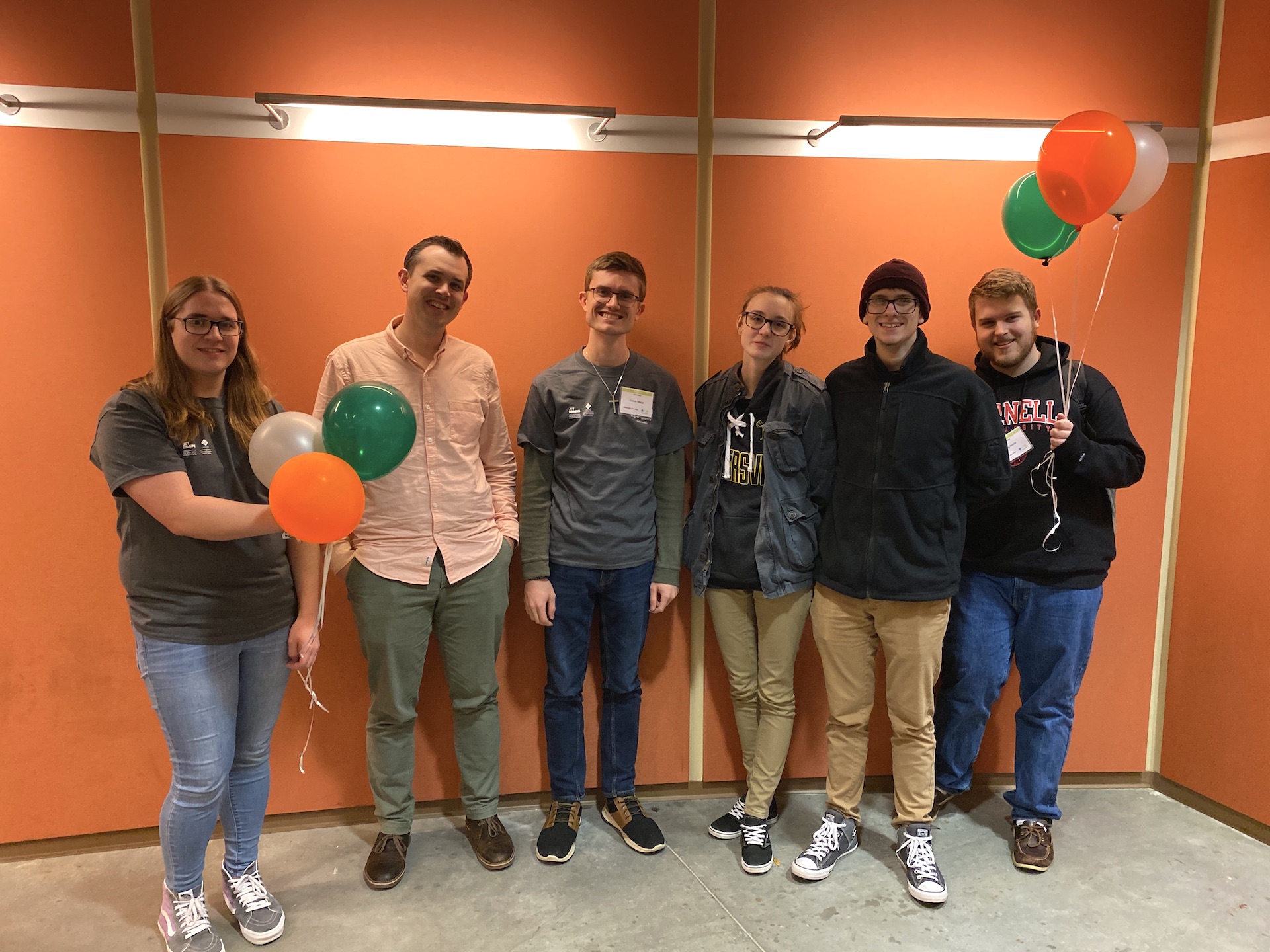 Millersville University Department of Computer Science had two teams participate in the 2019 ICPC Mid-Atlantic Regional Competition held at the John Hopkins University site on November 9th, 2019. Both of our teams solved three of the eight problems during the 5-hour competition!
Marauder Gold Team, consisting of team members Connor Billings, Amy Burnett, and Dan Hartenstine, placed 70 of 160 in the region (9 of 16 at the site)
Marauder Black Team, consisting of team members Lauren Deaver, Matt Fossett, and Jimmy Roche, placed 88 of 160 in the region (11 of 16 at the site).
If you see any of these students, please congratulate them on their hard work and excellent performance representing Millersville University. Matt Fossett, Jimmy Roche, Dan Hartenstine, and Connor Billings are all graduating in the fall or spring semester. If you are interested in participating or improving your programming skills / problem solving ability, the Coding Club of Millersville University meets during common hour on Thursdays in the Linux Lab. You can also contact Prof. Killian (william.killian@millersville.edu) or Todd Echterling (todd.echterling@millersville.edu).
MUCS Students Win at PACISE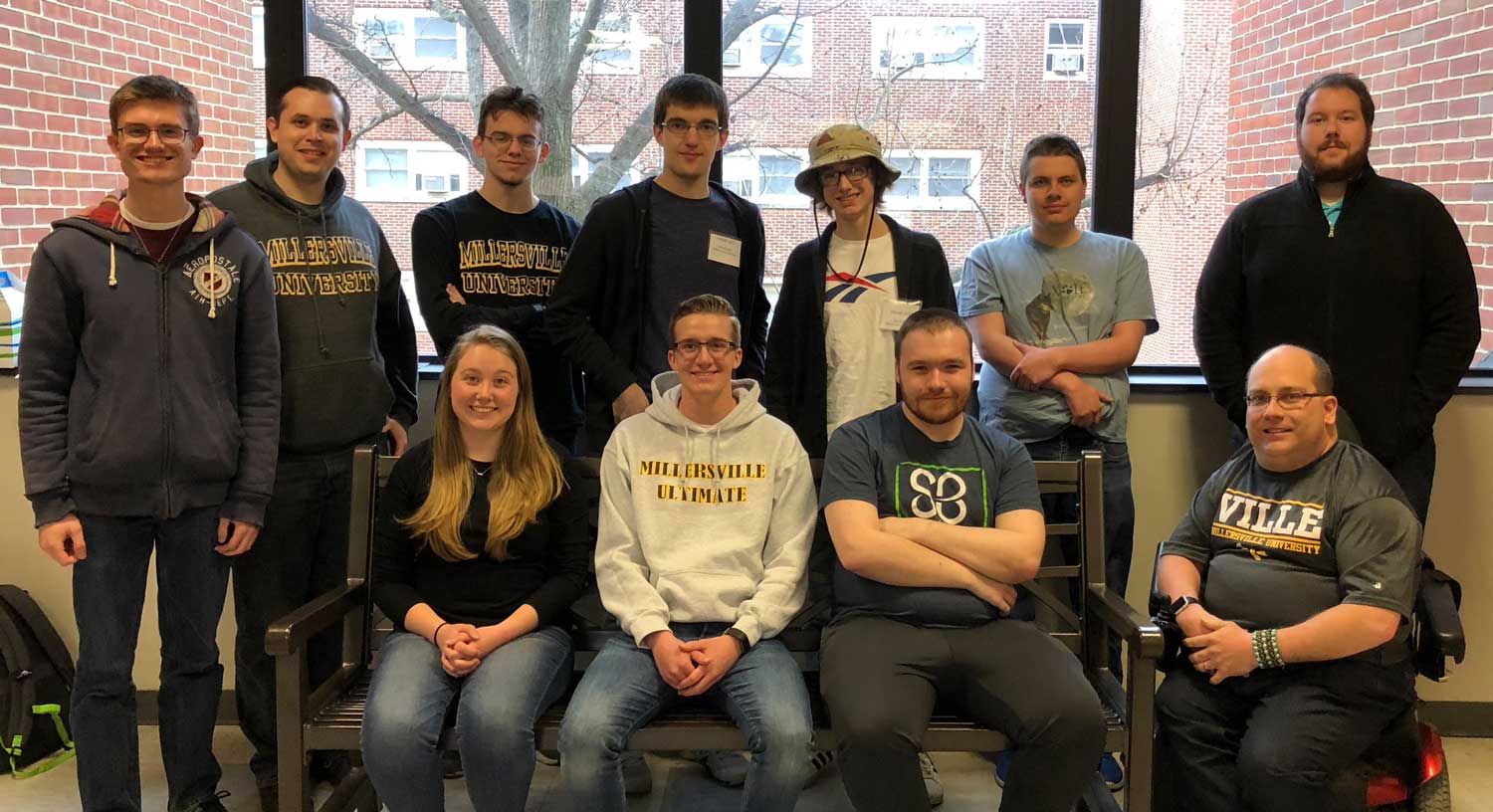 On the weekend of April 6th, 2018, Millersville University sent three teams to the annual PACISE conference to compete in their hosted programming competition. The competition, which runs from 8 AM until 12 PM Saturday morning, tasked teams of up to three students to solve 5 problems in the allotted time.
The team of Ryan Peterson, Hugh Quinn, and Alayna Woleslagle placed first and solved 4 of the 5 problems.
The team of Daniel Hartenstine, Connor Billings, and Henry Schmale placed third and solved 3 of the 5 problems.
The team of Jack Fazio, Nick Russell, and Jessie Hildebrandt competed in their first competition and we look forward to their future contributions.
MUCS Alum Takes Off for NASA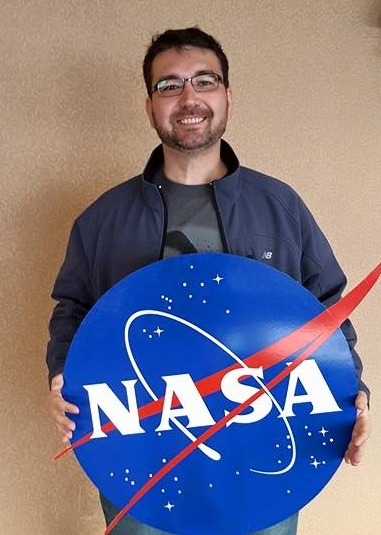 Jason Zimmerman, a recent MUCS alum (Dec 2015), will be spending this spring working as a NASA intern at the Johnson Space Center. Jason will be working on a team writing flight control software that communicates between Orion's Guidance Navigation and Control's (GN&C) Space Integrated GPS / Inertial Navigation Unit (SIGI) and Orion's Launch Abort System (LAS). He will be modeling the software with System Modeling Language (SysML), which encapsulates UML2 and also includes hardware modeling along with many other types of models.
Congratulations to Jason for earning this terrific opportunity. The MUCS faculty are sure he'll make valuable contributions to his project at NASA!
You can learn more about Orion's Launch Abort System at this address, http://www.nasa.gov/sites/default/files/files/orion_las_fact_sheet.pdf.
SELF-GUIDED ONLINE TOUR
Join us from the comforts of home on a self-guided online tour!
Start the Tour
Computer Science Alumni
If you are a Millersville University Computer Science Alumni, please update your contact information.
Ville Alumni
Congratulations 2020 Graduates!
A virtual commencement was held in May 2020 for our graduating seniors! A in-person commencement on campus will be announced at a future date.