General Department Information
General Information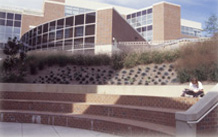 The Department of Computer Science is committed to maintaining our curriculum on the forefront of technology. As a major in computer science at Millersville, you will be exposed to state-of-the-art equipment , theory, and concepts. Our faculty of highly motivated and knowledgeable professors will guide you through the courses and prepare you to join one of the most exciting and innovative professions.
Because we do not have a graduate degree program, advanced projects are integrated into the curriculum and are focused on the undergraduate student. Almost all graduate school bound Computer Science majors engage in an advanced project at some level during their years at Millersville. Our graduates have gone to graduate school and earned Ph.D. and M.S. degrees in Computer Science at quality Universities nationwide.
As you look over the curriculum, you may have questions such as: What courses will best serve me and my career goals? Which ones am I ready to take? When are they offered? What are the courses actually like? How many computer science courses should I take a semester? To help you answer these questions you will be assigned a faculty advisor. Your advisor can help you plan a program of study tailored to fulfill your needs and interests, while meeting all of the various university requirements. Your advisor will keep you informed of all university and departmental regulations. You will need your advisor's signature on your registration card each semester, on cards for dropping or adding courses, and on your application for graduation. In addition to seeing your advisor each semester to plan your next semester's courses, you should visit your advisor from time to time, whenever you have any questions about academic policies or are considering any change of plans. However, you are responsible for making certain all requirements have been met.
Mission Statement
The goal of the B.S. degree is to prepare students for entry into general professional life. This degree is flexible so that it is consistent with the University mission of providing a program with a strong liberal arts component. It provides students with a strong liberal arts background that will allow graduates to use and/or apply computers within their professional lives, to pursue computer-related careers, or to pursue graduate study in the major areas of knowledge within the arts and sciences.
The primary mission of the MU CS program is to provide a well-rounded, high-quality educational environment in computer science, providing graduates with a comprehensive foundation on which to build a successful computing career. Critical thinking, problem solving, and conceptualization skills are vital parts of that foundation. Graduates will be expected to demonstrate the abilities to analyze a problem, design a solution, implement that solution in software, and evaluate the results. The expectation is that all graduates will be able to successfully continue to advance their knowledge of computing (through specialized training or graduate course work) and continuously adapt to the demands of ongoing changes in the field.
An important component of this mission is the liberal arts nature of the Millersville degree. Courses within the general education requirements are used to supplement and support the skills developed within the major, and clearly contribute to the overall adaptability of our CS graduates. Oral and written communication skills are a vital part of the overall abilities of CS graduates, and are developed through direct application within the CS curriculum. In addition, an appreciation for the social, ethical, and legal implications of computing technology is fostered through the integration of such topics within the core curriculum.