Curriculum
Computer Science Curriculum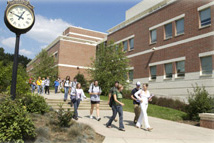 The current degree requirements of the Bachelor of Science (B.S.) in Computer Science are the result of a major curriculum revision that began in the mid-1990s, based on recommendations for curriculum made by the Association for Computing Machinery (ACM). This culminated in the program receiving national accreditation in 1999. Since that time, the program has undergone continuous assessment to assure that it meets the needs of our students and follows standard practices of the field.
The B.S. in Computer Science program is accredited by the Computing Accreditation Commission of ABET, http://www.abet.org.
MUCS Curriculum Mission Statement
The goal of the B.S. degree is to prepare students for entry into general professional life. This degree is flexible so that it is consistent with the University mission of providing a program with a strong liberal arts component. It provides students with a strong liberal arts background that will allow graduates to use and/or apply computers within their professional lives, to pursue computer-related careers, or to pursue graduate study in the major areas of knowledge within the arts and sciences.