Department of Computer Science
Symposium Lectures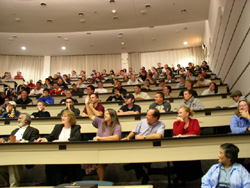 The computer science department regularly hosts outside speakers who address technical and social aspects of computing.
Here is the biography of our most recent speaker, Dr. Bob Banerjee:
Dr. Bob Banerjee is Senior Director of Training and Development for NICE Systems' Security Division. A recognized Physical Security Information Management (PSIM) expert, Dr. Banerjee has more than a decade of experience, having held senior marketing and global product management positions with several IT and software firms, including Bosch, Intuitive Systems, OneSource Information Services, Axeda Systems and Nortel Networks. He is a frequent speaker at security industry conferences and has published numerous articles on PSIM and other security topics. He holds a Ph.D. in Artificial Intelligence from the Advanced Research Center at the University of Bristol, England.